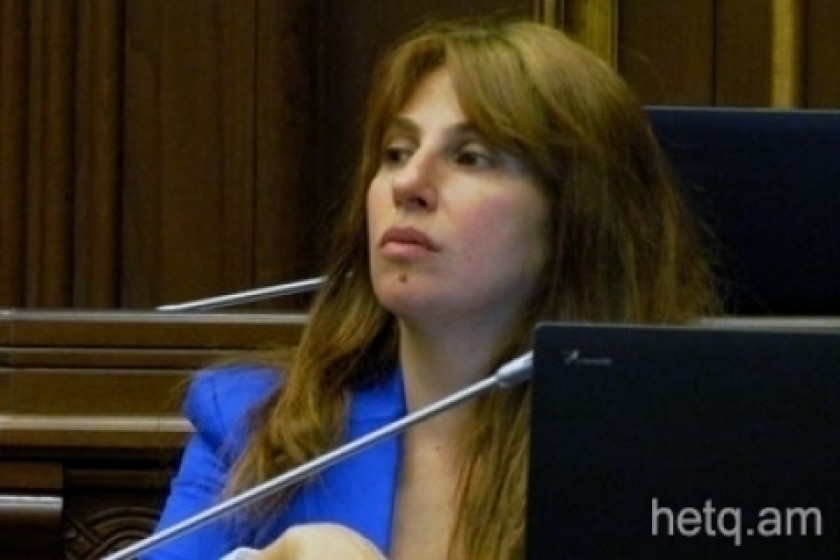 MP Postanjyan - 'This Parliament should be dissolved. It's a waste of time'
Minutes after this week's sitting of Armenia's National Assembly got underway, opposition MP Nikol Pashinyan wanted to know how far the parliament had gotten in its investigation regarding the recent incident where Russian soldiers set up a road block on a southern Armenian highway and stopped a car carrying Heritage Party MP Zarouhie Postanjyan.
Pashinyan labeled the act by the Russian unit as illegal and said that the statement by the unit commander was inadequate.
MP Postanjyan then took the floor, complaining that she hadn't been given a copy of the statement.
Parliament Speaker Hovik Abrahamyan responded by saying that he had read the statement and had concluded that no violation of the laws of Armenia had been violated.
"If the report doesn't satisfy some MPs, that's their problem. When are you ever satisfied?" Abrahamyan said.
Postanjyan retorted that the parliament should be dissolved since it isn't debating any truly important matters and is merely wasting taxpayer money.
Abrahamyan answered by saying he couldn't take Postanjyan's statement seriously, "as you are known to engage in slander." (This refers to Postanjyan's question to President Sargsyan in Strasbourg about losing 70 million Euros at the casinos - Ed)
"How else should I understand you? I only believe in the official statement," Abrahamyan concluded.