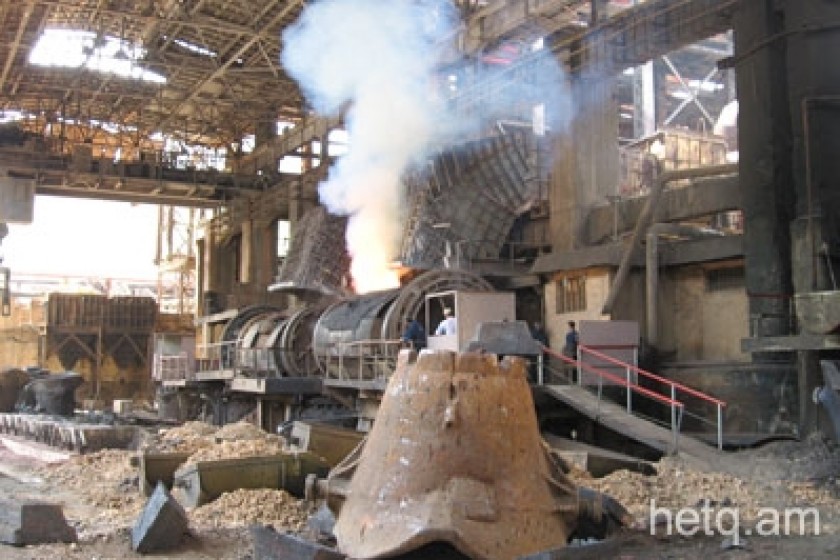 Teghout Copper Mine: On Track to Produce 28,000 Tons a Year
Valeri Mejlumyan, Chairman of the Vallex Group, a major player in the mining sector of Armenia and Artsakh, yesterday stated that $1 million has already been invested to move the smokestack of the Alaverdi copper smelter to the top of Mt. Koshaberd.
Mr. Mejlumyan says that the move is temporary however but it will help improve the environmental situation in the northern Armenian town of Alaverdi.
Anyone who has visited Alaverdi will vividly remember the sight of the giant smokestack looming over the town and the plumes of exhaust spilling out of it.
The mining mogul told reporters in Alaverdi that problems would persist after the smokestack was moved but that they would be small in comparison to what exists today.
One might logically ask what the point of spending $1 million on such a project is if it is only temporary solution to the environmental challenges faced by Alaverdi and its residents.
The question becomes all the more relevant when you take into account the fact that by relocating the smokestack to a higher elevation, the plume of exhausts will expand in diameter by 2.5 kilometers.
There are objective reasons behind the positive spin of Mr. Mejlumyan's message to the public.
The copper-molybdenum mine in nearby Teghout will be up and running in the next two years. It is being operated by a Teghout CJSC, a subsidiary of Vallex Group.
The Teghout operation will produce about 28,000 tons of copper ore a year. This will be in addition to the 23,000 already produced in Armenia; mostly at the Zangezur Copper Molybdenum Combine. (60% of the shares of ZCMC are owned by CRONIMET, a German company).
To reprocess the new ore, Vallex Group realizes the need for a modern smelter in Alaverdi.
Mejlumyan, at yesterday's press conference stated that, based on global smelter experience, there are 2 main prerequisites for efficient smelter construction and operation – first, there is the need for adequate transportation and second, the smelter must have the capacity for 150-200,000 tons per year.
In order to be profitable, Mejlumyan predicts that the Alaverdi smelter must process at least 60,000 tons.
Vallex is also looking to construct a huge sulphuric acid processing operation at Alaverdi. Two years ago, when global demand was depressed, Mejlumyan didn't want to hear about the suggestion from local residents.
To date, Vallex has spent $ 100 million to secure investments at Teghout and Mejlumyan says that most of the heavy work has already been completed.
"Most of the large contracts have already been signed and we've reached a point where it's not up to the banks and whether they will offer loans or not," he told reporters.
He particularly noted the agreement signed with Caterpillar Inc for heavy mining and transportation equipment.
What all this will mean for Alaverdi still hasn't been discussed by local residents.
When asked about the environmental risks posed by such a large-scale smelter and reprocessing plant, Armenian Copper Programme (ACP) Executive Director Gagik Arzumanyan told reporters that the company remains concerned about such risks and is willing to listen to all suggestions as to how best minimize them.
The ACP head noted the mining exports are a huge percentage of Armenia's foreign trade and that the sector must be developed, but not at the expense of other economic sectors.
P.S. – For a good general, albeit it, corporate introduction to Armenia's mining sector readers may go to a special June 2011 supplement of Mining Journal. While basically a trade paper promotion piece, it does offer insights regarding the close ties between government planners and the corporate mining sector in Armenia.
I've listed some highlights:
"I am especially glad that today we have an opportunity to represent the developing mining sphere, which plays an important role in Armenia's economy." (RA Energy and Natural Resources Minister Armen Movsisyan)
"The government of Armenia puts emphasis on foreign investors to develop new industrial activities, to modernize existing ones, as well as to invest new, efficient, ecologically clean and best technologies in Armenia." (Minister Movsisyan)
More than 670 mines of solid minerals, including 30metal mines, with confirmed resources are currently registered in the state inventory of mineral resources. Among these, around 400 mines, including 22 metal mines, are exploited.
Among metal minerals, there are seven copper-molybdenum mines, four copper mines, 14 gold and gold-poly-metallic mines, two poly-metallic mines, two iron-ore mines and one aluminum mine.
There are 15 tailings sites in the country, the volumes of which exceed several million cubic meters and occupy a total area of around 700ha. Currently, the production waste generated as a result of extraction and processing of minerals accumulated in tailings is not utilized.
If you found a typo you can notify us by selecting the text area and pressing CTRL+Enter