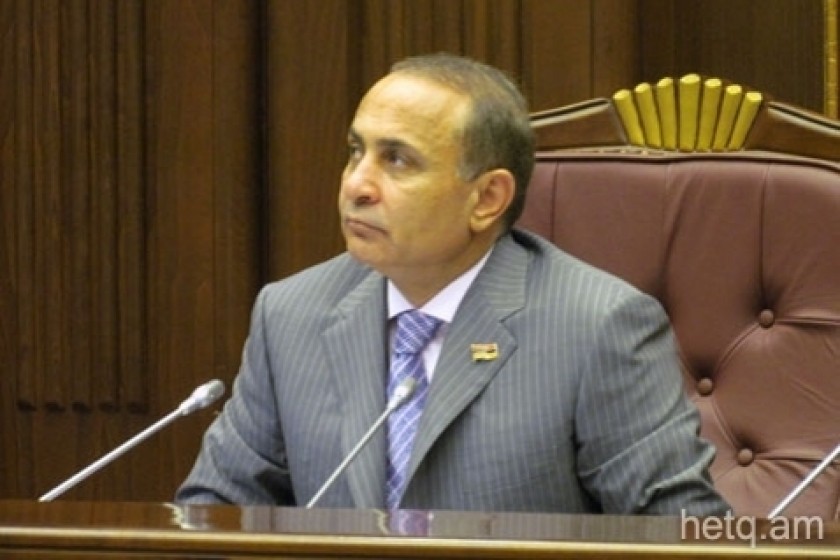 Opposition MPs Decry Detainment of Anti-Putin Protesters in Yerevan
Opposition MPs expressed concern over the detainment today in Yerevan of a number of activists protesting the arrival of Russian President Putin.
HAK MP Nikol Pashinyan strongly condemned the arrest of citizens who were "fighting to preserve the sovereignty and honor of Armenia."
Pashinyan said that today, as in the past, civic activists are being rounded up merely for expressing their views and not for violating any law.
He asked National Assembly President Hovik Abrahamyan if it wasn't correct for the legislature to debate such a violation of citizens' rights.
Heritage Party MP Zaruhi Postanjyan then addressed the parliament, claiming that a portion of the citizenry wanted a draft bill to be introduced that would obligate the legislature to take up the matter of the arrests and the fact that citizens are being forced to go out in the streets waving Russian flags to welcome Putin.
National Assembly President Abrahamyan responded that he hadn't received any specific complaints as yet from citizens, but that he was opposed, in principle, to forcing citizens to do anything against their will.
HAK MP Aram Manukyan stated that police had so far detained nine activists.
Abrahamyan countered by stating that no one had been arrested, and that a few people had merely been detained for posting placards on buildings.