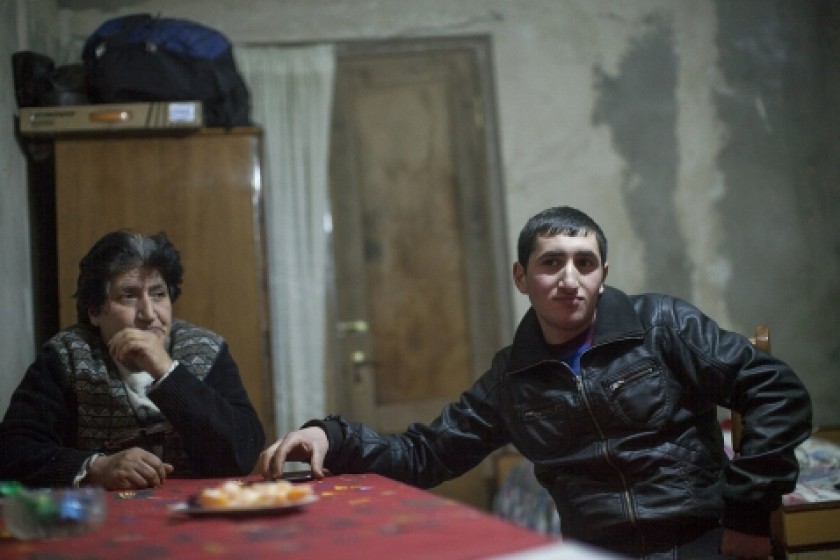 Witness to Gyumri Earthquake and Syrian War Speaks About Life in Artsakh
In September of 2012, Harout Halladjian, along with his mother Diroun, brother Sarkis and sister Lusineh, came to Armenia from Syria.
Harout told me about the following incident, a brief glimpse into why he left.
"Once, a young fighter came up and hit me just for the fun of it. Not realizing that he was a Muslim and a fighter, I turned and asked him why he hit me. The guy assaulted me badly. From that day, I didn't leave the house until I came to Armenia."
Diroun says that before the conflict started, she found out that her eldest son Sarkis was about to be conscripted into the army and that he could no longer leave the country. When they bought tickets to come to Armenia, the airport authorities wouldn't let him leave.
To bypass the restriction, Diroun's husband Kevork had to guarantee in writing that when the family returned, the two boys would join the army. Having done so, the family was allowed to leave.
"To be honest, I didn't want to come back to Armenia. I love the country, but I have no parents here. My husband's family, which is so close to me, is back in Syria. I didn't want to part with them," Diroun says.
Kevork's mother, brother, sister, and their families have remained in Syria.
Kevork's brother is fighting in the war. "He says that we were born in Syria, enjoyed its fruits and now, if I must die, it will be in Syria," relates Kevork.
The Halladjians have relocated to the town of Kovsakan in southern Artsakh. They are temporarily living in an apartment allocated by the government for Syrian-Armenians. They are on a waiting list for a three room apartment in a building being constructed for those from Syria.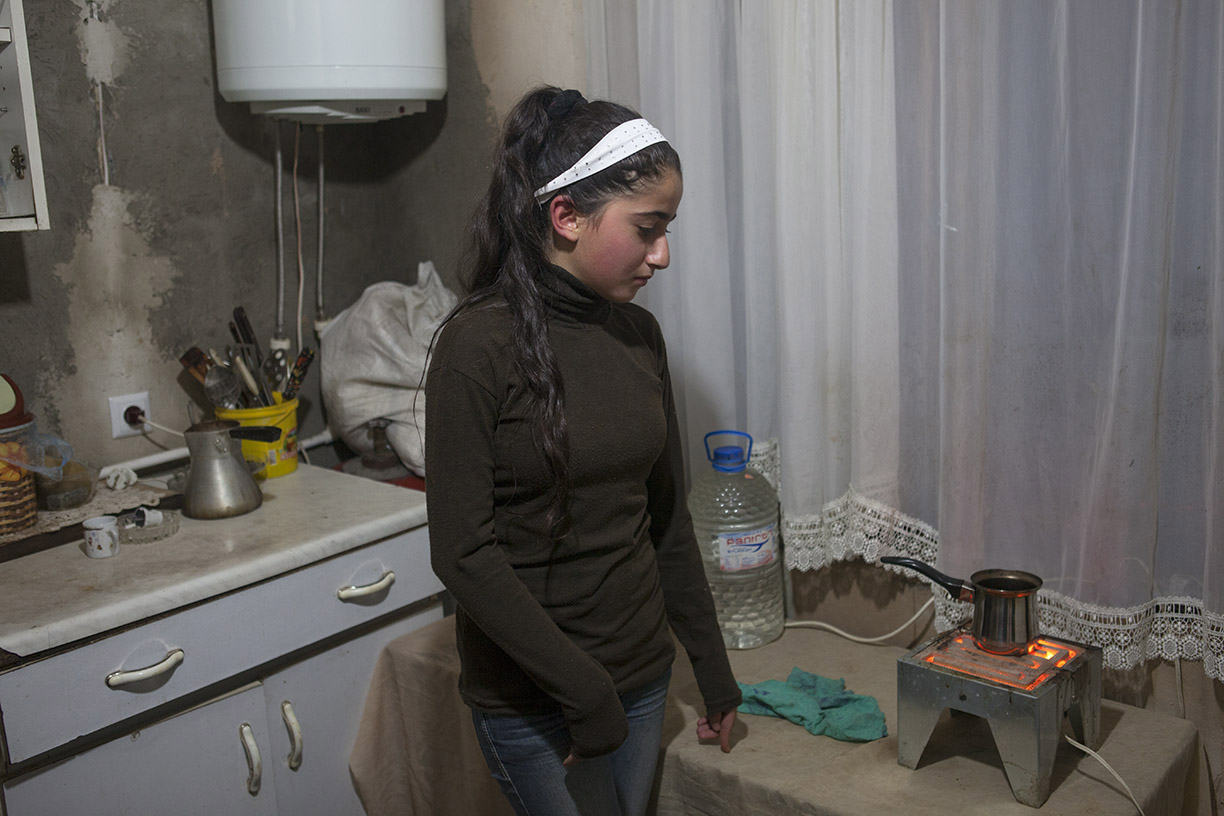 Lusineh
Diroun says that in 2000, when there was a need to repopulate Kashatagh, they moved to the village of Ditsamayr. They had to return to Syria in 2006 so that Kevork could get treated for back problems.
"Everything was going good there, but the war became unbearable and brought us back to Armenia," Diroun says. "So, we decided to return to Karabakh, but not to Ditsamayr. Life there is quite difficult."
Sarkis has been serving in the Artsakh Armey for the past six months. They hope he'll get a pass to come home for the holidays.
"I know that army life is hard, but he never complains. The main problem is that my boys have no work. There are five in the family. I would take the most menial of jobs just to get some extra income," says Diroun.
The Halladjians are somewhat unique in the sense that they came to Artsakh from Aleppo. Most Syrian-Armenians have relocated from the border town Qamishli and had been engaged in agriculture.
The Halladjians were from the city and had nothing to do with farming. But since there isn't any other work to be found, they too have started to work the land. Kevork is a lathe turner by trade and has gone to Yerevan for a few months of work. Harout also goes to the capital for temporary construction employment.
Since the loans allocated by the Artsakh government to Syrian-Armenians were granted to late for the fall planting, the family decided to use the money to purchase pigs. It's the first time they had ever tried their hand at raising animals.
They purchased 21 pigs and raised them in Ditsamayr. But a disease broke out and killed all the pigs. The family had figured that they would pay back the loan when the pigs were sold and use the remainder to start some type of business. Instead, they have incurred a 2 million AMD loss. Now, they want to take out another loan and grow barley. But the government is balking at the idea, arguing that the family didn't use the first loan wisely.
Diroun says that she'd like to stay in Armenia if her extended family were here. Harout and his sister Lusineh, say they want to return to Syria. They really miss the way of life there. These days, they follow the news intently, hoping that they don't hear that one of their friends has been killed.
"You could get an education there and work later on," says Harout, who worked as a mechanic. His brother Sarkis was a women's hairdresser.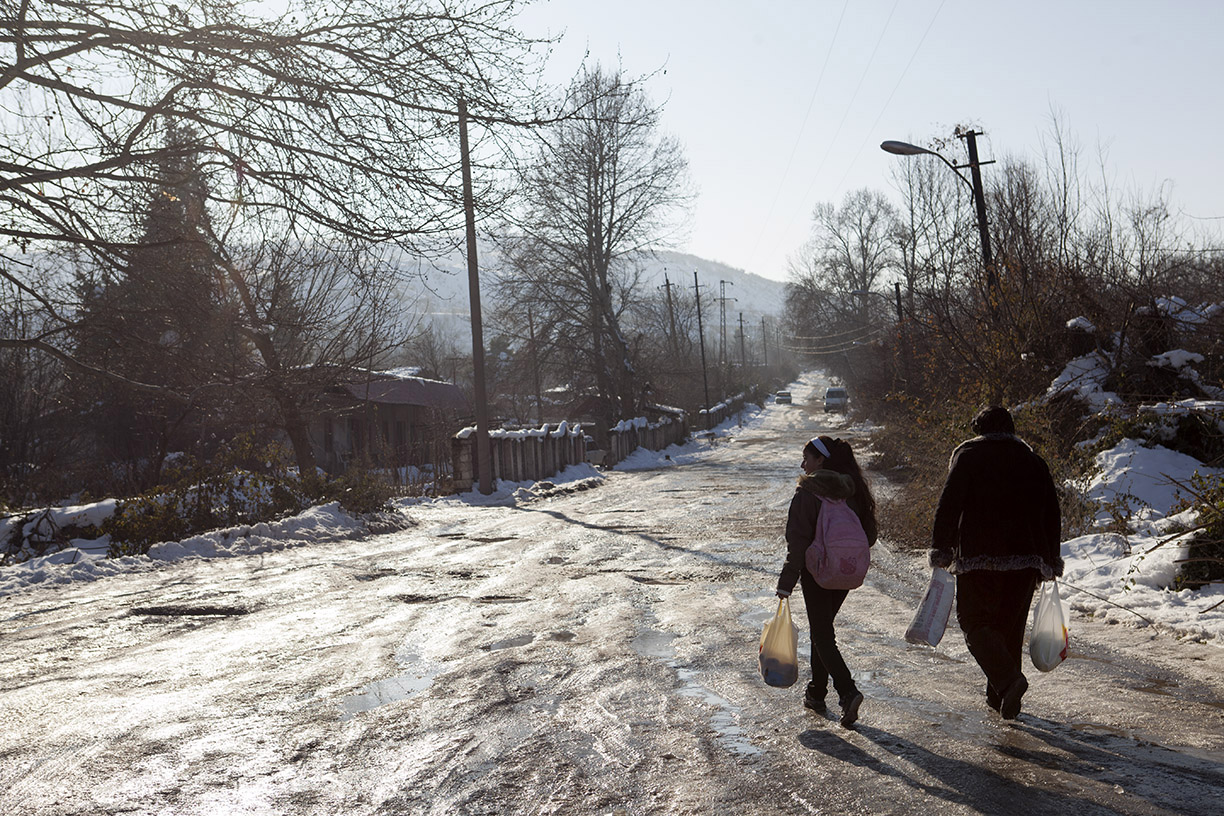 Diroun and Lusineh
Diroun's life journey is a story in itself. She's originally from Gyumri and met Kevork through an arranged marriage in the late 1980s. The couple were engaged in Syria and registered the marriage in Armenia in 1994,
"I would have never imagined that my fate was to leave Gyumri and wind up in Syria. We have a saying, 'You can flee the couch, but never your fate.' I'm not complaining. But this is how my life has worked out. We bounced around and now I'm back in Karabakh."
Diroun has only been to Gyumri twice after the earthquake. It's too painful, she explains.
"When I've gone, I have never been able to walk past the house I once lived in. Sure, the town has been rebuilt, but it's not my Gyumri."
For now, Diroun hopes that the conflict in Syria will end and that her friends there are safe. She says that despite witnessing the earthquake, the war, and being forced to relocate, the family will get by whatever it takes.
She says that conditions in Karabakh have improved, but that life there is still difficult for all; for locals and Syrian-Armenians alike.
"The homeland today has provided us with a roof over our heads. But not everybody will come to live here," she says.
First photo:Diroun and her son Harout
If you found a typo you can notify us by selecting the text area and pressing CTRL+Enter