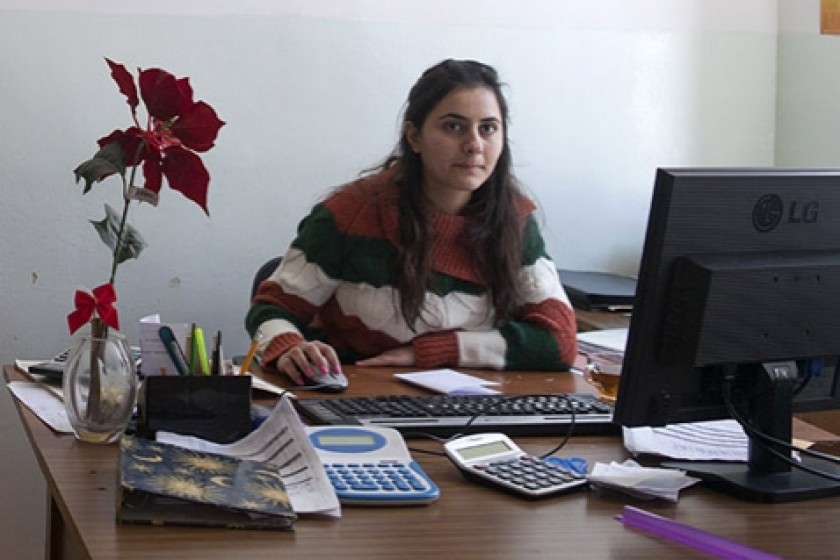 Armenian Family Split: Some Remain in Berdzor, Some Return to Qamshli
Lucy Vartan and her husband Vartan relocated to the Artsakh town of Berdzor from Qamshli, a Syrian community on the Turkish border, in October 2012.
They brought their three year-old daughter in tow.
Lucy confesses that the move to Berdzor, the provincial capital of Kashatagh, wasn't easy at first.
"It was difficult, but we learnt. At first, I didn't understand. I slowly got used to things here. They helped me a lot," says Lucy, whose name reads Lousavard in her passport.
"When we came from Syria things were better. There were air flights. My husband said we should leave while we have the chance. He was right. Now, there are no planes out of Syria," says the young woman who works at a local kindergarten as a comptroller.
While Lucy has seemed to settle into her new surroundings, other family members weren't as flexible.
Her younger sister Garineh has returned to Syria, even though she was admitted to Stepanakert University. Lucy says that her sister didn't interact much with locals and complained that her Armenian wasn't up to snuff. The two attended an Armenian school in Qamishli up to the ninth grade.
Lucy's mother has also returned to Syria, and so has her younger brother who was going to school in Berdzor.
She says her brother had gotten used to his new home and really liked Berdzor.
Lucy's father Artin has stayed on in Berdzor and now lives with his daughter and her family.
Artin and his son-in-law now work in the town of Kovsakan.
When I asked Lucy if the family was thinking about moving there she threw me a grin and said, "It took us a year to get used to Berdzor. Kovsakan is too far away from everything."
Lucy and Vartan, married for four years, first met at an Armenian social club in.
She has no complaints about her new life in this Artsakh outpost. Her only real nagging worry is that she can't communicate on a regular basis with family back in Syria.
As for her husband Vartan, he has a brother serving in the Syrian Army, while another has also relocated to Berdzor.
Photo: Eric Grigorian
If you found a typo you can notify us by selecting the text area and pressing CTRL+Enter