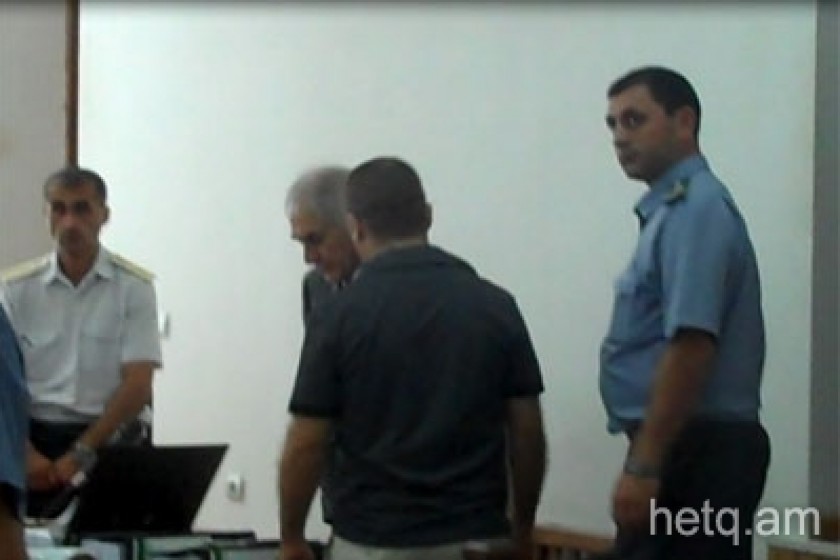 Der-Boghossian Trial Continues: Are All the "Victims" Accounted For? (video)
On Monday, July 25, the trial of Serob Der-Boghossian, the American-Armenian charged with having sex with minors, continued at the Vanadzor Court.
Of the ten individuals registered as the "injured party", only two were questioned. They were escorted into the court by military police officers.
When queried by waiting reporters outside the closed-door session, Senior Prosecutor Aram Amirzadyan of the Department of Criminal Cases attached to the General Prosecutor's Office, stated that while he couldn't reveal any details, the two had stuck to their original testimony and thus supported the indictment issued.
The two injured plaintiffs are 19 years old and testified in the presence of a psychologist and pedagogue.
Prosecutor Amirzadyan noted that such a case of paedophilia is unprecedented in Armenia.
"I believe that the fact that the injured are minors is playing a certain role in making this a unique case," he said.
Hetq tried to find out why the parents of the minors and law enforcement officials, who knew what has going on for so long, weren't also litigants in the criminal case.
Prosecutor Amirzadyan answered that the criminal case involved the injured minors and that punishing the relatives, now was more of a moral matter.
In the town of Akhtala rumours were spreading today that not all those minors who fell prey to the sexual exploits of Serob Der-Boghossian were included as litigants in the case. Townsfolk claimed that their number was much greater than accepted by the court.
The claim is that the court has only recognized those revealed on the tape recording made by the video camera hidden in Der-Boghossian's home and subsequently found in the pre-trial investigation.
Prosecutor Amirzadyan confirmed this and added that if further substantial evidence existed on which to widen the scope of the case in terms of the injured, those in possession of such evidence should come forward.
He also said that there was a second tape that was made by one of the minors who engaged in sex with Der-Boghossian and that this had also been introduced as evidence.
The prosecutor verified that the injured had been advised of their right to demand moral injury compensation from the court.
The next trial date has been set for July 26.