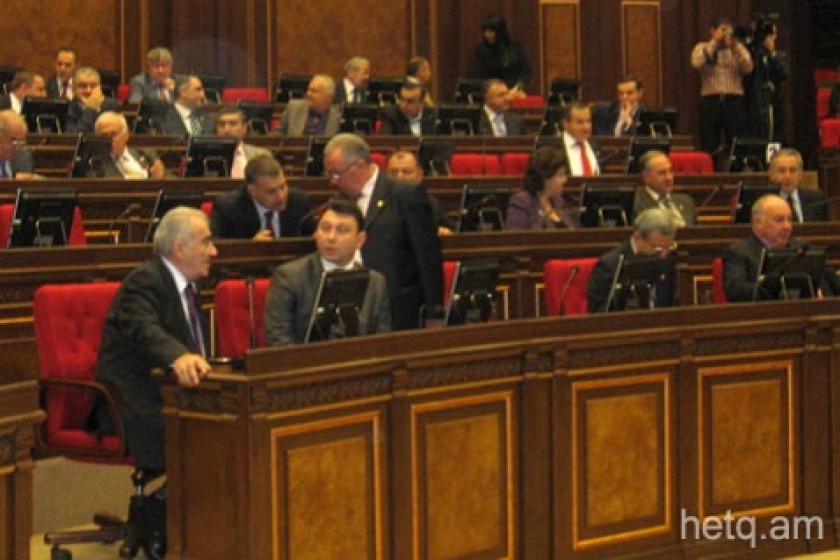 Majority Rules: Republican Party and Rule of Law Now the Majority in Ad-Hoc CountingCommittee
A vote to increase the number of members of the parliamentary Ad-Hoc Counting Committee today passed with only the ruling coalition voting and despite objections from the parliamentary opposition.
The Republican Party of Armenia (HHK) had proposed increasing the number of members of the parliamentary Ad-Hoc Returning Committee from 7 to 11, where HHK will have 5 deputies; the Prosperous Armenia Party (BHK), 2; and the remaining factions will have 1 deputy each. The parliamentary opposition, however, would like the number of Committee members to remain at 7.
HHK parliamentary faction Galust Sahakyan today suggesting postponing the vote to tomorrow; however, opposition lawmakers objected, saying they don't have a right not to vote today. Sahakyan eventually relented. However, BHK MP Naira Zohrabyan declared that BHK won't be participating in the type of voting proposed by Sahakyan. "If this version is approved, BHK won't nominate its member to the Committee," she said.
The non-ruling parties did not participate in the vote, but Sahakyan's proposed version was approved with 67 HHK and Rule of Law (OEK) MPs voting in favor, 1 abstention, and 0 against.
Parliamentary speaker Hovik Abrahamyan wanted to put also opposition MPs' proposal to a vote; however, the opposition MPs considered it pointless. Abrahamyan stated that the adopted version is aimed solely at organizing National Assembly meetings normally. "Meanwhile, some political parties want to obstruct that work, which I assure you, will not succeed," he said.
Non-ruling parties declared they will not have any representatives in that Committee.