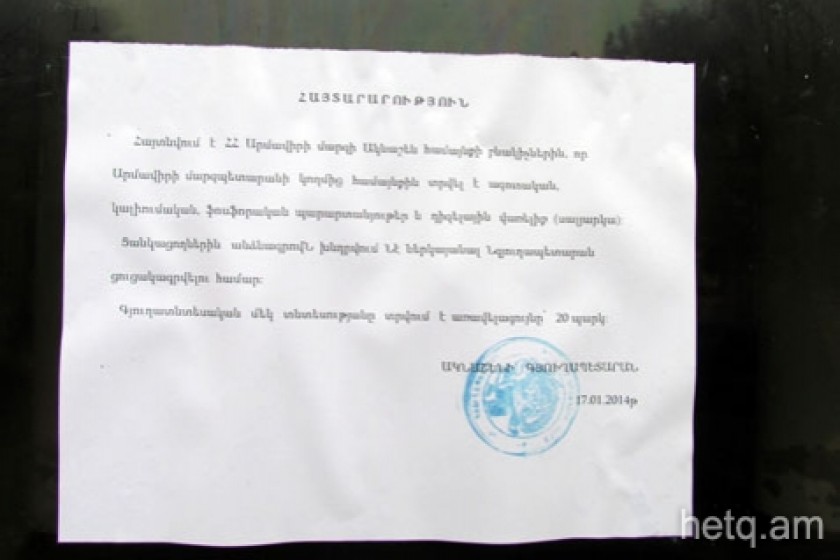 Cash Up Front: Only Villagers Who Can Afford to Pay Get Cheaper Fuel and Fertilizer
Fertilizer and diesel fuel cheaper than the market price are being made available only to those inhabitants of Armenia's rural communities who can pay cash up front.
Village councils have already posted the relevant notices in busy public areas, but there hasn't been great response: this time of year, villagers are low on funds and cannot procure the necessary cash. Residents of Armavir Province's Aknashen rural community say they need both diesel fuel and fertilizer; however, because they don't have the cash, they can't avail of the program.
Aknashen resident Sukias Yenokyan told Hetq that they collect the money now but transfer the goods to villagers later.
"They think that villagers are naive, that we don't understand anything, but we understand their magic tricks quite well. [The fertilizer thats] cheaper than the market price is a difference of 2,000 dram — regardless, the state compensates them that amount, and they're the ones who bring it. They showed us that they bring it cheaply. We don't have money to buy it now; they get it cheaply then sell it to us at a higher price. They bring the fertilizer at a time when villagers don't have any money," he says.
Akanashen's village council informed Hetq that there are villagers who avail of the offer but they're not that many.
Armavir Provincial Councillor Ashot Ghahramanyan says that the state will subsidize farmers by providing 7,000 tons of nitrogen fertilizer at 6,000 AMD ($14.50 USD) per sack, 300 tons of phosphorous fertilizer and 200 tons of potash fertilizer at 7,000 AMD ($17) per sack, and 2 million liters of diesel fuel at 350 AMD ($0.85) per liter, as well as 18 tons of barley seeds, 6.5 tons of alfalfa seeds, and 0.6 tons of corn.
Armavir provincial councillor confirmed that these goods are provided to villagers who pay cash in advance. "Experience shows that it's not possible to coordinate money collection in the case of installment payments," says Ghahramanyan.