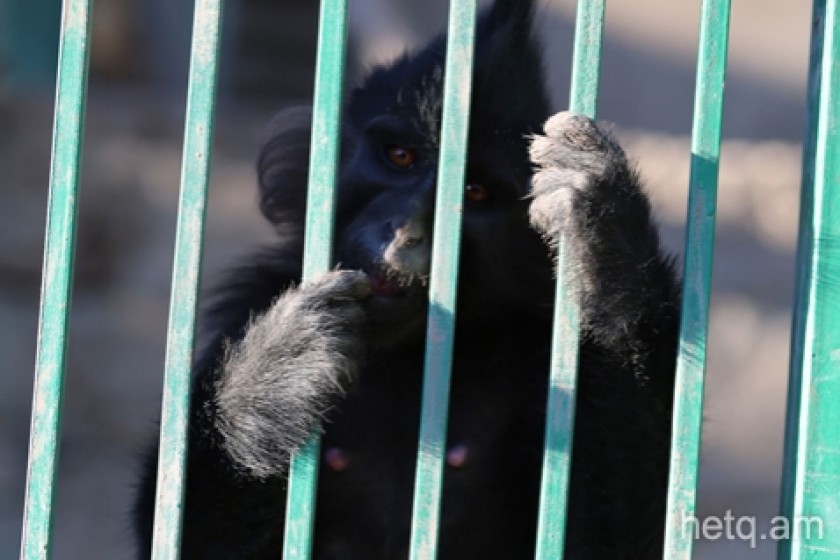 Interpol Now Investigating Trafficking of Endangered Animals via Armenia
In its continuing investigation into Armenia's involvement in the illegal trafficking of endangered animal species, Hetq has learnt that two more bonobos (Pan paniscus) were imported into Armenia in 2012 in addition to the two already written about by Hetq.
The bonobo (Pan Paniscus), formerly called the pygmy chimpanzee, is native to the Congo Basin in the Democratic Republic of the Congo (DRC). The species was listed as endangered on the IUCN Red List in 1996, and is threatened by habitat destruction and human population growth.
In response to a Hetq inquiry, Artur Afrikyan, First Deputy to the President of Armenia's State Revenue Committee (SRC), provided us with a list of sanctioned animals imported to and exported from Armenia from 2010 – 2013 carrying CITES permits.
The export, sale or transport of rare animals is regulated by the CITES (the 1973 Convention on International Trade in Endangered Species of Wild Fauna and Flora, which Armenia signed on to in 2009.
This list reveals that in 2012 four Common Chimpanzees (pan troglodytes) and four Diana Monkeys (Cercopithecus Diana) were imported to Armenia with CITES permits. The permits show Guinea as the country of origin for the animals but they were imported from the UAE.
All three species are listed in the IUCN Red List of Threatened Species.
In order for listed species to be transported from one country to another, permission from the coordinating CITES bodies in each must be obtained.
In Armenia, that body is the Ministry of Nature Protection. The ministry has told Hetq that it has never issued permits to imports Bonobos, Common Chimps or Diana monkeys to Armenia. These animals appear in the Appendix 1 of the Convention; i.e. the list of those animals deemed most endangered.
One of the bonobos and four of the chimps are now on display at the Jambo Exotic Park located in Dzoragbyur, a town in Armenia's Kotayk Province. The park is part of a restaurant complex that was opened this past September by Artyom Vardanyan.
Photos of Jambo Park
There is more…A list provided by the SRC to Hetq of animals registered as passing through Armenian customs reveals that two chimpanzees accompanied the two bonobos imported in 2011.
Furthermore, Diana monkeys and chimpanzees were imported to Armenia under special CITES permits in 2011 as well, but the SRC list doesn't state how many. The animals' place of origin is again specified as Guinea, and they were imported from the UAE.
According to information provided Hetq by a law enforcement official from the Democratic Republic of the Congo (who wished to remain anonymous), the SRC list does not correctly reflect the real number of apes and monkeys imported to Armenia.
It turns out that in addition to the animals we've listed, another bonobo was imported to Armenia in January 2011 under a different CITES permit. It was imported by a company called Zoo Fauna Art owned by Artur Khachatryan. In this case as well, the exporter is listed as West Africa Zoo in Guinea.
When Hetq contacted Khachatryan on the matter he claimed that the bonobos weren't taken from the wild but were born and bred in captivity.
Through our partners in Africa, Hetq tried to find out if there actually is a zoo called West Africa Zoo in Guinea. According to information we've received, no such zoo exists. In addition, there is no such legal facility in Guinea that can breed animals.
So, five bonobos and at least seven chimpanzees have been imported to Armenia. And they should still be present in the country since they don't show up in any list of exported animals. (According to Khachatryan, one of the bonobos died soon after reaching Armenia)
The CITES data base on the trade in endangered species of wild fauna and flora, has no information of a bonobo or chimp ever being exported from Guinea to Armenia. There is also no information of a Pan-type monkey listed as being exported from the UAE to Armenia.
Obtaining animals listed in the first addendum of the CITES isn't easy or cheap. A pair of chimpanzees in Africa costs $10,000 - $15,000 US. A pair of bonobos goes for $15,000 - $20,000. Animals listed in Appendix II (species that are not necessarily now threatened with extinction but that may become so unless trade is closely controlled) range from $1,000 to $3,000.
Monkeys and Great Apes Imported to Armenia
Interpol is Now Involved
After Hetq broke the story last November, the Armenian police slapped Zoo Fauna Art company owner Artur Khachatryan with criminal contraband charges. The pre-trial examination is on-going at the SRC.
Khachatryan has also appeared in the radar screen of Interpol since he appears to have close contacts with the secretive trafficking organizations dealing in African animals. It appears that via Khachatryan these dealers have turned Armenia into a convenient transit site for the trafficking of endangered animal species.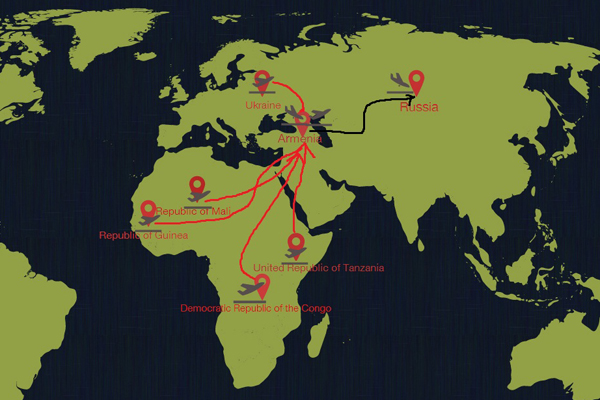 In response to our inquiry, the Interpol office in Armenia said it was cooperating with its branches in the DRC and Nigeria regarding the buying and selling of endangered animals; especially monkeys and great apes.
According to 2010-2013 stats, monkeys and ape species from the DRC, Tanzania, Mali and Guinea were imported to Armenia. They mostly were shipped from the UAE. The majority were then exported to Russia.
Armenia 2010 – 2013: monkeys and apes imported/exported
The above chart is an approximation and shows no numbers for imported and exported animals, since the information provided by the SRC doesn't provide such numbers in many cases.
Design by Ani Hovhannisyan; Video by Saro Baghdasaryan
If you found a typo you can notify us by selecting the text area and pressing CTRL+Enter