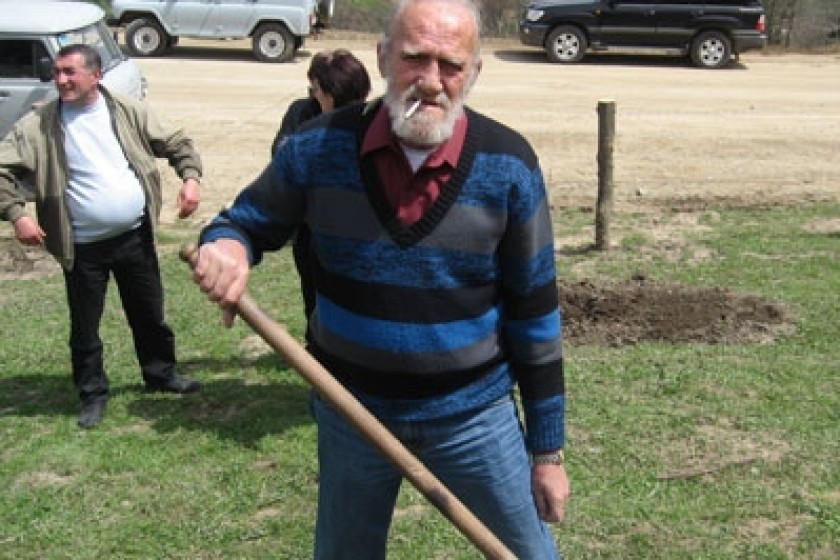 Teghout: Planting Trees to Replace Destroyed Forest
On April 16, acclaimed actor Karen Janibekyan and his wife made the trip to a field outside the northern Armenian town of Teghout to plant trees along with 140 college students.
The 5th annual tree planting by the Vallex Group, is the company's way of compensating for the 62 hectares of forest that have been cut down to make way for roads and other infrastructure for the mining operation it is launching nearby.
Mr. Janibekyan, seen here, says that while he isn't a mining expert, if the earth holds valuable resources, they must be utilized.
He cautions, however, that production and environmental protection are two sides of a coin that must be effectively balanced.
"They must be coordinated. Like the saying goes, you have to have the bottle along with the kebab."
Nikita Zarobyan, another volunteer at the site, disagreed with the actor, arguing that nature stores potentially dangerous elements under the soil which should not be disturbed.
"Here in Teghout, they are destroying the forest. To compensate, they are planting a tree here and there. It's anybody's guess if these plantings will ever replace the forest in 20-30 years. We'll have to wait and see," Mr. Zarobyan said.
He added that the 5% tax rate levied on mining firms was ridiculous, especially when compared to the tax rates paid by oil companies in the Arab world.
Rouben Papoyan, a manager with Vallex subsidiary Teghout Ltd says that 700 saplings were planted this time around.
The company representative warned that another 14-15 acres of forest will have to be cleared in the near future for further road construction.