Collateralized Mortgages Down in 2010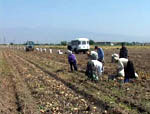 RoA government statistics reveal that during the first quarter of this year, 905,000 hectares of land were placed as collateral for various loans and credits. 91% of the lands are zoned as "agricultural".
More than half these lands, 527,000 hectares, are located in the Armavir Marz; almost all are zoned for agricultural purposes. During the same period, there were 315 transactions were collateral was placed for mortgages; 225 in Yerevan. 78.4% of these transactions were for apartments in multi-residence buildings and 16.5% for private houses. These numbers reflect a 36.9% drop in collateralized mortgages over the same three month period in 2009.