Who Will Defend the Rights of Armenian Citizens in Turkey?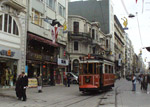 Father of Istanbul Car Accident Victim Finds the Answer Elusive
A tourist from Armenia was injured in a traffic accident on November 16, 2008 while visiting Istanbul. Gegham Nersesyan and three other tourists from Armenia were standing on the sidewalk, having a smoke, near the Istanbul bus station when two passenger cars struck each other and jumped the sidewalk. Two of the Armenians saw the approaching car and managed to jump to safety. A third was hit but luckily only suffered a broken foot. 29 year-old Gegham Nersesyan wasn't so lucky. He suffered four bone fractures to his right leg and a brain concussion. Vahram Nersesyan, Gegham's father, says his son wouldn't have survived the accident if it hadn't been for a carved out section of the wall. The injured were taken to a local hospital for first aid treatment and the police took down their version of the accident. The next day, with the help of friends, the Armenians return to Yerevan by plane. From the airport, Gegham Nersesyan is immediately taken to the Mikayelyan Institute for Surgery. Doctors operate on his foot and brace it. After spending a painful one month in hospital, Gegham returns home and remains under medical supervision. Doctors initially grant him a 2nd degree physical disability status and later a 3rd degree status. Grigor Beglaryan, Gegham's friend, came out of the accident in much better shape. He was almost immediately released fro the hospital. Gegham's father has filed inquiries with various Armenian government departments, the Chief Prosecutor's Office, the Foreign Ministry and the Human Rights Ombudsman, to see whether or not the drivers of the cars were ever charged with any violations back in Turkey and if so, what was the outcome of the case. Vahram Nersesyan rightly asks, "Who is responsible for compensating my son who has become physically disabled due to the accident? Are any steps being taken in Armenia to obtain financial compensation for the injuries suffered by Armenian citizens in Turkey?" Vahram Nersesyan is demanding that the guilty be obligated to pay financial and moral compensation in the amount of $6,000 for incurred medical bills. In a reply to one of Mr. Nersesyan letters in 2008, the Chief Prosecutor's Office wrote that the matter had been sent to the appropriate department of the Foreign Ministry for evaluation. In another reply dated October 23, 2009, Mr.N. Harutyunyan, who heads the International Legal Affairs Department at the Chief Prosecutor's Office, said they had still not received an answer from the Foreign Ministry and that they would be sending another inquiry request to T. Seyranyan, Chief of the Consular Affairs Division at the Foreign Ministry, in order to find out if any steps had been taken regarding obtaining compensation. On April 30, 2009, the Consular Division wrote back saying that the RoA Embassy in Georgia had been directed to get in touch with the Turkish Embassy in Tbilisi regarding the issue but that they had received no answer as yet. In a conversation with Vahram Nersesyan, government officials noted that had the accident occurred in a European Union country it would be possible to get something done, but given that the incident occurred in Turkey, a country with which Armenia has no diplomatic relations, it would be almost impossible. "If it had been the child of an official what would they have done. They would have personally delivered the petition. Even now, a diplomatic delegation travels to Turkey at least once a month from the Foreign Ministry. They would have done something by now if they had the least bit of concern for citizens of Armenia. They just don't care. Is my son less of a citizen than the next person? He graduated from university and has become a cripple. He has a four year-old son," says Vahram Nersesyan. Gegham's father has also gone to the RoA Human Rights Ombudsman for help. At the office he was told that his complaint had been accepted for review. Six weeks later, on August 18, 2009, they told him that the review had been terminated. The four Armenians had purchased their tickets to Turkey and had made other travel arrangements through Bagrat Tour, a company in Yerevan. No insurance had been purchased. Vahram Nersesyan also went to the agency for help but Bagrat Tour refused. "They were innocently standing on the sidewalk having a smoke. I tell my son, they shouldn't have done it," says an emotional Mr. Nersesyan. Once every year, individuals with disability status must report for a medical exam and review of their condition. The Medical Review Board has downgraded Gegham's disability status form 2nd grade to 3rd. This translates into a drop in his monthly disability allowance from 9,600 AMD to 8,000. "He was walking on two crutches before and on the one now. I guess they saw this as an improvement," says Vahram Nersesyan. Last week Vahram Nersesyan received a letter from the Chief Prosecutor's office; attached was the response by the Turkish Embassy in Tbilisi to the inquiry made by the Armenian Embassy. In the reply, the Turkish Embassy confirms that based on information received from its Foreign Affairs Ministry two RoA citizens, Gegham Nersesyan and Grigor Beglaryan were injured in a n Istanbul auto accident and that they were taken to hospital for medical treatment. The Turkish Embassy goes on to say that the drivers were arrested and a criminal investigation launched, but since those injured never pressed charges, the case was dropped. Vahram Nersesyan claims that his son and his friend gave testimony and that if a criminal investigation had been launched why was it dropped on such "baseless reasoning". Vahram Nersesyan would like nothing better than to go to Turkey and get to the bottom of the matter himself. He just doesn't have the money to do so. "I can't even get the medical expenses back from the court. So forget about going to Turkey. If I had a contact in Turkey or a competent lawyer to handle the matter, I'd pay them just as soon as I received the compensation."