Court Decides Against "Investigative Journalists" NGO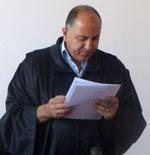 Ijevan Municipality to Receive "Slander" Retraction
On July 9, the Kentron and Nork-Marash Districty Court, Judge Gagik Khandanyan presiding, sustained the claim of the Ijevan mayor against the Investigative Journalists, NGO. The decision obligates the Investigative Journalist, NGO, the "Azg" daily and the Hetq website to issue a retraction of two articles written by reporter Voskan Sargsyan that, "contained baseless information defaming the professional credibility of the Ijevan Municipality and the good name of Ijevan Mayor V. Nersisyan, and to proclaim that such information has no basis in reality." The court decided in favour of the Ijevan Municipality to seize 930,000 AMD from the Investigative Journalists as compensation for the legal expenses incurred and 22,600 AMD in state penalties. We should note that no representative on the plaintiff's side was present in court when the sentence was handed down. Karen Mezhlumyan, the attorney for the Investigative Journalists, said he would definitely appeal the decision at a higher court. The entire case stems from a May 26, 2008 article entitled, "
Who is Pocketing the Profits from the Sand Mine?
" that appeared in Hetq. The article by Voskan Sargsyan was also reprinted in "Azg" daily.
If you found a typo you can notify us by selecting the text area and pressing CTRL+Enter