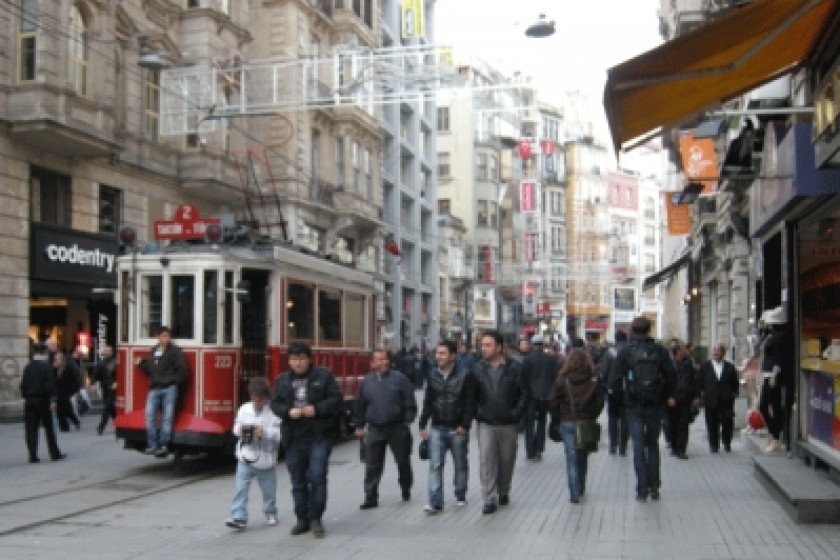 Istanbul Diary: My Meeting with ICG Analyst Sabine Freizer
Raining again this morning; as per the norm here in Istanbul.
We took the small red "nostalgic" tram at Taksim Square for the ride down Istiklal towards Beyoglu. Not to confuse readers, I should note that all this is taking place on the European side of Istanbul, which is divided by the Golden Horn into the old and new districts.
At Beyoglu, we hopped into the "Tunel", the older of the two underground funicular railways serving Istanbul. This line is purported to be the oldest underground metro line in continental Europe. It runs the 573 meters from Tunel Square to Karakoy with no stops and drops 66 meters in altitude.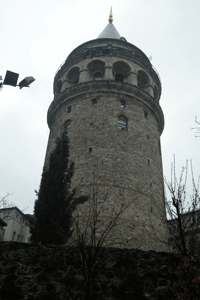 Before taking the "Tunel", our little group walked towards one of the most recognized landmarks of Beyoglu and Istanbul in general – Galata Tower.
The stone tower was built in 1348 by the expanding Genoese colony in Constantinople. The structure is 66.9 meters tall and was called Christea Turris (the Tower of Christ) by the Genoese. It served as the apex of the fortifications surrounding the Genoese citadel of Galata. Over history it also housed an observatory due to its height. Today, elevators can take visitors to a restaurant up top.
But we hadn't come to dine in Galata Tower but rather to get to our appointment at the offices of the International Crisis Group a few blocks away. Sabine Freizer, the ICG's European Program Director, would be waiting for us.
Sabine Freizer – The ICG is impartial on Karabakh
I should preface this part of my diary by saying that back in Armenia there isn't much sympathy for this organization and Sabine Freizer. Many commentators have argued that their take on the Karabakh issue leans towards a pro-Azerbaijani, pro-Turkish stance.
When I asked Frazier about this, she answered that she hears the same argument in all three countries – Armenia, Azerbaijan and Turkey – which goes to prove her unbiased approach.
During our conversation, I found out that Mrs. Freizer was posted to Istanbul in 2009. She explained that for someone like her engaged in regional studies, Istanbul is a must. "Being in Istanbul places you at the very center of what's happening. Istanbul is like the capital of the region. There is an energy here that even outstrips Brussels. " (The ICG is headquartered there- VS). In Brussels they are looking at issues internal to the EU. They don't discuss EU policy in the Caucasus all that much."
She continued by saying that in its last report (Armenia and Azerbaijan: Preventing War; Feb. 8, 2011), the ICH noted that the situation regarding the Karabakh issue was getting worse.
"In this report the ICG calls for the opposing sides to sign document on basic principles for resolving the conflict peacefully. Sadly, the process seems to be taking the wrong direction right now and both sides are at fault. Azerbaijan continues to assert that Nagorno Karabakh must remain under its jurisdiction and Armenia, naturally, asserts that NK must get the right of self-determination. The ICG proposes that the status issue should be postponed for 5, 10 or even 15 years and eventually decided by a referendum. Before that people should be allowed to return home and confidence building steps be taken between the two communities. This set of basic principles also posits that the status issue must be postponed. But Armenia believes it cannot withdraw from the occupied territories before receiving some assurance that Karabakh might one day gain independence."
Present path can lead to war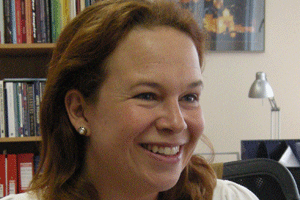 The analyst considers the resumption of war plausible if Azerbaijan continues to conduct small provocative incidents that might illicit a heavy-handed response by Armenia. She stresses that if war does resume, Armenia will bomb Azerbaijani territory and this will create panic within the people. The quick victory expected by Baku will not happen, says Mrs. Freizer and cites the example of Georgia in its recent war with Russia. Tbilisi was able to seize some territories in the first few hours but quickly lost them.
She argued that periodic pledges from the sides involved weren't guarantees of peace and that permanent representatives had to be posted in the conflict zone to get a handle on what is really taking place there. Freizer added that both sides, especially Baku, doesn't want to see third parties stationed on the ground because they believe this would only give a certain degree of permanence to the line of conflict. This is why the Azeris do not withdraw their snipers, she told me.
When I asked if she thought that the Minsk Group was the most effective settment format for the Karabakh issue, Freizer answered that presently there could be no other. "If the world powers can't settle the matter, than what can others do?" she replied.
The ICG analyst also took a dim view of Turkey becoming a Minsk Group Co-Chair, arguing that Ankara's role should simply be to work more closely with Baku and encourage it to adopt a more constructive approach.
She predicted that a complete settlement would take about twenty years to reach if the sides were to start working in earnest today around a set of basic principles.
No resettlement of "occupied" territories
Freizer also was against any resettlement of the "occupied" territories, arguing that those people would have to be moved out after the lands are eventually returned.
We ended our talk by discussing Turkish-Armenian rapprochement and here too Freizer took both sides to task. She said that Armenia's Constitutional Court statement, referring to western Armenia, was incorrect and only fueled the fire of Turkish nationalists. As for Turkey, she pointed to the position of the domestic opposition and the fact that the Protocols were not ratified in the Turkish parliament.
She concluded by stating that Armenian-Turkish rapprochement wasn't at the top of Erdogan's agenda nor was it a priority issue for the opposition. Nevertheless, if Turkey truly wishes to become a top regional player, Ankara must improve its relations with Yerevan, she argued.
Freizer doesn't believe that Turkey would open its border with Armenia any time soon, given the Azerbaijani factor; that is, until Armenia withdraws from the "occupied territories".