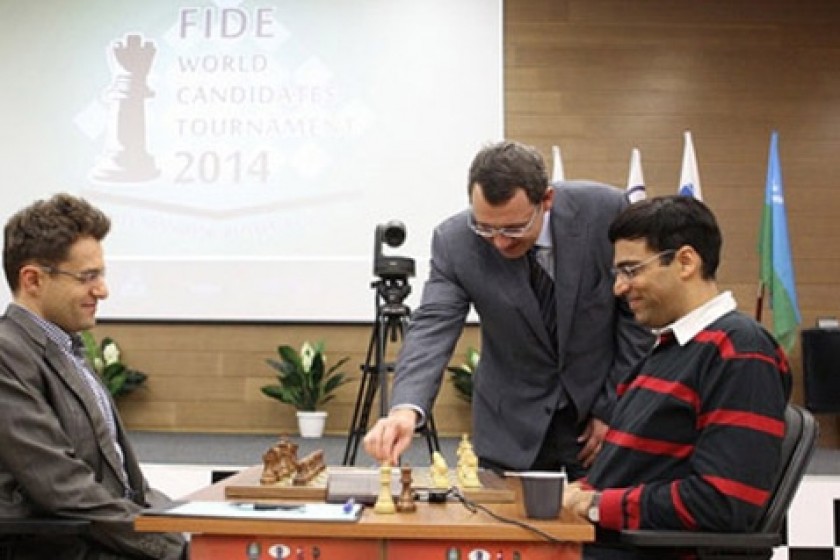 Levon Aronian Shares 3rd Place Going Into Round 4
Former World Champion Viswanathan Anand moved into sole lead after defeating Shakhriyar Mamedyarov in round 3 of Candidates Tournament in the Russian city of Khanty-Mansiysk.
Eight top grandmasters of the world are competing for three weeks for 600,000 Euro prize fund and the opportunity to challenge World Champion Magnus Carlsen (Norway).
Svidler and Kramnik share second place with 2 points each. Topalov and Aronian are at 1.5 points, while Andreikin and Karjakin have 1 point each. Mamedyarov remained on 0.5 points.
Aronian takes on Svidler today in Round 4.
The opening ceremony of the tournament took place on March 12.
The line-up consists of the former World Champion Vishy Anand (India), who lost his title only a year ago, 2013 World Cup winner Vladimir Kramnik, 2013 World Cup runner-up Dmitry Andreikin (both Russia), 2012-13 FIDE Grand Prix winners Veselin Topalov (Bulgaria) and Shakhriyar Mamedyarov (Azerbaijan), two players qualified by rating Levon Aronian (Armenia) and Sergey Karjakin (Russia), and the player nominated by the organizers – Peter Svidler (Russia).