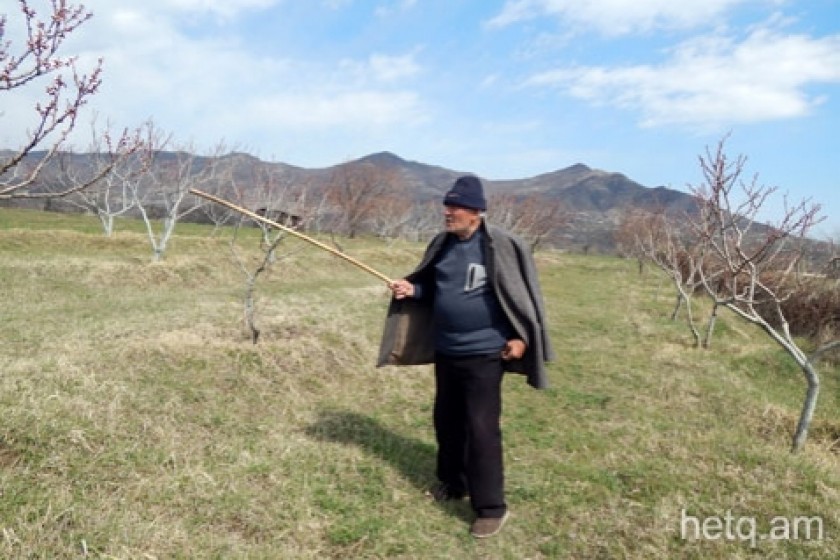 Villagers' Lament: Recent Frost Wipes Out 60-70% of Fruit Trees in Lori
Right after sunrise Zhora Shirvanyan, a resident of the Lori Province village Metz Ayroum, was out in his garden surveying his fruit trees.
"The recent frost has totally devastated my peach and apricot garden. For sure we won't have any apricots this year. As for the rest, it's hit or miss. Only God can say," Zhora said.
The blossoms on the apricot, plum and cornel trees in the village have blackened. Zhora says that rural residents depend on their gardens and doesn't know what they'll do this year with a greatly reduced crop.
Village resident Borik Boudaghyan says that nine of his 165 trees are apricot and forty are quick ripening peach. All suffered from frostbite. "That tree would bear a half a ton a year," Borik said, pointing to the apricot tree in the yard of his house.
Resident Alla Mehrabyan said that all the trees that had blossomed in the village suffered from the frost, and that residents would have no apricots, plums or quick ripening peaches this year.
"The fact remains that a frost hit the gardens when the temperature fell to five below zero for those two days. Our village has never experienced such a thing," noted Sahak Nazaryan.
Metz Ayroum Mayor Sahak Nazaryan said that 200 of the community's 450 hectares of tillable land got a fall planting of wheat and barley and that the recent snow is good for the crop. Another 100 hectares was tilled for a spring planting of sunflower and corn which will happen later.
Residents have planted their garden crop of potatoes which luckily wasn't damaged. The shoots even sprout anew if hit with frost, the mayor pointed out.
The first person I met in nearby Tchotchkan village was Roubik Vardoumyan. Regarding the frost, he said that the cold snap had destroyed the apricot trees and even the quick ripening peaches.
"Ten of my garden's apricot trees suffered damage. It's an open space and the weather really did a number on us villagers," Roubik said.
Tchotchkan Mayor Argady Tamazyan said that they would have to wait for warmer weather to really get a sense of the damage. His preliminary estimates are that 100% of the apricot trees and up to 70% of the plum and cornel trees suffered from frostbite.
We got in touch with Shnogh Village Mayor Hovik Sahakyan by phone, and were told that 70% of the fruit trees that had blossomed were damaged.
Lori Provincial Governor Artur Nalbandyan told Hetq today that according to preliminary estimates 60-70% of the province's fruit tree plots had suffered frost damage.
"Experts say that we can evaluate the precise damage after a few days of sunny weather," Nalbandyan said.