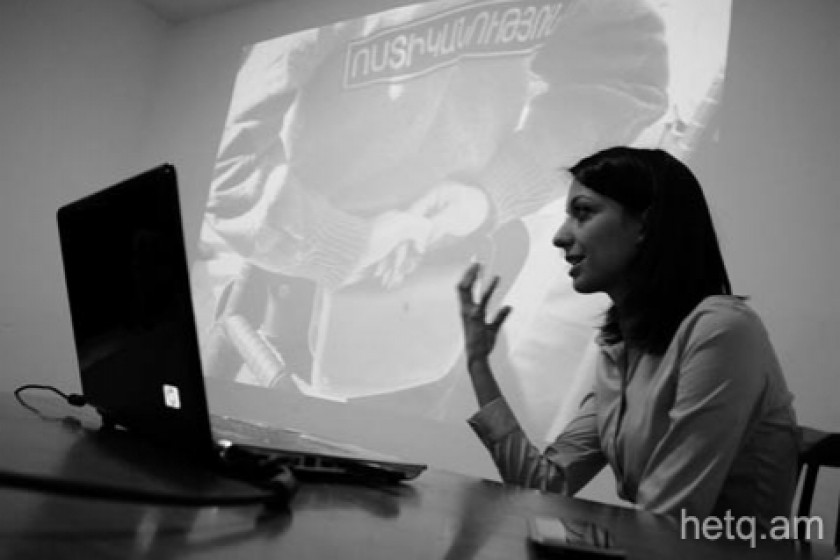 Reporter Ani Gevorgyan Has Little Faith in Criminal Investigation
Ani Gevorgyan, a reporter for the Armenian newspaper Chorrord Inknishkhanutyun, claims that Yerevan's Kentron Police Chief Artak Poghosyan slapped her face on February 12, 2014 while in police custody.
Gevorgyan and ilur.am website photographer Sargis Gevorgyan were detained by police on that day after an attempt by HAK (Armenian National Congress) youth activists to hand out flyers about an upcoming rally was thwarted by supporters from the ruling Republican Party.
Police seized their cameras and took them to the Kentron station house along with HAK activists.
Based on the complaint filed by Gevorgyan, Armenia's Special Investigative Service (SIS) has launched a criminal investigation. The charges are that officials hindered the reporters from carrying out their professional work and that violence was employed.
In a conversation with Hetq, Gevorgyan described the investigation of the SIS as a farce.
"In the past two months since the incident, I have been questioned mainly as an eye-witness. There is no criminal investigation because I haven't been classified as the injured party. No one from the police has been included in the case as a defendant. But there is ample video footage showing how the police attempted to grab my camera and prevent me from my work," Gevorgyan said.
The reporter told Hetq that the entire matter could have been exposed in a matter of minutes after the incident given the evidence.
"If they expose the matter it's because they want to. If they don't, it's because they do not want to. I regard this entire investigation as criminal inaction, something quite common in our society today," Gevorgyan said.
The reporter says she has little faith in the process especially since the investigator, Arshalyus Minasyan, has told her to go and get corroborating video footage that appeared in the media herself.
Usually, in cases like this, it's the job of the investigator to do the leg work and amass the appropriate evidence.