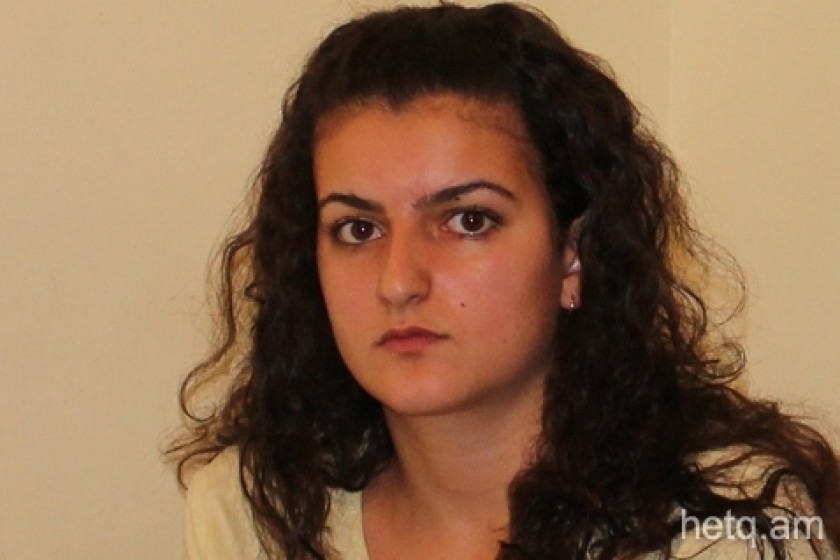 Soldiers Serving Life: Can the Judges Who Sentenced Them Sleep at Night?
I wonder if judges can sleep at night. I wonder if they can look into the eyes of their children.
Or are we the fools to constantly attempt to see their actions through a moral lens and to ask such questions? After all, equating judges and morality in Armenia is an oxymoron.
There are 105 prisoners serving life sentences in Armenia. Fourteen of them are former army conscripts. They weren't criminals.
Tsolak Poghosyan is one of them. Parentless, he's been incarcerated for the past eleven years. The criminal case proved the "charges" against him. However, we can sentence the very same judge to a life sentence at any time if we too were to employ his tactics of pain and torture.
I suggest that judges who have handed down sentences extracted via such nefarious means be given a taste of their own medicine. Rest assured that all of them will start to "sing" and fess up to any number of murders in Armenia and any number of open crime cases.
At Tsolak's first trial at the Shengavit Court of First Instance, Judge Ara Koubanyan did not allow the defendant to be accused on the evidence provided. Moreover, the prosecutor had called for a 15 year sentence. The judge sent the case for a reexamination. An examining committee was formed headed by investigator Haroutyun Haroutyunyan, who now serves as a prosecutor.
You come across his name in a number of scandalous military cases. He's getting ahead in his profession because he was able to call for a life sentence for Tsolak without any evidence. This time, the case was presented to another judge at the Shengavit Court – Vardan Grigoryan. He sentenced Tsolak to life and the case continues at the Erebouni and Noubarashen District Court.
I've stated that fourteen of those serving life sentences are former soldiers. They were between the ages of 18 and 21 when they committed their infractions. The state conscripted these young men in order to defend the country's borders. They committed their crimes because all the necessary preconditions for them to do so had been created in the army. If a criminal environment hadn't existed, these men would have never become criminals.
Most of criminal cases of the lifers investigated by Hetq are suspicious. They are replete with evidence of violence, deceit and pressure brought to bear against relatives. Physical evidence has been destroyed. By doing so, the judges, prosecutors and investigators have taken out an insurance policy for their actions. No one can go and punish those judges for what they did. They continue to sit on the bench in the name of Armenia. In fact, they are all criminals, for they know how they exacted confessions from these soldiers.
If they had sentenced Gagik Jhangiryan, a former military prosecutor and a current member of the National Assembly's Standing Committee on State-legal Affairs who constantly extols human rights, the true picture of all the soldiers sentenced to life would instantly change. I see no other road. Jhangiryan needs to be subjected to the same series of torture as these soldiers so that he can spill the beans about how they were forced to provide incriminating confessions.
Emil, one of the soldiers serving a life sentence, told us years ago about how the means they used to extract am incriminating confession. When days of beating proved unsuccessful they brought a bottle. "They told me I had one chance left. Either confess or I'd be forced to sit on the bottle," Emil related. Emil finally gave in.
Suzy, the daughter of lifer Soghomon Kocharyan committed suicide. His wife passed away a few years ago.
Soghomon's daughter was a victim of a society, our society, which has no compassion for those incarcerated and their family members.
The public attention is focused on the latest political scandal; on who said what about whom.
The fate of an individual has nothing to do with such political games.
What can we do to get our 131 MPs to listen, even for a moment, to the voices of our fellow humans in order that they understand that not only have the incarcerated been sentenced to life under their watch, but also their families?
Those behind bars are without hope; so are their families.
We are all equally responsible for the suicide of that twenty year old woman; Soghomon's daughter.
We failed to offer her any comfort or solace, the slightest ray of hope.
Photo: Soghomon Kocharyan's daughter, Suzy.
If you found a typo you can notify us by selecting the text area and pressing CTRL+Enter