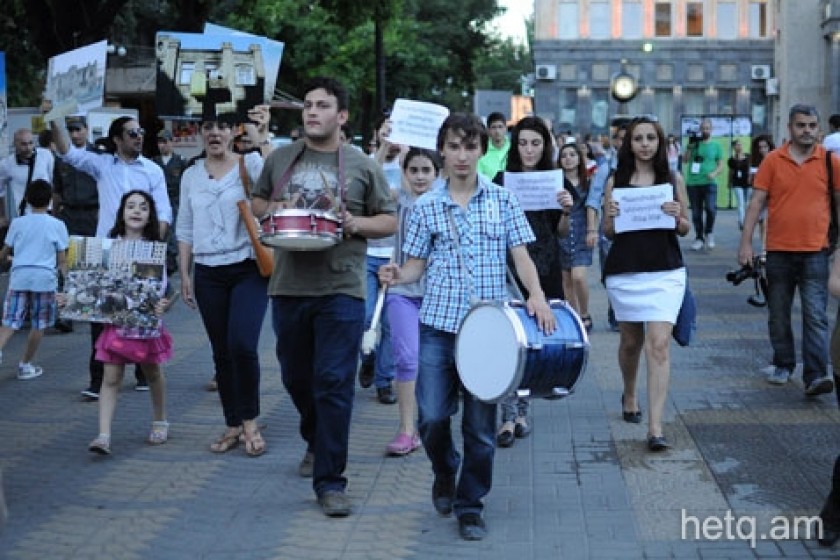 Public Discussion to Follow Today's March to Save Historic Afrikyan Building
The "SOS Afrikyan Club Building" civic initiative continues to organize marches through the streets of downtown Yerevan to protest the dismantling of the historic Afrikyan building.
Yesterday's march had a greater number of participants than the one before.
The
march planned for 6 pm this evening
will once again begin from the Afrikyan building at 11 Teryan St. and will stop at the Armenian government building with the expectation to receive a response to its letter and the demands contained therein.
Those interested in joining the march can also join at 7 pm, outside the government building, from where it will depart at 7:30 pm in the direction of Mashtots Park. As before, the march will end at the Afrikyan building where there will be a public discussion (scheduled for 8 pm).
The Afrikyan house, constructed at the end of the 19th century and belonging to the merchant Armen Afrikyan, served as a center where political figures, entrepreneurs, artists, and other prominent members of the city would meet. The Afrikyans were also Yerevan City Council members.
The building, recognized as having eminent public interest, was purchased by Millennium Construction, which intends to dismantle it, reconstructing the façade in another part of the city, and build a hotel in its place.