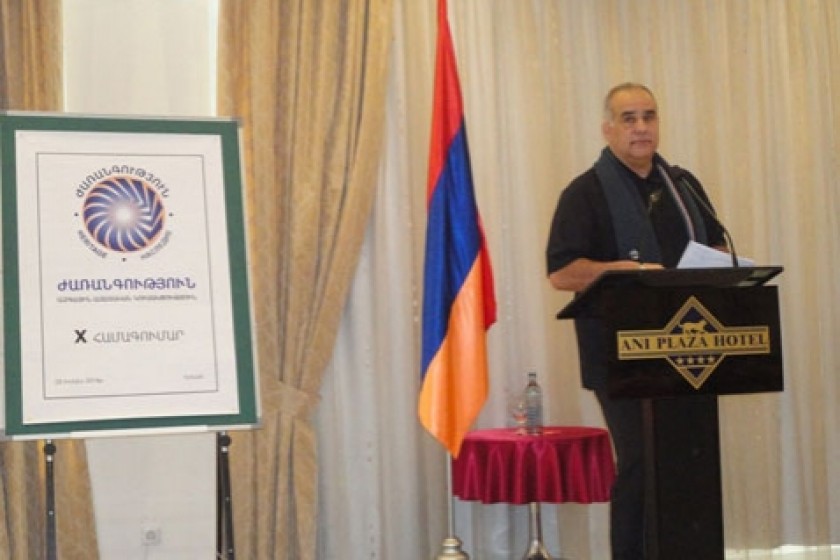 Hovannisian Re-elected Heritage Party Leader
At its Tenth National Congress in Yerevan today, the Heritage Party board re-elected Raffi Hovannisian as its leader.
The board selected Armen Martirosyan to serve as vice chair in charge of public policy, Zaruhi Postanjyan as secretary general for international affairs, Gayane Abasyan as board secretary, and Davit Sanasaryan as press secretary.
The Congress first approved its agenda as well as the composition of its secretariat and election commission. The board of the Party, the Heritage parliamentary faction, and the "Barev Yerevan" team at the Yerevan City Council presented their reports.
Heritage leader Raffi K. Hovannisian addressed the Congress with a keynote speech outlining the major domestic issues and foreign policy challenges in the period since the previous Congress.
Elections for members of the new board, as well as for the audit and statutory committees, were held in the afternoon.
The Congress elected a new governing board composed of Heritage Party founder Raffi Hovannisian, educators Anahit Bakhshyan and Armen Martirosyan, MPs Ruben Hakobyan and Zaruhi Postanjyan, economists Gagik Margaryan, Susanna Muradyan, and Rshtun Martirosyan, journalist-economist Hrayr Manoukyan, political scientist Stepan Hasan-Jalalyan, Philip Arzoumanyan, and Hovsep Ghazaryan, designer Gayane Abasyan, geographer Vahagn Hovhannisyan and international relations specialist Andranik Grigoryan.
The Congress also adopted a Resolution reaffirming its commitment to Heritage's national goals. It reads in part: "The formula for Armenia's salvation remains the same—Liberty, Sovereignty, and the National Interest. We will be worthy of our Flag only if we overcome our partisan interests and work together to realize a Constitutional Revolution with a united agenda for extraordinary change of Armenia's illegitimate authorities, immediately and without any opportunism or political bickering."
Heritage Party Press Service