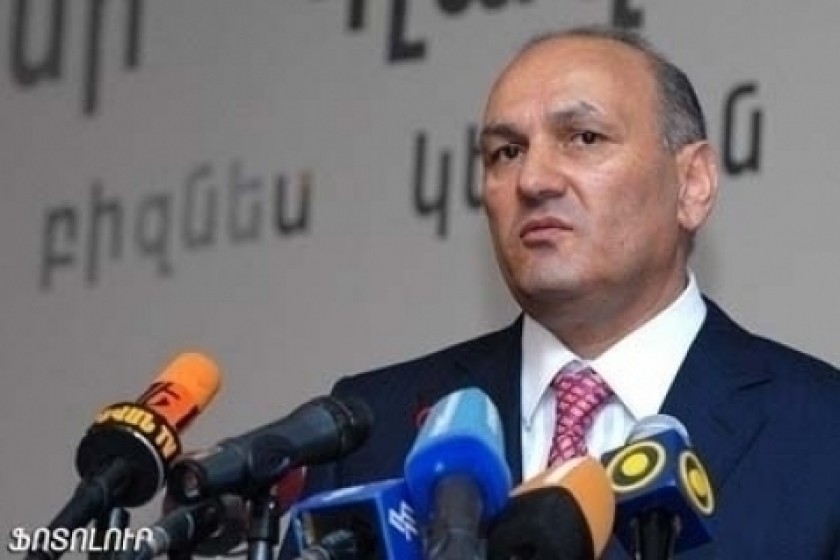 Yerevan's Afrikyan Building: Just Another Business Venture for Minister Khachatryan and Sons
It comes as no surprise that the efforts of citizen activists to halt the stone by stone removal of the historic Afrikyan Building in downtown Yerevan is proving fruitless.
There are major forces at play here and the prime mover is none other than Gagik Khachatryan, Armenia's Minister of Finance. Scratch the surface and you'll find that the individuals behind the demolition of one of the remaining historic sites in Yerevan are connected to Khachatryan.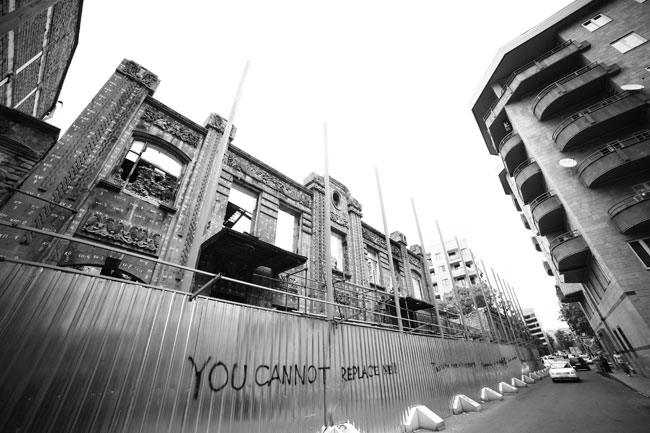 The Afrikyan house located at 11 Teryan St., constructed at the end of the 19th century and belonging to the merchant Armen Afrikyan, served as a center where political figures, entrepreneurs, artists, and other prominent members of the city would meet. The Afrikyans were also Yerevan City Council members.
The building, recognized as having eminent public interest, was purchased by Millennium Construction, which intends to dismantle it, reconstructing the façade in another part of the city, and build a hotel in its place.
The company was created in 2009 by Dvin Holding Ltd. Today, Millenium is owned outright by Harutyun Tadevosyan.
Millenium is registered at 20 Sayat Nova Street in Yerevan, Apt. 53. We visited the address to speak with Tadevosyan. We buzzed the intercom and an elderly woman answered. She knew nothing of a company located there. She assured us that the apartment was owned by Sedrak and Nina Javadyan and that she was Nina's mother.
Sedrak Javadyan is the chief accountant for Acba-Credit Agricole Bank who owns a 10% share in the bank's insurance division. Mr. Javadyan told Hetq that he too was concerned about the fate of the Afrikyan Building and that he had no connection to Millenium Construction. Her sais he purchased the apartment in 2012 from Tigran Shahramanyan, an employee at Mega Food.
According to Armenia's State Registry, Gagik Khachatryan's sons Gourgen and Artyom owned shares in Mega Food until 2012. Today, the sole shareholder is Gagik Khachatryan's cousin, Aram Khachatryan.
The official address of Mega Food is the same of that of Harutyun Tadevosyan – 20/3 Margaryan, Apt. 2.
Tigran Shahramanyan heads the public affairs department at Mega Food. "I am not at liberty to make additional comments. If there are certain questions that interest you, you can leave your number and I will ask that someone in authority get back to you," was the response of Shahramanyan to our inquiry as to his connection to Millennium Construction, the company registered at his apartment. So far, that person "in authority" hasn't phoned Hetq.
Harutyun Tadevosyan is also a shareholder in Megatoy Ltd., another company with links to Gagik Khachatryan. Megatoy director Anna Avetisyan told us that Tadevosyan was out of the country and scheduled to return on July 10. Today, Avetisyan gave us Tadevosyan's email, saying that we can direct our questions to him. We have done so and are awaiting his answers. If and when we receive them, they will be added to this article.
Sedrak Javadyan still doesn't know that the apartment he lives in serves as the corporate address for other companies linked to Gagik Khachatryan associates. These include Apeyron, Megamotors and Galaxy Concern, all companies in which the sons of Khachatryan share 50/50 shares.
From 2000 to 2004, Yerevan had no official list of historic and cultural sites. Taking advantage of this absence, such sites were sold to commercial enterprises that were never called to account for demolishing them.
In 2004, the government added the Afrikyan Building to a list of 13 other sites slated for relocation. In 2005, when the building was recognized as a historical site, then Mayor Yervand Zakharyan decided to allocate it to Dvin Holding. The latter petitioned the municipality for a permit to erect a residential building at the site. The Yerevan Municipality agreed to the construction of a ten story residential building. In the meantime, Dvin Holding never drafted a blueprint for the building and transferred its shares to Millenium Construction, which now wants to build a hotel at the site.
On June 23, the Ministry of Culture's Agency for the Preservation of Historical and Cultural Monuments wrote to Harutyun Tadevosyan and the police that the documents presented by the builders were incomplete.
The Ministry ordered a cessation of construction until all the paperwork was in order.
Despite this, construction recommenced two days later. The Ministry lifted the freeze.
It seems that no one in government has the stomach to go up against Gagik Khachatryan.
If you found a typo you can notify us by selecting the text area and pressing CTRL+Enter