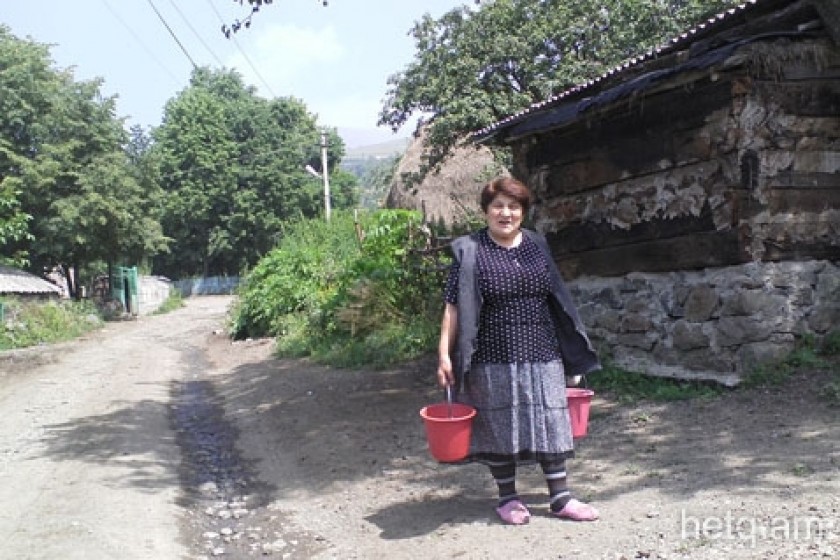 Water Carried in Buckets, No Gas Supply, Impassable Roads: Some of the Problems in Armenian Village of Katchatchkout
Drinking water not supplied to the entire village, no natural gas supply system, and an impassable road are just some of the problems faced by residents of the village of Katchatchkout in Armenia's Lori Province.
Katchatchkout resident Larisa Petrosyan every day hauls water in buckets from the village spring to her home. "Drinking water doesn't reach our neighborhood; that's why we're forced to take water in buckets from the village spring. Well, what can we do?" she says.
"The marzpet [provincial governor] once came to Katchatchkout. One of the villagers told the marzpet that my wife has carried so much water in buckets that her hands [i.e. arms] have become longer than her legs," recalls Katchatchkout village mayor MkhitarTamazyan. In the past, women from the inner neighborhoods would carry water for more than a kilometer. "In 2008, we solved the drinking water problem. Only one neighborhood doesn't receive water," says Tamazyan.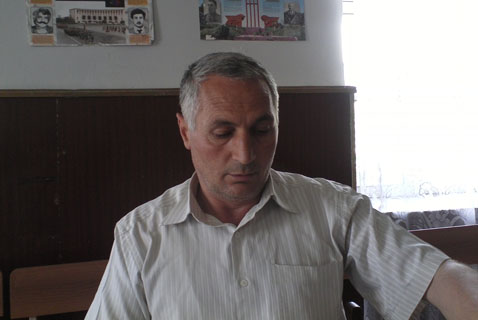 Though HaykazDavtyan, another Katchatchkout resident, believes the drinking water issue is considered addressed, the village administration doesn't regulate the issue of water supply, as a result of which residents of the upper neighborhood usurp the lower neighborhood's drinking water.
The water issue is not the only problem plaguing Katchatchkout. The mayor, MkhitarTamazyan, considers the 2013–2016 village development program merely a formality. In the four-year plan, 35 million AMD (about $86,086 USD) is to go toward the village road and 95 million AMD ($233,662) for installing a natural gas supply system in the village. "These are big issues, right? We put forth the same issues for every four-year program, but the village has no opportunity to resolve them," he said, disappointed.
The 2014 Katchatchkout village budget foresees revenues of 8.9 million AMD ($21,890), which is not possible to collect in full. The village doesn't have a kindergarten, though there are only 12 children aged 3–5 years old. There are 42 children who study at the main school, but this number drops year by year. The school building and the cultural center are both renovated. "But if I say whether we use that center, we don't use it," Tamazyan confesses. Every year, 64 men from the village go abroad to work.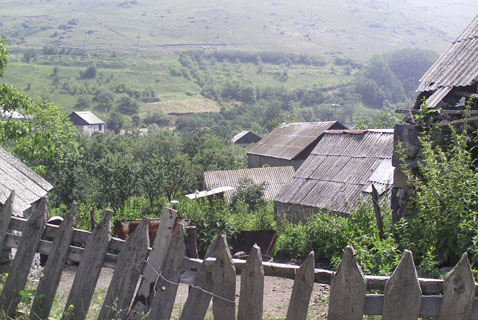 Katchatchkout is an animal breeding village: 367 livestock are registered in the village registry. Resident Davtyan says the hay for those residents who raise livestock ends up staying in the hayfields, as the majority of the men are not in the village during the harvest period. The price of hay goes up in the winter, and villagers are faced with difficulties. Even without that, Davtyan said, hay work is not that good this year.
The village mayor said that two vehicles come from Hagvi village and collect milk at140–150 AMD ($0.34–0.37) a liter from the Katchatchkoutmountains. Tamazyan considers this a huge help for the village.
"Until then there was no opportunity; people would take 10 liters of milk or dairy products to Alaverdi to sell. Butter produced by villagers was sold 1,000 dram [$2.46] cheaper in stores. Furthermore, there's no bus from the village to Alaverdi. [Villagers] would take a taxi, [which costs] 500 drams [$1.33] one way," he explained.
However, Tamazyan believes the village's number one problem is improving the impassable 5 km Katchatchkout-Akori road.
Davtyan claims a brand new car is no longer fit to drive after two years of driving on the village road. Tamazyan recalled a meeting at the cultural center in Alaverdi in 2012 with then Prime Minister Tigran Sargsyan, during which the matter of the Katchatchkout-Akori road was raised. Though Sargsyan promised to renovate the road that same year, it is impassable to this day. "At the time, the marzpet changed. Deputy marzpet ArsenDarbinyan, based on a government decision, gave us a letter [saying] that it's no longer possible to repair the road in 2012, but said repair of our road is included in the 2013 urgent program, which likewise didn't happen," said Tamazyan.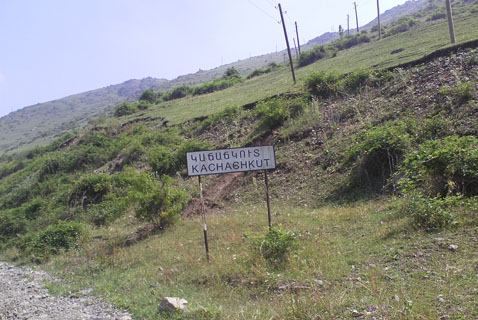 "The price of firewood brought on that road went up. Drivers who can cross the road with 20 liters of gasoline consume 100 liters of gasoline, who can load 10 cubic meters of wood take 5 cubic meters. The market price of 1 cubic meter of wood is 8,000 dram [$19.68]. When we calculate it, 1 cubic meter of wood costs us 17–18 thousand dram [$42–44]," says the village mayor, explaining the material losses incurred by villagers as a result of poor road conditions.
Katchatchkout residents knew about the mining exploration work carried out by Metal Prince Ltd. in the administrative territory of their village in 2010; however, they didn't know about the April 11, 2014 decision to change the purpose of agricultural lands in Katchatchkout's administrative borders and sign a land lease contract with Akhtala MEC (mining exploration company).
"It's our village mayor's nature: he secretly makes decisions here and there, then when they're revealed, he goes door to door, persuading villagers and collecting signatures that they don't protest the decision he adopted," says Davtyan.