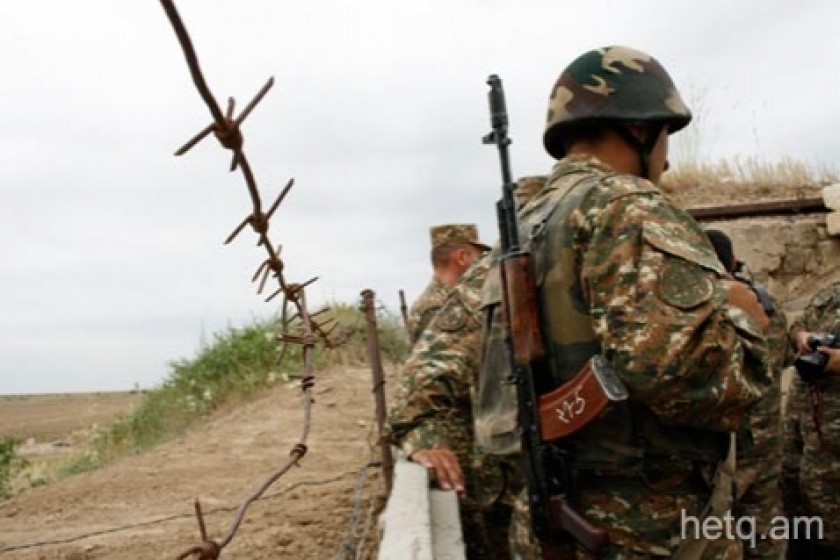 Reconnaissance Scouts on Karabakh Frontline Tight-Lipped About Themselves, Their Actions
Hetq's editor-in-chief Edik Baghdasaryan continues his series of reporting from the frontline. He recently met with soldiers, officers, and intelligence scouts serving in Karabakh, who described the current situation. Baghdasaryan notes that the men on the frontline were reluctant to speak with him, though they did manage to share a few stories.
The "negotiations" with Minister of Defense of the Republic of Nagorno-Karabakh (NKR) Movses Hakobyan yielded results. I received permission to speak with a group of scouts. As a result of preventative action after exacerbation of the situation along the Karabakh-Azerbaijan Line of Contact, 7 of the opponent's men were killed and 5 were injured. I met with intelligence scouts at different sections of the border, at the military unit and on the frontline.
Two of them are preparing to go to the military posts on the frontline. The conversation is not moving forward; I'm unable to get them to talk — there's a wall. The boys don't talk and that's it; they don't want to describe anything. In response to questions about their actions, they say they were given a job and they did it. I then ask for their opinion about the armies of different countries; I ask about the best scouts. The boys begin to speak in snippets, but my efforts over the course of an hour-long conversation, to sway the conversation in their direction, are nearly fruitless.
They aren't used to talking about themselves. Even their families don't know what they do in the army. Their names are never heard; giving them medals is not raised — they are like ghosts, neither here nor there. Though from time to time I would say that our conversation won't be published, all the same, it can be said that there was no conversation. Then at some point they said they have to go to their posts and they left.
Also participating in the preventative action with the scouts was Vahe Petrosyan, who is from the village of Angeghakot near Sisian. The only rank-and-file soldier in the group, he has been serving for 20 months. The boys chose him and he behaved as he should. When I ask why did you take a soldier with you, one of them says: "Well, we won't always remain; let them learn." How did he behave during the operation? "Very well," says the group leader and with this ends the conversation about Vahe.
Near the posts we meet the commander, Jalal Haroutyunyan, one of the best officers in the Armenian army. He is constantly in motion; he is always at the posts, checking everything personally. Speaking about Jalal, one of the officers described him as follows: "Doctors have to determine what materials our commander is made of. He doesn't sleep, doesn't eat, is constantly in motion, and runs in the mornings, but he always has energy."
I meet with two scouts in another section of the border.
Karen (names have been changed) has been in the army since he was 16. A deputy at the military unit introduced me to Karen and said he will give an interview. Karen immediately countered: "I have a fourth-grade education. What interview am I to give?"
"Education has nothing to do with it," I say.
"How does it have nothing to do with it? If I had an education, I would be a general by now," he replies.
"What is the Azerbaijani army's weak side?"
"Their weak side? That they're Azerbaijani. Really, they are not capable of having a strong army. You can have as many weapons as you like, if you can't use those weapons, what are you going to do with them? You know, killing a person is not pleasant, even if he's a Turk, but we are forced to do so."
Then silence. I pause, thinking he will continue, but he doesn't.
I think: when they say they "neutralized" a sentry it means they killed an opponent soldier. But we don't picture it; we don't dig deeper into the meaning behind the word "to neutralize"; we don't imagine that if they did it without a shot then they killed him with a knife or strangled him with their hands.
Azerbaijani Soldiers Abandon Their Posts at Night
"We entered their posts, they're empty — we were surprised. In the afternoon, there were soldiers there; they shot in the direction of our posts from there, but now they're vacant. There are 3+3+1 people in one post of theirs; that is, six plus a senior [officer]. And none of them are at the post. We went in the opposite direction, bypassing the blindage. The other wing of the trench was also vacant. Then we approached the blindage; it turns out they've gathered at the blindage from the two wings, not moving away from each other out of fear," describes Karen.
I ask, have there been cases where one of the members of the group didn't fulfill his task? Karen described one such incident: "In a job, everyone has his task to do — clear, calculated until the end; that is, during such actions you have to calculate all those possible scenarios that might arise. Say, something doesn't work out [as it's supposed do] during neutralization. A shot is heard; the entire process of the action immediately changes, everyone knows what he's supposed to do. Or, say, the way back is blocked. In this case, we know where and at what time we must meet at the enemy's rear. In short, everything is calculated in detail, with a dozen sentry scenarios. Any event is carried out by planning. But it never happens 100%. [Sometimes] it happens that you make a decision in seconds. Once, one of the boys had to wait for us farther away from the site of the action. He was to help if needed; if there wasn't that need, he was simply to remain on the spot. Then we saw that he too joined the actions, though something else had been planned."
"Did you punish [him] later?" I ask.
"No, what punishment? He said, it's like going to the spring and not drinking the water, how can that be?"
Then one of the men who remove land mines joined us. Ahead of the actions, their group had demined the scouts' path. Yura is an officer who likes to joke. I not having yet asked him a question, he immediately says, "I'm not married. I had decided to get married, [but then] things got mixed up. Let's see if I'll get married."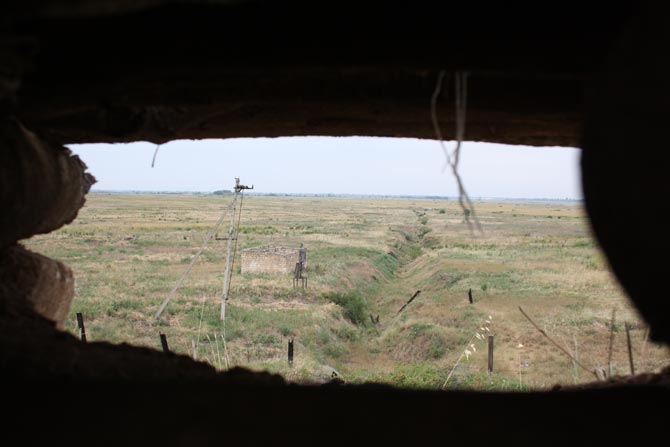 After the recent incidents along the line of contact, Azerbaijani authorities removed residents from seven border villages. For security reasons, electricity was cut off.
One of the Armenian scouts I spoke to said that the increased Azerbaijani actions were linked to the newly appointed Azerbaijani defense minister.

"He wants to change the situation. Now, he is strengthening the defense of their villages. They are building dirt mounds opposite the villages. Since we hadn't responded in kind to them for such a long time they figured the situation would continue like that. That they would attack and we would merely defend. To be honest, we don't have to purchase airplanes. Let them have all they want. We will shoot down those planes," Samvel told me.
I bring up the question of the Azerbaijani advantage in terms of military equipment.
"They have many Turkish weapons. Their recon units have Israeli manufactured weapons. We have as much as our resources allow. We don't have oil to buy all those weapons. Our weapons are a bit cheap but they get the job done," says Karen. "We launched our latest action with new equipment. It really helped. Of course there is better stuff. But we work with what we have."
"In their entire history the Azerbaijanis never won a war. The Turks have fought here and so have other tribes. But the Azerbaijanis have never participated in a battle in their history. But that nation has a peculiarity – to stab you in the back," says the recon unit soldier.
"Did the unit suffer any losses during the operation," I ask
"No"
"Does this mean you are very professional?"
"No. It means we organize well."
"Did you receive awards for your latest operation?"
"Why? Do we carry out our mission just to get medals?"
"I was just asking."
"Our reward is the security of the state. One of our buddies has four kids. Do you think he's thinking of getting a medal?"
I asked the wrong questions and the conversation comes to a temporary halt. Then we talk about the oil pipeline and the chances of reaching it some 250 kilometers away.
"We could reach it if that was our order. We talk about it all the time. But it wouldn't take long for them to rebuild it. It's better to take out a platoon than destroy an oil pipeline."
"After this latest round of preventative measures you've taken, what's changed on the Azerbaijani side?"
"Fear has increased, fear. They fire all the time. Just like that; lighting up their territory. They've gotten so afraid that they have brought up armored equipment to their positions, to the frontline to buoy the spirits of the soldiers. But it won't help."
"Our ministry has said that if they hit one of our soldiers we will hit ten of theirs and destroy that position that launched the deadly gunfire. It's not just talk. We warned them and now we are making good on those words," says Karen.
After returning from service, these Armenian recon unit soldiers will write their accounts of what happened.
Now they are tight-lipped. There are still too many secrets to withhold.
It will take several decades for us to learn about the operations of our recon units and their importance.
If you found a typo you can notify us by selecting the text area and pressing CTRL+Enter