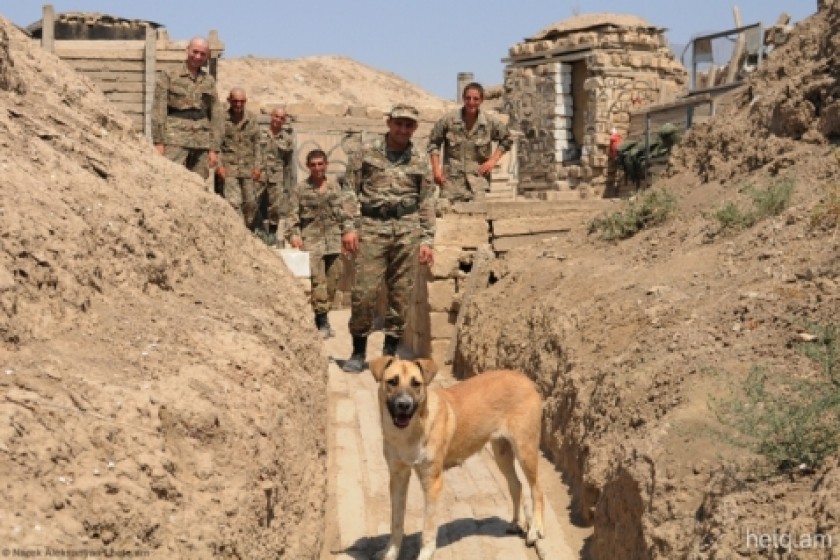 Stop Your Patriotic Theatrics! MPs Need to Change Law Regarding Army Officer Housing
(Hetq editor in chief Edik Baghdasaryan recently toured the front lines and military units of the Karabakh Defense Army where he met with soldiers and commanders)
We had just finished our visit to one of the frontline posts and were about to leave when Captain Hayk Sargsyan pulled me aside.
"Can I talk to you about a personal matter?" he asked.
"Of course," I replied.
Hayk Sargsyan has served in the army for 17 years now, first with the Yeghnik unit and now at a post in the Martakert region.
His family lives in a rented house in town. They are expecting their second child soon.
Hayk, a native of Martakert, has two brothers, each with two kids of their own. All three families live in their parents' two story house in Martakert. The three brothers are registered at that house for residency purposes. Given that the house is too small for all three families, Hayk moved out and rented separate accommodations.
While it is up to the government to find adequate housing for officers in the communities where they serve, Hayk hasn't been able to get on a waiting list for an apartment because he doesn't meet the legal requirements.
At his parents' house, each registered person gets seven square meters of living space – the total living area divided by the number of registered residents. To get on a government waiting list for housing that number needs to be less.
It's as if our lawmakers huddled together and devised a legal way to deprive our officers housing. But this isn't the only piece of cunning devised by our legislators.
The government covers the rental cost for officer housing if he is serving at least thirty kilometers from his place of residency. When Hayk was serving with the Yeghnik unit, the government subsidized his housing. Now, when he is serving in Martakert, the government pays nothing.
When I ask Captain Sargsyan if he's mentioned the matter to his base commander, he says he hasn't.
"He has nothing to do with the matter," Hayk replies.
"Have you spoken to the minister?" I ask.
"No."
"Why not?"
"It's useless. That's the law. He won't violate the law."
Later on that day, I raise the matter with Artsakh Defense Minister Movses Hakobyan.
Sighing deeply, the minister says he's done everything to get the law changed but that his efforts have been in vain. The minister confesses that on several occasions he's even had to flout the law. It turns out that Captain Sargsyan's problem isn't an isolated case.
There are 131 legislators in Armenia's National Assembly. After the recent clashes along the Artsakh-Azerbaijan line of contact, a group of MPs visited the frontline in a show of patriotic fervor. Wearing camouflage gear, they toured the frontline posts, talked to the soldiers and broke bread with them. Talking to reporters later on, our brave MPS stated that they stood with our boys on the frontline and other such balderdash. In a show of organized theatrics, these legislators wanted to give the impression that they had singlehandedly repulsed the Azerbaijani reconnaissance units. Naturally, all this is a figment of their imagination.
Armenia's prime minister also deemed it necessary to visit the frontline, along with an entourage of government bureaucrats. This is the very same group of dignitaries that concocted the housing law in the first place.
Rather than visiting the frontlines in a symbolic show of support, these government officials should resolve to do something practical to manifest their patriotism. The first issue they can tackle is to change this illogical housing law.
An officer serving in the army must be guaranteed suitable housing. This is an obligation of the government, regardless of whether an officer has inherited a house from his parents and regardless of the distance his registered place of residence is from the post or base he is serving in.
While I can't predict whether the prime minister will initiate such modifications to the law, at least one of our 131 MPs should do so.
I would counsel our lawmakers to remove that guise of patriotism they so like to flaunt and to get down to some serious work to make a real difference.
Do it quietly, behind the scene, and without fanfare.
The fact that none of our 131 MPS to date has even raised this shameful issue speaks volumes as to their professed patriotism.
It merely leads one to believe that their visits to the frontline are mere public relations theatrics if they avoid speaking to at least one officer regarding the problems he faces.
If you found a typo you can notify us by selecting the text area and pressing CTRL+Enter