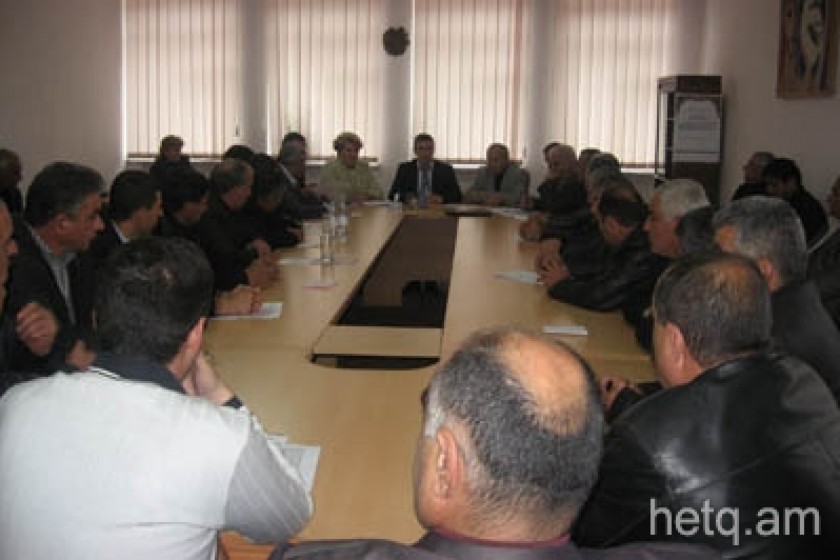 Head of Agriculture Department Angers Governor
Yesterday, the governor of Lori marz Arthur Nalbandyan held a meeting with 30 village heads from the Tumanyan region and the communities of the city of Alaverdi.
He stated that this was his first official meeting with the community heads from the villages of the Alaverdi region. "I have to be honest and say that I have been in all the villages of the marz and I have met the community heads, but I left the Tumanyan region for the end because in my opinion this is the region with the most serious problems. I know all the community heads personally, they are my friends. The reason for our meeting today is to discuss the mistakes we have made."
Governor Nalbandyan asked the village heads to first inform him of the problems which communities have faced in selling their villages' produce. The role of rapporteur was taken up by Odzun community head Arsen Titanyan, in whose village only 25 hectares of arable land was cultivated – that too by residents of the neighboring village Aregak who rent the land - compared to the total of 1300 hectares available.
"There is demand, everything is fine," said the Odzun village head.
"But the harvest is more than last year as well, right?"asked the Governor.
"Demand is growing gradually, every day we have people coming for wheat and corn," answered the village head.
The Odzun village head failed to clarify what kind of demand he was meeting through the uncultivated and unsown arable land in his village. The new governor circumvented this important issue.
Arthur Nalbandyan also spoke during the meeting about the distribution of elite wheat grain. He mentioned that the government had had a large amount of elite grain, but most of the marzes had begun to refuse the use of this grain, because the conditions for its cultivation are quite difficult.
"We had 15 tons of elite grain and were asking community heads to sow it. Now we have 5 tons remaining," the governor said.
At this point, the head of the Gubernatorial Agriculture Department, Grigor Hakobyan, said to the community heads, "If anyone wants the grain, you can come and pick it up."
Hearing this, Nalbandyan asked, "But wait a minute, you mean you hadn't told the village heads in all this time that the grain was available? You are only telling them now? Why are you only acquainting them with the procedure to receive grain now?"
"We had been told about the first-generation grain, not about the elite one," said a few community heads.
"Has anyone been told about the elite grain?" asked the governor and, receiving no reply, said, "I will deal with this issue at a later point."
He asked those village heads who were interested in receiving the grain to come to his office to find a solution to the situation.