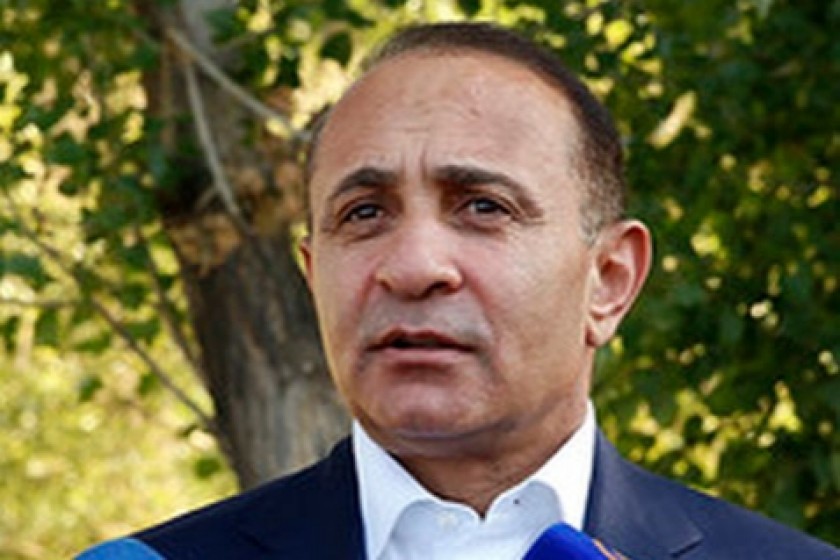 All In the Family: Armenian Prime Minister's Booming Business Empire (Part 2)
Supermarkets and Hotels
Artashat Plaza Ltd is building a large shopping center in the middle of the town of Artashat. Mayor Gagik Mouradyan told Hetq that two parcels of land located at August 23 Street (1,200 square meters and 977 square meters) were sold at auction to the company. The first was purchased in 2010 for 5.972 million AMD, and the second in 2012 for 4.866 AMD. Construction permits for both were issued in 2012.
| | |
| --- | --- |
| | Artashat Plaza, with paid in capital of 43.439 million, is fully owned by Argam Abrahamyan and Gagik Poghosyan, a relative, is company director. |
Abovyan City is well-known in the town of Abovyan as a supermarket belonging to town mayor Karapet Gouloyan. No shares are registered under his name. 50% of the shares belong to Argam Abrahamyan and 50% to Noyemzar Kaladjyan, the wife of MP Mourad Gouloyan and the mother of Abovyan Mayor Karapet Gouloyan. The company was founded in 2010.
| | |
| --- | --- |
| | Artashat City Ltd., owned by the wife of the prime minister, is located adjacent to the Metz Argam company in Mkhchyan village. It's a two story supermarket. The company was founded by Gagik Poghosyan. |
In April 2014, the company reverted to Julieta Abrahamyan. Mkhchyan resident Avag Hovhannisyan is the company director.
In an August 27, 2014 article, Hetq described how this company avoids paying its full complement of tax by concealing sales revenues.
Imperium Plaza CJSC is a company fully owned by Argam Abrahamyan which is located at 4/7 Amiryan Street in Yerevan. The company's paid in capital is US$4.6 million. A business center was built at the location in 2011 and rents out office space. Hotel National, owned by Argam Abrahamyan, also exists on the site.
The building used to belong to Armenian MP Melik Gasparyan until his death in 2009 in a car accident.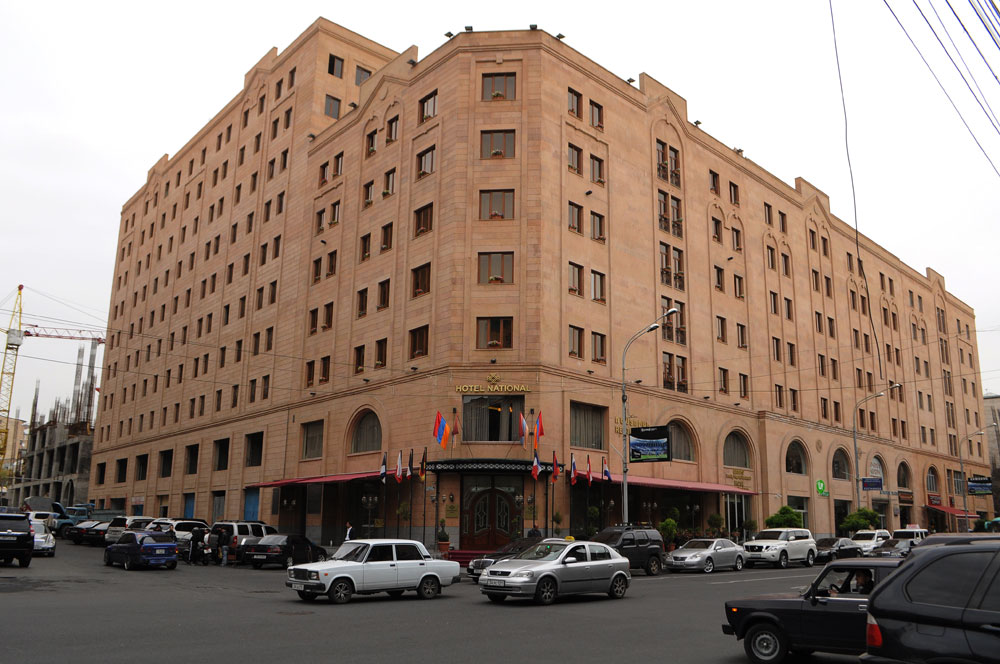 Imperium Group Ltd., established in February 2014, is also registered at the same address. It's fully owned by Argam Abrahamyan who serves as its director.
Dalar Bardi Ltd. owns the old Soviet-era community center in Artashat. Argam Abrahamyan became the sole shareholder in 2012. (Paid in capital stands at 31.255 million AMD) Robert Gasparyan, husband of MP Karineh Poghosyan, serves as director.
| | |
| --- | --- |
| | |
| Imperium Group Ltd | Community center in Artashat |
While Gasparyan told Hetq that he was indeed the company director, he said that Dalar Bardi isn't engaged in any business activity at the moment and that hasn't decided what sector to get into. When Hetq asked Gasparyan how many Abrahamyan family businesses he runs and how many are registered under his name, he lost his temper and shot back, "Why should I tell you anything. You're neither a state examiner nor the police."
During our conversation, Gasparyan at first concealed the fact that his wife is related to the Abrahamyans and that's why he's been entrusted with running the company. He argued it was because he's hard-working and trustworthy. When Hetq asked about his wife's link to the Abrahamyans, Gasparyan responded, "So you also know about it…Yes, my wife is related to the Abrahamyans."
The Prime Minister's Son and Relatives in the Mining Sector
Djuli Ltd., fully owned by Argam Abrahamyan, conducts geological tests to locate mineral ore for export. Armenia's ministry of Energy and Natural Resources issued a two year exploratory license to the company this February regarding the Yelpin copper and molybdenum reserves in Vayots Dzor province.
Another Argam Abrahamyan company, Argamik Ltd., had been conducting geological explorations in the area in the past.
Argamik Ltd. is engaged in mineral extraction and exportation, stone polishing, fish farming, and transport services, among others.
Djuli Ltd. is also engaged in retail and operates stores in Artashat and other communities. The company was founded in 2012 and is fully owned by Argam Abrahamyan, the prime minister's son. Robert Gasparyan is company director.
Aram Osikyan, who serves as director of Argamik Ltd., is 100% owner of Assat Ltd., another company engaged in mining. In 2013, Assat Ltd. was issued a mining license for gold in the Karaberd area of Lori Province. In 2004, it received a license to extract gold at the Kakavasar mine in Vayots Dzor.
The friendship between Armenian Prime minister Hovik Abrahamyan and Aram Osikyan stretches back many years, and it cannot be ruled out that the prime minister or his relatives are linked to Assat Ltd.
The prime minister's brother Henrik Abrahamyan is also active in the mining sector. He owns 30% in Avazahatik Ltd., a company that was issued a permit in 2012 to operate a sand mine in the Noramarz community of Ararat Province.
Noramarz Mayor Sargis Galstyan told Hetq that the municipality signed a twelve hectare lease contract with the company but that only one hectare is devoted to sand extraction.
"The sand is extracted from the river, not the land. The company pays 200,000 annually for the twelve acres," Galstyan said.
Hovhannes Abrahamyan, son of Henrik Abrahamyan, also owns sand mines. He owns 100% of Metzn Hovnan Ltd. which operates the Araks Sand Mine in Ararat Province community of Araksavan. Sand is directly extracted from the River Araks that forms the border between Armenia and Turkey.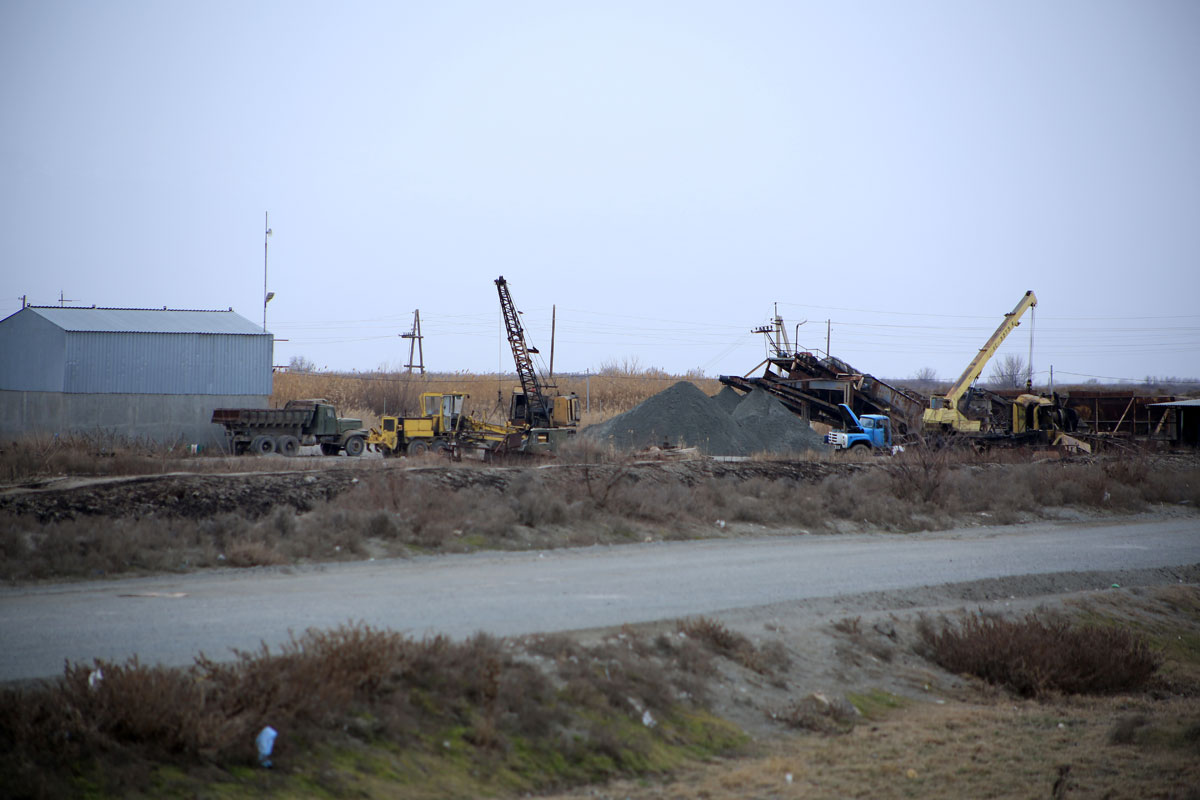 Araksavan Mayor Atom Tadevosyan told Hetq that the company leases three hectares of land zoned for mining for which it pays 247,000 annually. The company also owns 1.6 hectares in Araksavan.
Paramount Gold Mining Ltd. is the only company where Hovik Abrahamyan's name appears as a founder on the official registry. At the time, he served as chief of staff to the president. Other names that appear as founders are former MP Tigran Arzakantsyan, Bagratouni Barseghyan, and Gagik Khachatryan (not the Finance minister-ed). Later, AmeriaBank CJSC also became a founder in 2010. Tigran Arzakantsyan remains the only shareholder today.
In 2010, Paramount Gold was issued a mining license for the southern portion of the Meghradzor gold field in Kotayk Province. The license was extended in 2012.
Paramount Gold Ltd was disbanded and was acquired by Paramount Gold Mining CJSC, founded in 2011 by Tigran Arzakantsyan. On April 3, 2012, Arzakantsyan exited the company and the next day 100% of the shares were acquired by AMGM Sarl based in Luxembourg.
However, according to a July 18, 2012 article in Metal Mining Wire, Sberbank Capital, a subsidiary of Sberbank of Russia, acquired 49% of the shares in Paramount Gold Mining CJSC and that Tigran Arzakantsyan retained 51%.
The Sale of Luxury Items and Accessories
The Franck Muller watch company operates a store at 18 Abovyan Street, Yerevan. The corporation, Franck Muller Yerevan Watch Distribution CJSC, was established in 2002 by Sirkap Armenia CJSC. One year later, Sirkap sold it shares to Argam Abrahamyan (12%), his father-in-law MP Gagik Tsaroukyan (13%), Moscow resident Armen Hayrapetyan, and Hrach Kaprielyan and Vardan Sirmakes (current shareholders of Artsakh Bank).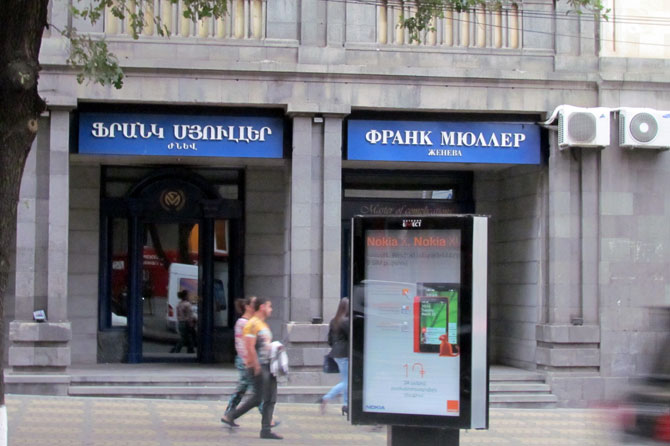 Abrahamyan and Tsaroukyan also own the same percentage of shares in Ayrsirkap CJSC. According to information we've culled from a taxpayer search, Franck Muller Distribution has temporarily ceased operating.
Argam Abrahamyan and Gagik Tsaroukyan each have a 25% share in Fortsa Ltd. The remaining 50% is owned by Moscow resident Gohar Papyan and her children Rafayel and Narineh Papyan. They are famous for selling brand name watches and expensive jewelry in Armenia and abroad. The Papyans own the Louvre store, also selling similar items, in Yerevan. Raffi Papyan has also opened Raff House, described as a purveyor of quality watches and fine jewelry for connoisseurs, in Moscow.
Fortsa Ltd. was established in 2009, and Gohar Papyan serves as director. Hetq asked Narineh Papyan to describe the business activities of Fortsa, but she refused to answer. The company is registered at 21 Toumanyan Street, Yerevan, where there is a store selling Time brand watches. A salesperson told Hetq that the store was established by TIMELESS LLC, a company owned by the sons of Armenian Minister of Finance Gagik Khachatryan.
The Abrahamyans: Big Fish in Fish Farming
Mkhchyan Fish Food Ltd. is registered under the name of the prime minister's brother, Henrik Abrahamyan, and is a major of fish feed. Established in 2010, it has opened a number of fish farms in the Ararat Province village of Mkhchyan and neighboring communities.
| | |
| --- | --- |
| | Henrik Abrahamyan and Hotshot Mayor Hovik Tadevosyan each own 33% of the company. Hetq has written about the monopoly this company has regarding the importation of fish feed to Armenia. The company's director is Baghramyan village (Ararat Province) resident Sanasar Khalatyan. |
Hovhannes Abrahamyan (a nephew of the prime minister) owns a 34% share in Ecofish Trade Ltd., also a big player in fish farming. Hovik Tadevosyan owns 33% and MP Gagik Tsaroukyan, 34%. The fish farm is located in the village of Zorak (Ararat Province). Leonard Karapetyan serves as company director.
In 2010, Metzn Argam Ltd. director Ambik Gevorgyan founded Mkhchyan Fish Ltd. (Metzn Argam is owned by the prime minister's wife Julieta.) The company' legal address is registered in Mkhchyan village, where the prime minister was born. There is no street address. Local residents claim that the Abrahamyan family is the real owners of Mkhchyan Fish Ltd.
Henrik Abrahamyan established Mary Fish Ltd. in June, 2014. The company also engages in fish farming. The company is names after Henrik's daughter Mary, who serves as director.
In August of 2014, Mary Abrahamyan established the individual proprietorship "Mary Fish", registered at their home address.
If you found a typo you can notify us by selecting the text area and pressing CTRL+Enter