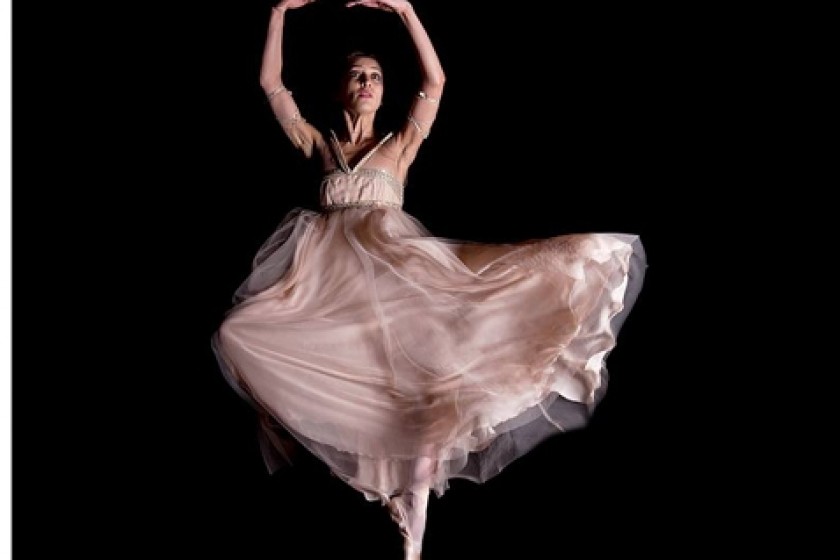 Prima Ballerina Jacqueline Sarkhoshyan Seeks New Challenges Abroad but Promises to Return
Jacqueline Sarkhoshyan, a prima ballerina at Armenia's National Academic Theater of Opera and Ballet for twenty years, has left the country to explore new artistic possibilities overseas.
Sarkhoshyan, who left with her husband Karen Makinyan (a soloist with the Barekamutyun Armenian State Dance Troupe), is now in Lebanon after accepting work as a dance instructor and director.
"We decided to go away for a while. It's no surprise that I get paid to dance, and thus I couldn't refuse such an offer," Sarkhoshyan noted in an interview after leaving.
The prima ballerina, who has received the RA Meritorious Artist Award, has overcome many difficulties throughout her illustrious twenty year career on the Armenian stage.
When I asked Sarkhoshyan what kept her on the stage in Armenia for all these years, despite the many offers she's received from abroad, the prima ballerina simply said – "Even during those cold and dark years I danced so that the theater wouldn't close."
I then asked about the time when she found about the death of her first husband but still found the inner strength to perform on stage. What was motivation, I inquired.
"At such times, you do not think about your personal problems. On that specific occasion, the company had gone on a state tour. Two presidents were in attendance and were to meet. I couldn't back out. There was no option. There was nothing I could do for my husband. If I hadn't performed, it would have been a blow to the ballet company and the state officials. No one understood what was happening inside me and where I found the strength to go on. The responsibility on my shoulders was great. I wouldn't wish such a situation on any artist," Sarkhoshyan replied.
I then asked about her performance in the fantasy ballet Yeraz (Dream) and whether it wasn't a conscious step on her part to explore new creative avenues. I also asked if it was true, as many had remarked at the time, that the disappointments of the main character Sarkhoshyan portrayed on stage had their reflection in her own personal life.
"I've never liked to march in place. I enjoy moving with the times. Classical performances have their place, but I want to explore new avenues. I met the composer Edward Hambardzoumyan at a reception for his CD and we came up with the idea of performing a modern ballet. I wrote the libretto and asked the composer to add a few musical passages. There is great love, betrayal and disappointment in the lives of all women. I won't deny that certain elements from my personal life were reflected in that performance. If you do not have such life experiences, you cannot be genuine on the stage and make contact with the audience," Sarkhoshyan said.
At the conclusion of our conversation I told Sarkhoshyan that her fans in Armenia were concerned that she might never return.
"I never retreat from the objectives I have set for myself. Upon returning to Armenia I will definitely dedicate a performance to my fans."
Photo: Jacqueline Sarkhoshyan's Facebook page
If you found a typo you can notify us by selecting the text area and pressing CTRL+Enter