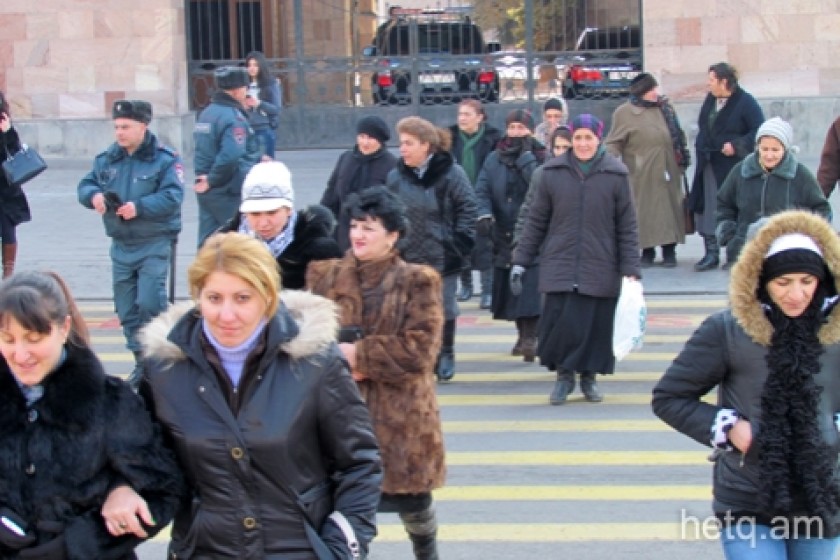 Yerevan Street Cleaners Protest Layoffs and Wage Infractions
Yerevan street cleaners, mostly women, gathered outside the Government Building on the first official work day after the winter holidays claiming that they haven't been paid.
One of the protestors, Liana Aloyan, told Hetq that their employer, a company called Sanitek, has not only withheld wages but has dismissed some workers as of January 1.
Sanitek, a Lebanese company, recently won a government contract to collect refuse and clean the streets in several Yerevan districts.
"For one month we worked as street sweepers and to collect garbage. On December 31 the company director paid us less than half of what we were owed. We couldn't prepare for the holidays. According to the agreement we were supposed to be paid 20 drams for every square meter of space cleaned. I was given 105,000 drams instead of the 210,000 I was owed. I'm a woman who goes out in the middle of the night to clean the streets in order not to go hungry. We agreed to all their conditions, but they don't even pay us a laborer's salary," said Mrs. Aloyan.
She claims the company director decided to cut 150 workers. Areas previously cleaned by ten will now be serviced by two workers.
"We haven't worked since January 1. They will not accept us. They want us to clean huge areas at a minimal salary. Who can do this?" Mrs. Aloyan said.
Another protestor, Sousanna Mouradyan, said that the company will reanalyze the spaces to be cleaned and come up with a new salary rates.
"For years we have worked without any problem regarding the size of the areas to be serviced. Why the problem now? We have been cleaning more areas than we've been getting paid for. Fine, the company won a tender bid, but they didn't win workers as well. They are presenting conditions that force workers to leave the job," said Mrs. Mouradyan.
She added that she worked for the company for one month without a contract; something that the company has no right to do. Mrs. Mouradyan claims that people from Charentsavan, who aren't registered there, are working for the company.
Not receiving any response at the Government Building, the protestors marched towards the Presidential Office on Baghramyan Street.
Hetq tried to contact Sanitek for their side of the story but no one answered our phone calls.