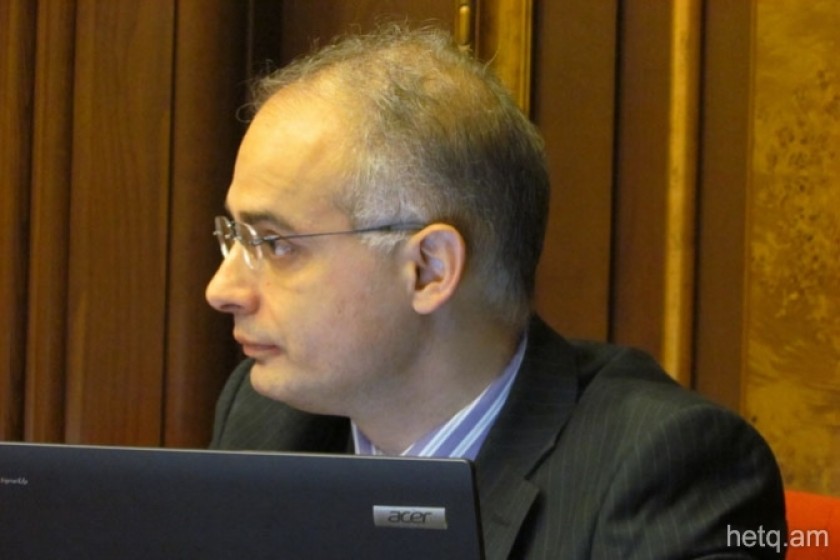 Armenia's Prosecutor General: 'I Do Not Receive Directives from the President'
Armenia's Prosecutor General Gevorg Kostanyan was in the hot seat today, fielding questions from members of Armenia's National Assembly.
MP Levon Zurabyan, from the opposition Armenian National Congress (HAK), asked Kostanyan if he meets with Armenian President Serzh Sargsyan and receives directives from him regarding whom to prosecute.
Zurabyan added that if Kostanyan doesn't consult with the president regarding permissible prosecution targets, then why the prosecutor general isn't fulfilling his obligations as defined in the country's constitution.
Zurabyan also complained that Kostanyan's office isn't following up on stories covered in the media and cited examples like the financial shenanigans at the Nairit chemical plant and the theft at Armenia's electrical provider.
Zurabyan noted that his party had written to the prosecutor general's office regarding irregularities in the financial disclosure statements filed by Yerevan Mayor Taron Margaryan but that nothing has yet to be done.
In response, Kostanyan said that he has not received any specific directives from the president regarding any case.
As to reports appearing in the media, Kostanyan noted that anyone can say that a theft has occurred but proof was needed to launch a criminal investigation. For example, Kostanyan said that if people claim that theft has occurred in the Armenia Electrical Network utility it's not sufficient to launch criminal charges. Kostanyan assured Zurabyan that if the energy ministry investigated the matter and found sufficient evidence his office would follow up/
Regarding irregularities in the financial disclosures of this or that official, Kostanyan argues that this, in and of itself, does not prove that a crime has been committed.
Photo: MP Levon Zurabyan