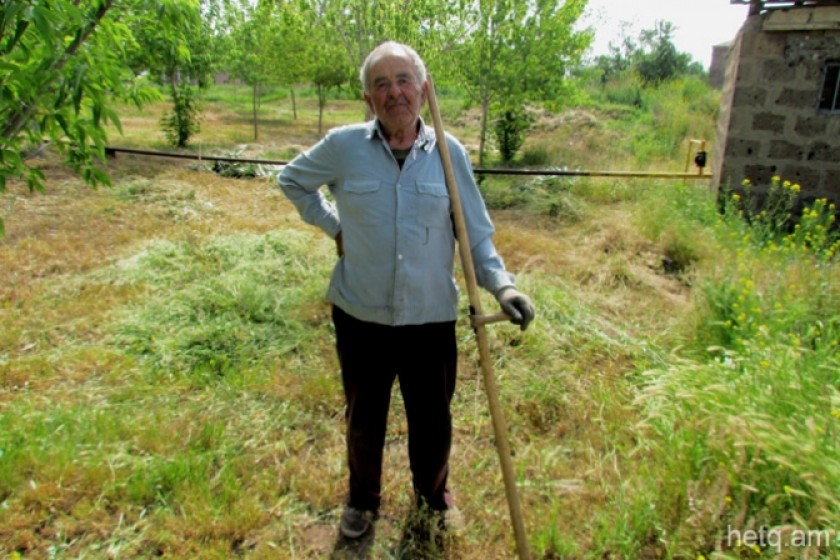 Hamlet Hovsepyan: 'Armenia has too many political parties. They ruin everything'
It was morning when I arrived at Alashkert, a rural community in Armenia's Armavir Province.
The streets were empty. I heard no cries from children going to school. Just a few men were playing cards in the town square.
Nearby, working in the kindergarten yard, was 75 year-old Hamlet Hovsepyan. He was cutting the grass with a scythe.
Upon seeing me he shouted: "Come closer. Tell me what's going on in Yerevan. I can see you're from the city since there's no mud on your shoes."
Mr. Hovsepyan suggested we talk in the shade, under some trees, about the state of citizens in Armenia. He started on a sour note.
"Living is hard for us. Prices are going up and we have no income. Now they want to raise the electricity rates. There's some argument about not raising the rates but I kind of don't believe it. I'm suspicious when it comes to such matters because I've seen how everything gets more expensive. No one thinks about lowering the prices. Who knows what the plight of the people will be after the rate hike?" he said.
Mr. Hovsepyan said he pays 15,000 drams just for electricity alone every month. If the rate hike is approved by the Public Services Regulatory Commission, he'll be paying between 20,000 and 25,000.
"That means I'll have 10-15,000 less to spend on food," he added.
Mr. Hovsepyan just doesn't only blame those in government for the sorry state of affairs in the country. He believes we are all responsible to varying degrees.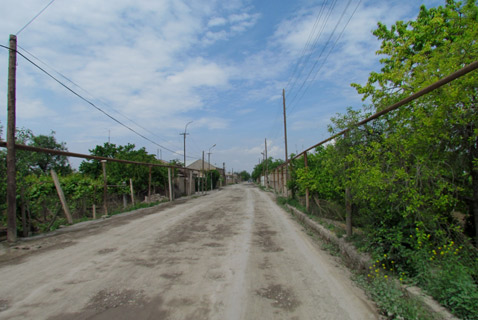 "Today in Armenia there are scores of rulers and political parties at work. They are screwing up everything. I know a bit about history. Back in the day they asked Stalin why he was so good at managing things. His answer was that there was only one political party. Wouldn't it be better if there was just one party in charge today instead of everyone trying to push forth their agendas and personal interests? They divvy up the seats of power amongst themselves and the people are left on their own."
Mr. Hovsepyan believes that if the government is truly sincere about improving the lot of its citizens it must create jobs.
"If I didn't work, how could I live? I'm 75 and still work the soil. Back then we worked less and lived better. Now it's the opposite. No one is controlling what the rich folk can do. They operate businesses, and that's not a bad thing. But those businesses are taking us downwards. The plight of the people is ample proof of this."
By this time the sun is scorching down. Mr. Hovsepyan slowly gets up and grabs the scythe. He has to get back to work.
We say our goodbyes. Seeing that I and my photographer are approaching, the men in the square start to move away.
One of the men, seeing that his friends are silently leaving, shouts out, "Stay where you are. Why are you fleeing?"
"The mayor's window looks out to the street here. He'll see us," another one answers.