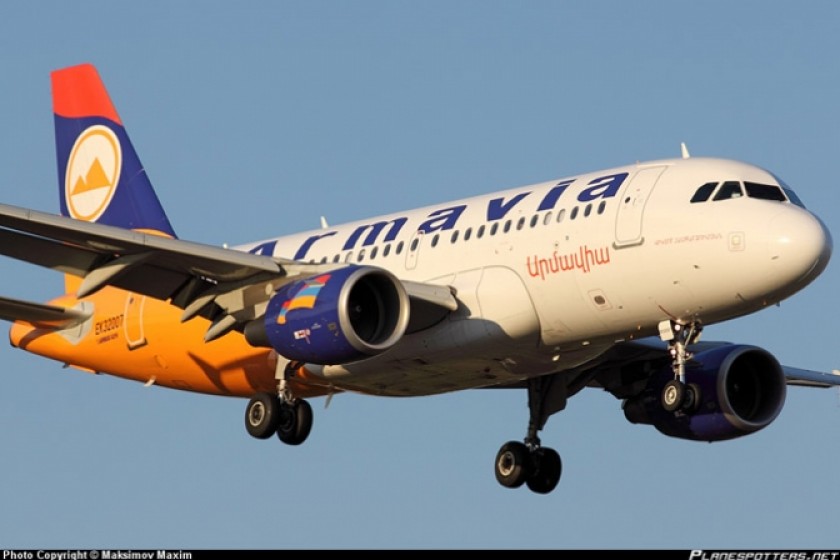 Armavia: Falling from Grace
The plane crash and hanger fire that both took place within days of each other in March 2006 were heavy blows to Armavia. A total of 113 people perished and two Airbus A320 planes, which did not belong to the company, were lost. The disasters also affected the number of passengers, which decreased to 450,000 in 2006 from 500,000 in 2005.
By the end of 2006 Armavia had two Airbus A319 planes, one Airbus A320, one IL-86 and one Yak-42. The A319s and the Yak-42 were acquired that same year.
Partnership with Sukhoi
In 2007 Mika Limited, registered in the Jersey Islands, became the third shareholder in the company's management, following AviaFin and Mika Branding. That same year did not see many changes to the air fleet. One more Yak-42 (EK-42362) was added, which the following year was already back in Russia. In the spring a Boeing 737-300 was acquired from Georgian Airways (4L-TGL), which flew under the Armavia name until the summer of 2009.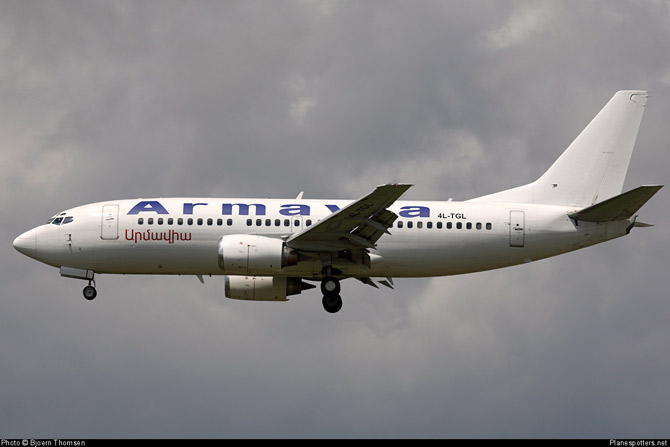 Armavia's Georgian Airplane in Frankfurt, Germany (June 23, 2007)
In 2007 Armavia saw a 21% increase in passengers from the previous year, transporting 572,300 travelers. According to that year's data the company ran 70 regular flights per week to 10 countries with 22 destinations.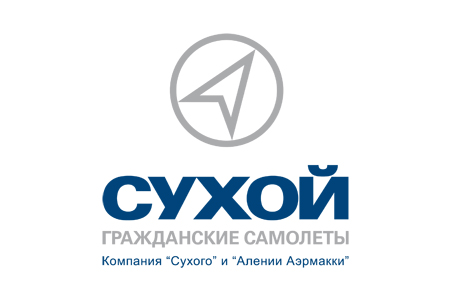 The main event in 2007, however, was the signed partnership with Sukhoi Civil Aircraft on September 14. The contract was signed by Mikhail Baghdasarov and the president of the Russian company's Board of Directors Mikhail Poghosyan. Soon thereafter, Armenia was scheduled to receive two Sukhoi Superjet 100 aircraft, which were still under development and would be the first to be operated by an airliner. The first plane was to be delivered by December 2008 while the second would follow within the coming six months. Armavia would have the right per the contract to receive two additional aircraft by 2012. To acquire the planes Armavia took out a loan from VTB Bank valued at between US$50-60 million. That deal would later become a headache for all the parties involved.
Ambitious Plans
In 2008 Armavia's shareholders were reshuffled. Mika Armenia Trading LLC was removed from Armavia's list of shareholders in January, replaced by Mika Corporation CJSC the following month. Mika Corporation was the successor to Mika Armenia Trading according to the company's web site, which is no longer online.It was in the wholesale and retail oil trading business, while operating a chain of gasoline stations since 2000. Mika Corporation was once the top fuel reseller, which Hetq previously reported.
Norair Belluyan, Armenia's Executive Director since 2005, said in the spring of 2008 that a new Airbus A320 was on its way from Toulouse, France. US-based CIT was the leasing company of the brand-new plane (registered as EK-32005), which was named Hovhannes Ayvazovski. After the plane's arrival Belluyan said that the plane's lease was negotiated for December 2006 to July 2007. The plane operated until June 2011 after which it returned to France.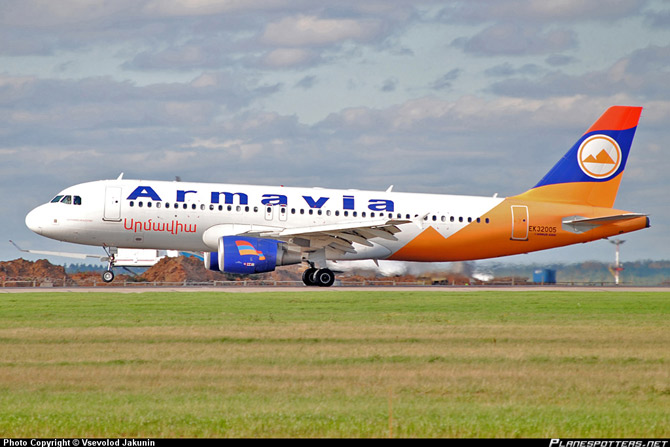 The 'Hovhannes Ayvazovski' in Moscow (September 18, 2010)
Belluyan admitted that a result of the tragic events of March 1, 2008, the company saw a 50 % decrease in passengers in just one month, especially from Europe. Despite the setback, by year's end Armavia transported 647,000 passengers according to the company's estimates.
In 2008, Armavia added new flights to Marseilles, Astrakhan, Dusseldorf and Riga. Belluyan stated that after the 2008 Beijing Olympic Games flights to China would start (flights actually began in 2010). A Yerevan-Los Angeles flight was also in the works. Unprofitable flights were slated to stop, including the Minsk route and the third weekly flight to Dubai.
Also in that same year Belluyan began active negotiations with Airbus and Boeing for obtaining a suitable airplane for non-stop flights to Los Angeles from Yerevan. The companies, however, were willing to sell but not lease a plane. Belluyan then confirmed that the company had bought two CRJ aircraft in London and that the company would start only purchasing planes because the company's "stewardship was improving." The press would later report that an Airbus A380 and a Boeing 777 were being considered for the Los Angeles flight. Envisioned flights to Tokyo, Bangkok and Canada were never realized.
In 2007 Armavia announced that the French-Belgian company Sabena Technics would be servicing and refurbishing Armavia's aircraft, including those manufactured by both Airbus and Boeing.
In 2008 Armavia obtained a Yak-42D plane (EK-42447), which it leased from Tatarstan Air. However, it only served the fleet until 2009, when it returned to Kazan. The plane has since been decommissioned.
Armavia Updates Its Air Fleet
The year 2009 proved fruitful for Armavia as it sought to update its aircraft. The first plane it obtained that year was an Airbus A319-111 (EK-32007), not to be confused with the Airbus A320-211, which also was registered under the same number and served Armenia from 2002-2005. In March a plane similar to the EK-32005 flew to Armenia straight from the factory. The plane, which was named after Viktor Hambardzumyan, was leased from the US-company ILFC and was operational until February 2012.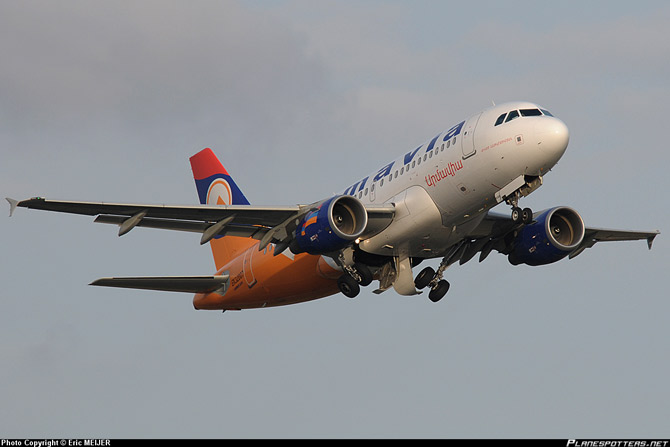 The 'Viktor Hambardzumyan' in Amsterdam (March 28, 2010)
By summer 2009 Armavia added flights to Berlin, Zurich, Rome, Batumi, Kharkiv, Vladikavkaz and, a bit later, Bahrain. At the time the company operated 250 flights to the CIS and Europe. Thirty flights were bound for the Middle East.
In August 2009 Armavia leased its first-ever Canadair CRJ 200LR (EK-20073) from Georgian Airlines. The plane could hold 50 passengers for regional flights and fly a distance of up to 3700 km. But by that December the plane returned to Georgia. That September the company obtained its very own CRJ 200LR built in 1999, which had served in Lufthansa's fleet for local flights. The plane was painted with the company's colors in Amsterdam and arrived in Yerevan on September 28. It wasregistered as EK-20014 and named the Sergey Mergelyan. Baghdasarov claimed that the plane would decrease the price of tickets and also keep company costs low. It would fly to Minvodi, Stavropol, Voronezh and even to Zurich, Rome and Athens. The CRJ 200LR consumed 1.1 tonnes of fuel an hour versus 2.2 tonnes by an Airbus. After Armavia's bankruptcy the plane was parked at Zvartnots Airport, where it still remains.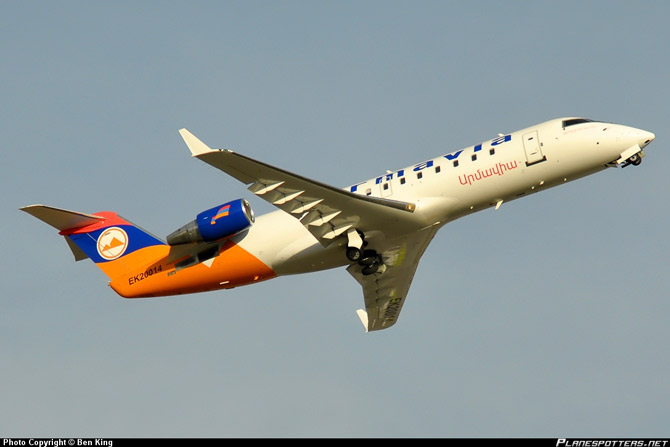 The 'Sergey Mergelyan' in Zurich (November 28, 2009)
In August 2009 Armavia signed a memorandum with SuperJet International ensuring that in November of the same year as part of the SuperCare program the Sukhoi Superjet 100 planes would be maintained during a period of five years. The program was designed to reduce administrative, operation and maintenance costs for those aircraft.
In December 2009the airline obtained its fifth and last Yak-42D (EK-42470). It was the only Yak to receive the company's branding and colors and was named the Alexander Mantashev. The plane was likewise fated to remain parked at Zvartnots beginning in spring 2013 after the company's demise.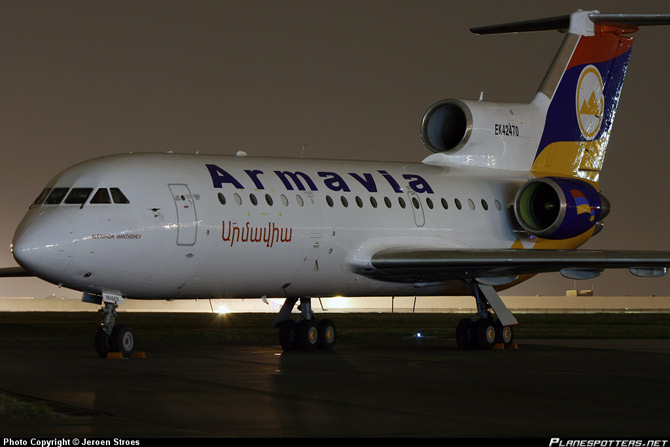 The 'Alexander Mantashev' in Brussels (January 8, 2013)
According to Armavia's statistics the company transported more than 700,000 passengers in 2009.
Tough Year for Baghdasarov
In March 2010 Armavia's flights to Tel Aviv began. Flights to New Dehli started a month later and so did a flight to Barcelona that June. The Yerevan-Birmingham route started in September. And in October Armavia began its first Yerevan-Almaty-Beijing flight, which lasted 10 hours. By year's end Baghdasarov announced his intentions to start a route to Amritsar, India. A former employee would later criticize the moves to start such flights citing no economic justification. The Tel Aviv route was a bad move for instance since an Armenian embassy doesn't exist there, and passengers en route to the city would fly from Tbilisi since tickets were cheaper. The flight to Zurich was empty and the need for the Birmingham route was perplexing since the flow of tourists between that city and Yerevan was very small.
Armavia obtained only one airplane in 2010, an Airbus A320-214 (EK-32006), on the eve of the 65th anniversary of the victory of World War II. For the occasion the plane was named after Hovhannes Baghramyan. The plane's debut flight for the airline was Victory Day, May 9. It was leased from CIT and operated in Armenia until October 2011. Armavia was the last airline that the plane served—it has since been scrapped.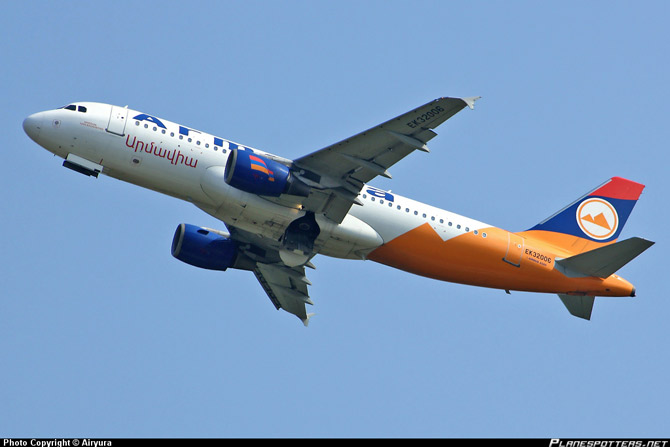 The 'Hovhannes Baghramyan' Flying over Moscow (September 1, 2011)
At the end of 2010, Baghdasarov admitted that it had been a tough year for the company. The number of passengers flown by his estimation was between 730,000 and 740,000, which he considered to be a lower number than previous years when taking into account the over rise in the number of passengers visiting Armenia.
"Moreover, things are getting more expensive—airport services, plane fuel and other services," Baghdasarov said in an interview at the time."But I think that the slowdown in the increase in passengers is related to the second wave of the economic crisis, which is inhibiting growth in the economy worldwide. So this was a tough year for Armavia and it wasn't the best. But I think the situation is only temporary and we're planning on big investments, obtaining new planes, starting new routes and so forth. I have hopes that those steps will yield resultsnext year.
"We're also planning to start offering low-cost air tickets. Many say that they've flown to this or that country cheaply. I think we need to tap into the 'very cheap' option of flying if there's a demand for it. Perhaps by March we'll be able to offer such an option."
Despite Baghdasarov's estimate, in actuality Armavia flew over 800,000 passengers in 2010 (see the infograph above for number of passengers from 2003 to 2010). The discrepancy is incomprehensible—either Baghdasarov was needlessly disappointed or the company's figure was inflated. Armavia was also among Armenia's top 1,000 taxpaying institutions—whereas in 2009 it ranked 174th with 376.156 million AMD in taxes paid. In 2010 it placed 87th with 840,082 million AMD in paid taxes.
Dark clouds would soon be flying over Armavia's flying colors.
If you found a typo you can notify us by selecting the text area and pressing CTRL+Enter