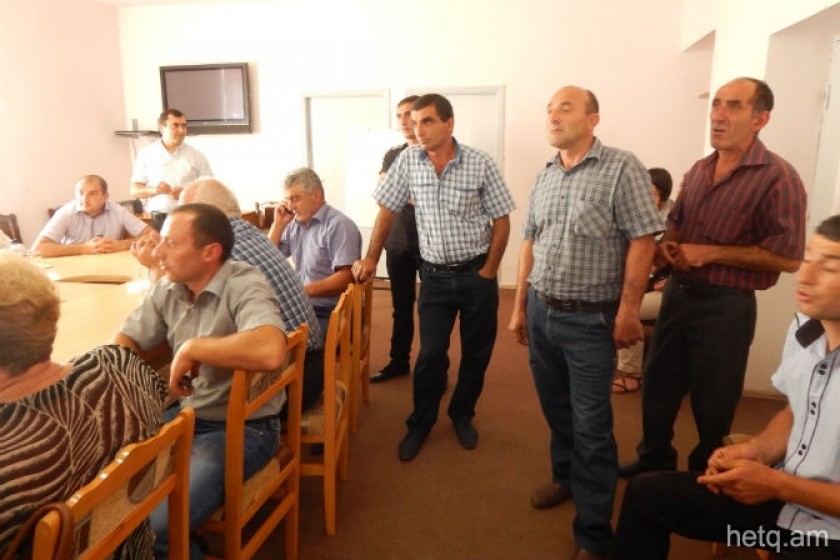 Mine Controversy: Vociferous Tzaghkashat Residents Nix Vallex Group Public Hearing
A public hearing regarding a new mine proposed by Vallex Group took place today at the Alaverdi Municipality but broke down after several heated exchanges between residents of the affected villages and company representatives.
Those present at the hearing to discuss a petition filed by Vallex Group to conduct a geological survey at the copper-molybdenum site at Tzaghkashat-Akhetk, were company representatives, the mayors of Tzaghkashat, Neghots and Haghbat, some environmental groups, and a handful of vociferous residents.
The mayors demanded that hearings regarding a proposed site be held in their communities instead.
Hakob Sanasaryan, president of the Greens' Union of Armenia, said that the present meeting should be considered as the first public meeting.
Representatives of the environmental groups countered that the meeting could not be regarded as a 'public' hearing given that residents of the affected communities were absent.
Vallex Group representative Sahak Karapetyan tried to convince the environmentalists that the mining company had filed a request to conduct geological surveys and not to operate a mine.
Tzaghkashat resident Mardoun Makinyan declared that fellow residents wanted the hearing to be held in the village and that any mining operation would prevent them from grazing their cows and producing the pure dairy products they are famous for.
Another Tzaghkashat resident addressed the meeting by saying that village wouldn't allow any drilling, even if they were compensated with billions.
Vahan Sokhakyan, who teaches physics in Tzaghkashat, spoke of the risks of uranium radiation spreading throughout the area if a mine was built in the area. Sokhakyan claimed that present uranium radiation levels are ten times the norm and called on Vallex Group to be satisfied with their mine at Teghout.
Tzakhkashat Mayor Hrachik Paranyan said that his community was in turmoil and that all opposed the mine.
Village residents then clamored for the hearing to end since no one seemed to agree on anything.
Vallex Group rep Sahakyan told reporters it would be naive for anyone to believe that the company was only interested in gathering data by conducting a geological survey.
"If, God willing, we are successful in locating ore, then the final stage, of course, would be to utilize it," Sahakyan said.