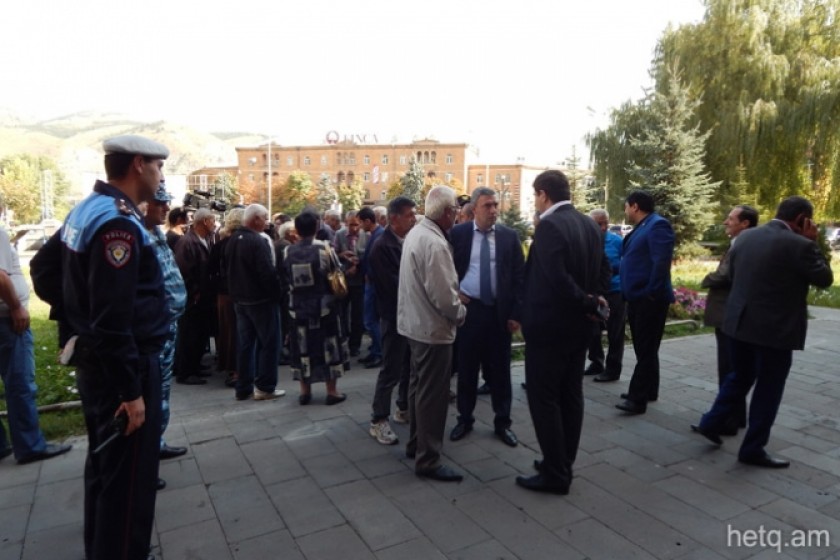 Kimprom Workers Demonstrate Yet Again for Back Wages; No Resolution in Sight
Kimprom chemical plant workers were back on the street today outside the Lori Provincial Governor's Office in Vanadzor to demand they be paid nine months worth of back wages.
Lori Governor Artur Nalbandyan told the workers that he had nothing specific to relay since negotiations with the plant's owners are ongoing.
200 Kimprom workers say they are owned some 366 million AMD in unpaid wages.
Nalbandyan said that the negotiations had been put on hold temporarily due to the recent death of former energy minister Armen Movsisyan.
When I asked Nalbandyan what connection Movsisyan has with the back wages issue, Nalbandyan said: "I cannot say specifically what the connection is, but he [Movsisyan] assumed a degree of responsibility in all matters dealing with the Kimprom wage matter and tried to assist the workers."
The demonstrators finally dispersed, hopeful that Nalbandyan would work towards a resolution of the matter.
Regarding the concerns raised by workers about dangerous chemical materials stored at the defunct Kimprom plant, Nalbandyan said his office was discussing all safety issues and that the materials were in need of constant surveillance.
Nalbandyan called on the environment ministry to discuss the matter what Kimprom owners.