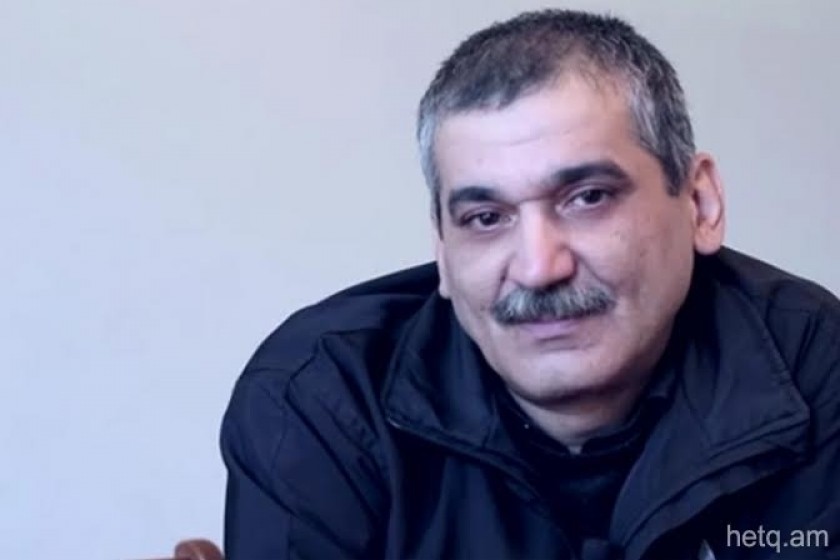 Soghomon Kocharyan Dies; Only Enjoyed 15 Days of Freedom
Soghomon Kocharyan, released for health reasons on October 22 after serving 20 years in prison, succumbed to a number of illnesses and passed away last night in a Yerevan hospital.
The news was reported by his mother, Zina Kocharyan, who said that her only solace was that her son died a free man.
"He lived for 15 days in freedom, but it was a belated freedom. He should have walked around and seen the sun," she told me over the phone.
The court's ruling was the first time a lifer had been released for medical reasons in Armenia.
Kocharyan, an Artsakh War vet, had been found guilty of murdering an Iranian citizen, He always declared his innocence.
Kocharyan wasn't in the courtroom on October 22 when the release verdict was announced. Rather, he was bed ridden and being treated at Yerevan's Grigor Lousavorich Medical Center.
This reporter and Grisha Balasanyan, Soghomon's attorney, last visited him earlier in the week. He was being given pain killers and was relatively comfortable.
We sat down and talked. Soghomon related stories about the war years in great detail. He described how he met his wife. He pined for his daughter Suzanna, whom he had only seen four times in nineteen years. (The daughter committed suicide last year, despondent over her father's imprisonment and the failure of the judicial system to reopen the case.)
On October 8, an intra-departmental medical commission gave the green light for Kocharyan to be released since he suffers from a number of ailments; in particular myocardial ischemia.
In 2014, Kocharyan petitioned Armenia's Prosecutor General to reopen his case given recent revelations unearthed by Hetq in the autobiography written by the original prosecuting attorney regarding the intervention of Iran in the legal proceeding.
The Prosecutor General's office argued that such information could not be regarded as a basis to review Kocharyan's case.
In his autobiography, state prosecutor Zhirayr Kharatyan, wrote that when he found out about the Iranian meddling he decided to write an official note about the matter, express his opinion, and then resign.
This was the second time the Prosecutor General's Office had rejected a petition to reopen the case.
After Hetq uncovered Kharatyan's misgivings about the way the case was handled, Hetq chief editor Edik Baghdasaryan petitioned the Prosecutor General to admit the finding as a basis for reopening the case. This petition was rejected on the same argument.
Soghomon Kocharyan's family has yet to decide on funeral arrangements.