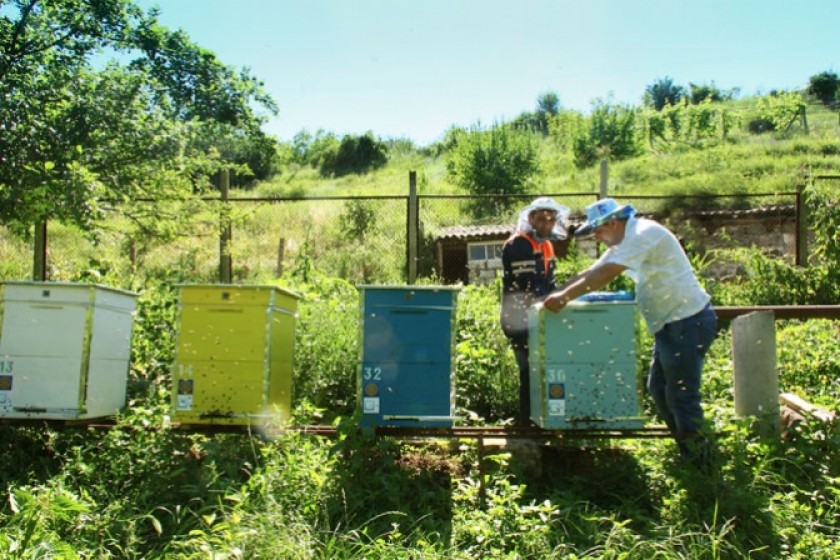 ONEArmenia's "Bring on the Buzz" campaign to help sustain Armenian border village
Bringingbeehives to a border village in need
On February 3rd, ONEArmenia, a non-profit organizationfocusing on building sustainableeconomies in Armenia, launched a new campaign to initiatebeekeepingactivities in the border village of Baghanis.
About 800 people live in Baghanis, a village located a few kilometersawayfrom the border betweenAzerbaijan and Armenia, where the economic situation is dire. Most of these lands are inaccessible because of unsettled border issues, landmines and occasional sniper fire. There is no industry in the region, and the lack of jobs causes high emigration rates, as the men leave to findwork in Armenia's capital, Yerevan, or in neighbouringRussia.
"What's at stakeis the creation of sustainableincome-providingactivities in Baghanis, sothatfamiliesneed not betornapart, noruprooted", said Patrick Sarkissian, ONEArmenia'sfounder. "Our goal is for the people in a strategically important area to be able to live and thrive on theirown land".
"Bring on the Buzz" isexactlythat. ONEArmenia and Sahman NGO arecollaborating on a crowdfundingcampaign to provide 18 rural familiesfromBaghaniswith 4 beehiveseach, allowingthem to create a stable income and sustainthemselvesthroughhoney production.
The fundscollectedwill go towards made-in-Armenia beehives, bee colonies, beekeepingtools, andequipment. Each of the 18 familiesinvolvedwillreceive extensive training in beekeeping techniques, and willalsobeassisted in findingmarketoutlets for theirhoney production.
"We'reaiming for sustainable, lasting impact", says Anna Aghajanian, SahmanNGO'sco-founder. To ensure the project'ssustainability, Sahman's in-house beekeeping expert willthereforeregularlyvisit the new beekeepers for a full year, providingongoing training and advice.
Beekeeping: a sustainableactivity for Armenian villages
The Food and Agriculture Organization of the United Nations (FAO) has describedbeekeeping as a helpfulmeans to createsustainablelivelihoods. Bees are low maintenance as theytypically look afterthemselves, sobeekeepingfits in wellwithotherincome-providingactivities.
Beekeepingisneither time-consuming, noroverlycomplex, butitis a lucrative trade. One beehivecanproduce up to 25 kilograms of honey per year, and in Armenia, eachkilogramcanbesold for up to 7 dollars. In impoverished border villages such as Baghanis, where a family'sincomeaveragesapproximately 500 dollars per year, starting a beekeeping business canmean the differencebetween local development vs. totalemigration.
The installation of 72 beehives in Baghaniswill not onlyimprove the villagers' living conditions. It willalso have a positive impact on the surroundingenvironment by bringingpollinatinghoneybees to the region, henceensuring the preservation of Baghanis'snaturalassets.
Bees are alsoknown to thrive in non-industrial areas like the Tavushregion, where the air is clean and the environmentpreserved. "Healthybees help ensure the quality of the honey", explains George Tabakian, SahmanNGO'sco-founder. "And while the climate in Armenia'scountrysideis favorable to beekeeping, itspotentialhasn'tyet been properlyutilised".
Sustainability&Community
For the last 4 years, Sahman NGO has been workingwithsimilar villages in the Tavushregion, and their model has alreadyproved efficient. The NGO'strack record is impressive, with 30 greenhouses, and 112 beehivesundertheirbelt in the villages of Barekamavan, Berkaber, Chinari, Aygedzor and NerqinKarmraghbyur.
For bothNGOsinvolved, itis crucial that the project's impact goesbeyond the 18 familiesprovidedwithbeehives. "The future beekeepers have alreadyagreedthattheywouldgive back to theircommunity by donating 1kg of honey per hive over 2 years", says Anna AghajanianfromSahman NGO. "The donatedhoneywillthenbesold to help fund the local kindergarten".
To help ONE Armenia and Sahman NGO makelivessweeter in the border village of Baghanis, share or donate to their "Bring on the Buzz" campaign: http://onearmenia.org/campaign.
If you found a typo you can notify us by selecting the text area and pressing CTRL+Enter