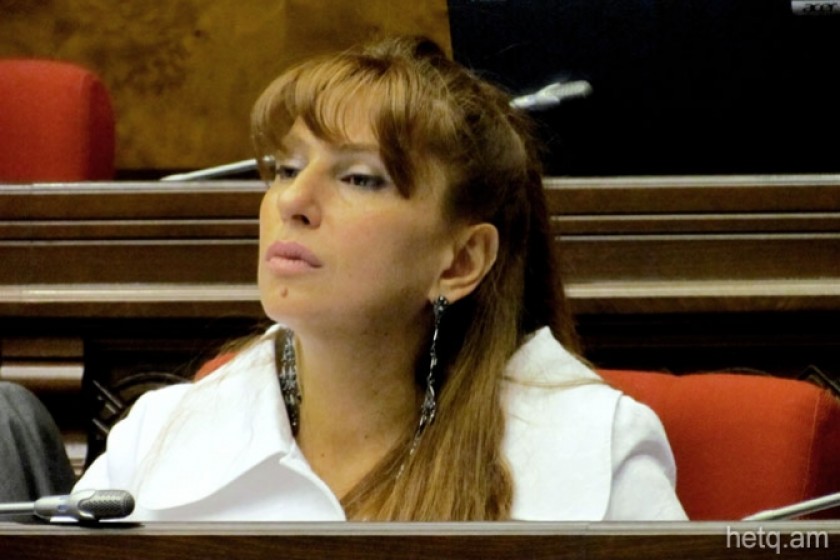 MP Postanjyan Lambastes HRD Candidate as a 'Servant of the Regime'
Heritage Party MP Zarouhie Postanjyan has lambasted Arman Tatoyan, the government's candidate for the post of Human Rights Defender as a servant of the ruling Republican Party.
Armenia's National Assembly is currently discussing who will be the country's next Human Rights Defender (HRD) after Karen Andreasyan resigned from the post last month.
Postanjyan also ridiculed the discussions underway, labeling them as having nothing to do with selecting Armenia's next HRD but merely rubber stamping the Republican Party's nominee for the post.
The MP said that Tatoyan, who has served as the deputy representative of Armenia at the European Court of Human Rights (ECHR) for the past two years, has, in essence, served to promote the Republican Party's policy regarding human rights in Armenia at the ECHR; namely to minimize any talk of political persecution in Armenia or that several clauses of the European Convention on Human Rights are being violated.
Postanjyan argued that Armenia's HRD must be a person of high standing within civil society when it comes to the defense of human rights.
The MP said that during the past ten years Tatoyan has never raised any concerns regarding human rights violations in Armenia.
In closing, Postanjyan noted that for years Tatoyan has served as the regime's attorney and thus cannot now serve as the people's attorney, adding that Tatoyan is an unknown face for society at large.