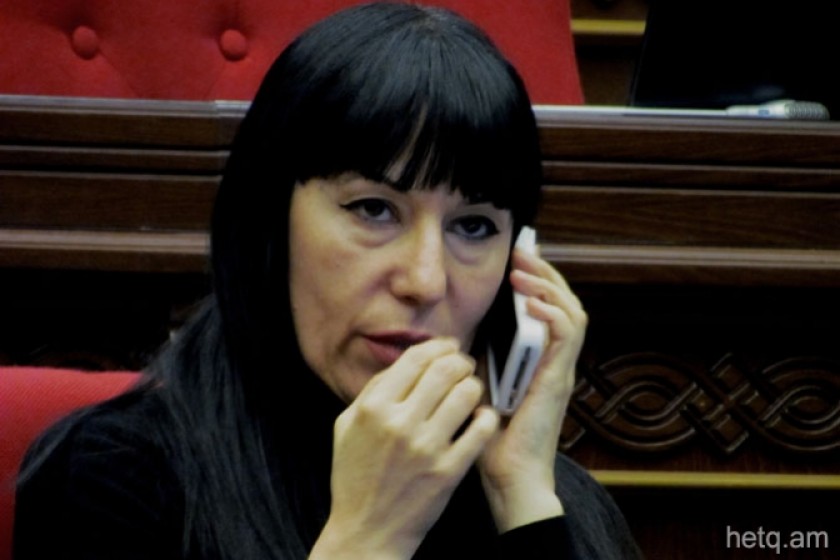 MP Naira Zohrabyan Will Abstain from HRD Vote: 'It's a Done Deal'
MP Naira Zohrabyan, who heads the Prosperous Armenia Party (PAP) parliamentary faction, took the podium today and said she would abstain from voting for Armenia's next Human Rights Defender since it was a 'done deal' and that the institution itself was weak and basically superfluous.
Zohrabyan was referring to the fact that Armen Totoyan, the regime's candidate, was a shoe-in for the post that has remained vacant since last month's resignation of Karen Andreasyan.
She argued that the political culture in Armenia was so corrupted, and that the opposition-regime model was so out of whack, that any person serving as the country's HRD becomes a target for the authorities or from the opposition based political convenience and not content.
Zohrabyan didn't express any optimism that Tatoyan could withstand attacks from both sides.
The MP didn't question the professional merits of the candidate, noting that if Tatoyan could break certain stereotypes and not be a captive of either the regime or the opposition, she would be the first to support him.
"Now, however, I cannot vote in favor of your candidacy because I do not have any such guarantees. The experience of the past three defenders hasn't convinced me that we have the political culture today that is needed to really make the institution work," Zohrabyan said.
While she will abstain from voting, other MPs in PAP can vote according to their conscience, Zohrabyan added.