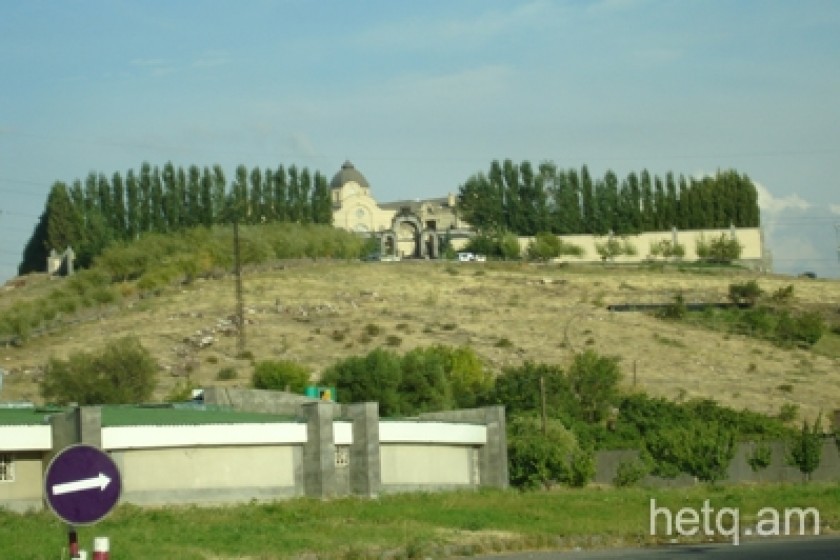 The Palatial Estates of Armenia's Oligarchs
Oligarchs in Armenia have a weakness for gaudy palatial estates, replete with gold encrusted domes, statuettes the size of people and marble walls. Some Arab sheiks have similar tastes when it comes to their homes.
Such homes are being erected in the outlying districts of Yerevan – out of public sight. Most have high walls to keep the curious away.
Architect Sashour Kalashyan said that these designs are a reflection of the inner, psychological, essence of the oligarchs.
"Such palaces are surrounded by high walls so that passerby cannot see what is going on inside. It is not by accident that such homes are built away from streets and inaccessible. The owners are fearful that others might get jealous and do harm. The jealousy springs from the fact that most of the money enjoyed by the oligarchs is ill-gotten," Kalashyan told Hetq.
The architect knows some individuals who have even built churches in their estates where they pray to God every night.
"There's the Christian belief that one can be absolved of sin through prayer. So these oligarchs pray for absolution one day and go about their criminal business the next," noted Kalashyan.
The most ornate private homes of the oligarchs belong to Prosperous Armenia Party president and MP, Gagik Tsarukyan.
At least his estates can be seen. On the road leading to Abovyan, high on a hill overlooking the town, two of Tsaroukyan's homes magically rise up. Architecturally, they look the same.
No one doubts the financial resources that Tsarukyan commands, especially since he seems to enjoy flaunting his wealth.
In a recent conversation with Hetq, Tsarukyan's press secretary Khachik Galstyan, said that the businessman/politician derives his wealth from the 35 companies making up his MultiGroup holding company.
Some of MultiGroup's diverse holdings are – the Abovyan Measuring Equipment Company, the Yerevan Chemical Drug Firm, the MultiGaz chain of filling stations, the Mek furniture store chain, the Ararat Cognac and Wine Company, the Ararat Cement Factory, etc.
In 2009, Gagik Tsarukyan and his wife Javahir purchased the Bulgarian Gorna Banya mineral water company for 25 million Euros.
General Seyran Saroyan, an MP affiliated with the ruling Republican Party of Armenia, can also point with pride to his palatial house in Etchmiadzin. Unlike Gagik Tsarukyan's Abovyan estate, General Saroyan's house, surrounded by high walls, is located on a central street in Etchmiadzin.
The house is monitored by a security team day and night and the walls prevent the curious from peering inside.
They say that General Saroyan owns other homes as well besides the one in Etchmiadzin.
Each morning and evening, the gates open and out streams a phalanx of Hummers and other pricey SUV's.
MP Saroyan spends little time within the halls of parliament, let alone in Armenia.
Our sources tell us that he owns businesses in Odessa, Ukraine.
In Etchmiadzin, Saroyan owns the Sar Kop wine, vodka and cognac factory and other businesses.
Saroyan's assistant, Boris Mkrtchyan told Hetq that while he had no idea regarding the property holdings of the MP, Saroyan had no business links per say.
Right now, we only possess the 2009 financial disclosure statement of MP Saroyan.
According to the disclosure, as of 2009, Saroyan had 63,143,440 AMD.
If you found a typo you can notify us by selecting the text area and pressing CTRL+Enter