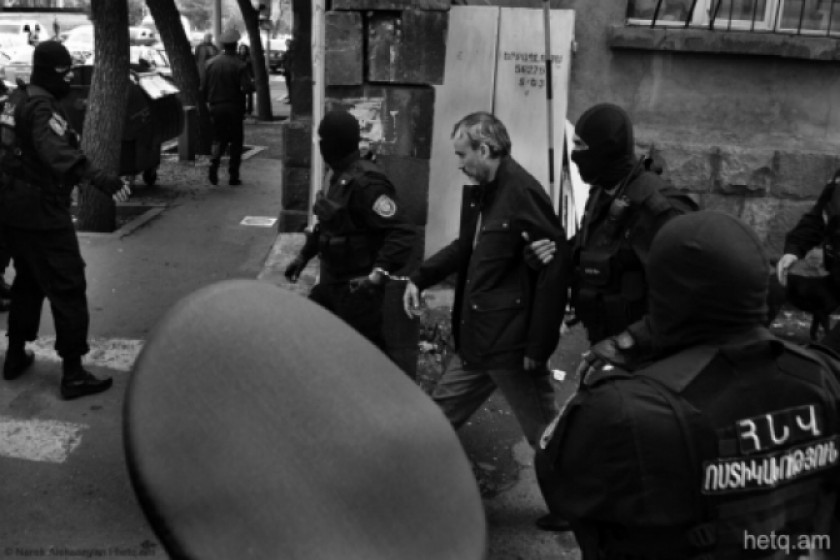 Yerevan Police Arrest Jirayr Sefilyan on Illegal Arms Trafficking and Possession
Sefilyan and others were planning armed seizure of buildings, police allege
Armenian law enforcement today arrested Jirayr Sefilyan, a well-known opposition activist and Artsakh War veteran, on suspicion of illegal arms trafficking and possession.
Law enforcement in Armenia state that the charges against Sefilyan, and seven other as yet unidentified individuals, stem from a traffic accident that occurred on May 20 of this year near the Tzitznernakaberd Highway.
Police state that during an investigation of the accident they uncovered two AK-74 assault rifles and ammunition in one of the cars involved and that Sefilyan was later implicated in organizing the transfer of the weapons.
The driver of the car and a passenger were taken into custody at the scene of the accident.
Cops allege that Sefilyan and others were planning to use the weapons to "seize", by force of arms, buildings in Yerevan, including communications centers. The Yerevan TV tower was one of the targets according to the police statement.
These actions, according to the police, were to take place after fighting broke out along the Karabakh Line of Contact in early April.
Six others have been arrested along with Sefilyan and a manhunt has been launched for a seventh allegedly involved in the arms plot.
Police state that some of those arrested have confessed to the arms charges.