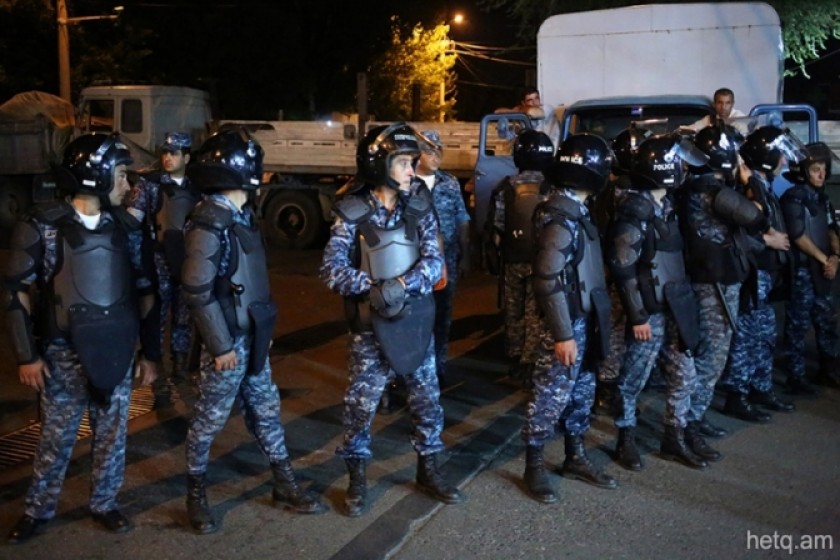 Shots Ring Out Near Seized Police Building in Yerevan: Police, Onlookers Clash
Shots were heard minutes ago ringing out from the area where the seized police building in Yerevan is located.
Shortly after, two ambulances left the scene. Police provided no information as to the shots or the ambulances.
The armed Sasna Dzrer group that seized the building early Sunday morning then contacted members of the opposition Founding Parliament, claiming that they shot their weapons in the air "to protect the demonstrators."
People have been milling about the road, now closed by police, in solidarity with the armed group and their list of demands.
MP Nikol Pashinyan verified this information and stated that the shots weren't part of a police assault on the building.
UPDATE – MP Nikol Pashinyan and reps from two new outlets providing live video feeds from the scene attempted to approach the police cordon to ascertain whether clashes had occurred between law enforcement and the armed group inside the building. They were stopped midway.
Pashinyan then told reporters that the shots heard earlier had emanated from another area – Sari Tagh. Police told Pashinyan that a clash had occurred between police and a group of onlookers who entered the security zone.
3-4 police were injured in the scuffle. Yerevan Police Chief Ashot Karapetyan told reporters that no one had been detained. Onlookers told reporters that Mikayel Nazaryan was taken into custody when he was videotaping.
Pashinyan believes that the Sasna Dzrer group fired shots in the air in response to the clash between police and onlookers.