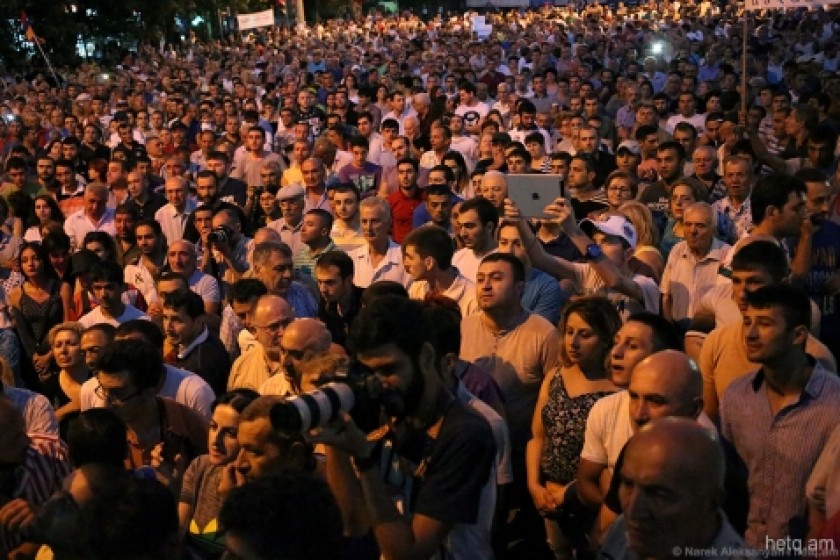 Yerevan Standoff: Is Khorenatsi Street a Dead End?
By Markar Melkonian
According to the July 23 press reports, the hostage takers who call themselves Sasna Dzrer have released the last of the police officers held in Yerevan's Erebouni district police station.
This sets the stage, we hope, for a resolution of the standoff without further bloodshed. If this is right, then we may heave a sigh of relief. But not a big one.
Police Colonel Artur Vanoyan lost his life during the ordeal. Let us honor his memory.
Among other demands, the hostage takers call for the release of Jirayr Sefilian and several other "political prisoners." However, it is not at all clear that Sefilian, a distinguished patriot who has been in police custody throughout these events, should be held responsible for the ill-considered actions of those who seized the police station on July 17.
It might be said that the seizure of the police station was poorly timed, in view of the failed coup attempt in Turkey two days earlier and President Erdogan's subsequent power play. But to say this is to miss the point.
The hostage taking should never have taken place. It is one thing to occupy a city square to protest questionable election results, or to occupy a factory for non-payment of wages, or to close Baghramyan Street to demand an end to extortionate electricity rate hikes. It is quite another thing to level guns at the police or to hurl metal rods at them on Khorenatsi Street.
As so often has happened, police reaction against protesters has been indiscriminate and too violent. We are lucky--at least so far--to have averted the all-too-predictable cycle of protest, police repression, larger and angrier protest, more severe repression, and so on.
In addition to the release of leaders in police custody, the hostage-takers have demanded the resignation of President Serzh Sargsyan. But "throw the bums out" is not a political program. Twenty-five years ago, a group of people took one step after another to destroy the Armenian Soviet Socialist Republic, but had nothing better to replace it with--or rather, nothing better for the majority population. The moral of this terrible lesson bears repeating: do not call for resignations or the destruction of institutions unless you are ready to put a better alternative into place.
Nowhere have we heard the Sasna Dzrer oppose capitalist rule or the long-established economic orientation that has impoverished and diminished the country. It is not at all clear why the 90% at the bottom should support a group that offers no alternative to the same old neoliberalism that has caused so much misery in Armenia for a quarter of a century.
In any case, we might need to remind ourselves that the poverty, the inequality, the corruption and official impunity that prevail in the country today did not begin in 2008, with the formation of the Serzh Sargsyan administration. Grievances have mounted from one administration to the next, but the stage was set for the worst of these developments more than twenty-five years ago, when a small group of aspiring capitalists, represented at first by the Armenian National Movement, hijacked what might otherwise have been salutary and peaceful exercise of Soviet patriotism. As soon as Armenia's aspiring capitalist rulers took power they fell into squabbling among themselves for the spoils, and ushered in a period of steep national decline.
The subsequent Kocharyan and Sargsyan administrations have just picked up the broken pieces where the ANM leaders had scattered them. Each of the post-Soviet administrations represents a different (but overlapping) clique within the same comprador ruling class that came together in the 90's.
The Sargsyan administration, then, should not be singled out as the one single source of the country's woes. When it comes to political repression, for example, we should recall that both former Presidents Levon Ter-Petrosyan and Robert Kocharyan ordered violent crackdowns, in September 1996 and March 1 to 2, 2008 respectively, against opposition supporters protesting what they believed were falsified presidential election results.
Upheaval in Yerevan can have consequences that are far-removed from the intentions of the radicals. The most formidable enemies of the Sargsyan administration—and here we are not referring to Sasna Dzrer or their supporters on Khorenatsi Street - represent a real danger to Armenia's welfare and security. The fact is that some of Sargsyan's opponents, foreign and domestic, have been waiting for a chance to replace him with a leadership that will abrogate trade and military arrangements with Moscow, at a time when this could be particularly dangerous for Armenia.
Armenia is not just a poor country; it is an impoverished country: it is a country that had been prosperous twenty-five years ago, but is now wracked with unemployment, massive emigration, corruption, and a level of official impunity that exceeds anything that had existed during the last decades of the Soviet period. This accounts for some of the anger on the streets.
At the same time, thanks to the very same processes that set the process of impoverishment in motion, a generation of young people has been robbed of a conceptual vocabulary that could help them make sense of the country's predicament. There is no class analysis in Armenia, no clear understanding of state power or imperialism. Those who struggle to understand the challenges can see only two alternatives, neither of which comes close to being satisfactory: on the one hand, there is the vocabulary of neoliberalism, free market capitalism, and all of the assumptions that come with it; on the other hand, there are increasingly strident versions of nationalism.
Outside of the big NGO's and an insulated circle of narrow academics and indoctrinated technocrats, the neoliberal doctrine is by now widely discredited in Armenia: after three decades, it has failed to deliver on any of its promises. That leaves the frustrated, shrill nationalism of the injured, the dispossessed, those left out, those who are tired of waiting for some promised neoliberal solution that appears to be more distant today than it was twenty years ago.
The problem is that nationalist rhetoric is not an alternative to neoliberalism; more often it is mere camouflage behind which the neoliberals continue to pursue their agendas. Meanwhile, the landscape outside of ideology has been changing, and the foreseeable consequence is more upheaval.
The bottom ninety percent in Armenia does not need any more ill-conceived radicalism. The best way to avert the sort of armed violence and bloodshed that we have seen this past week is to start building organizations that hold out a realistic program for change. The stronger these working class organizations are, and the larger their basis of support, the less likely it will be that disaffected young men will take to the public squares to support the desperate acts of desperate men.
Markar Melkonian is a teacher and an author. His books include Richard Rorty's Politics: Liberalism at the End of the American Century (1999), Marxism: A Post-Cold War Primer (Westview Press, 1996), and My Brother's Road (2005).
If you found a typo you can notify us by selecting the text area and pressing CTRL+Enter