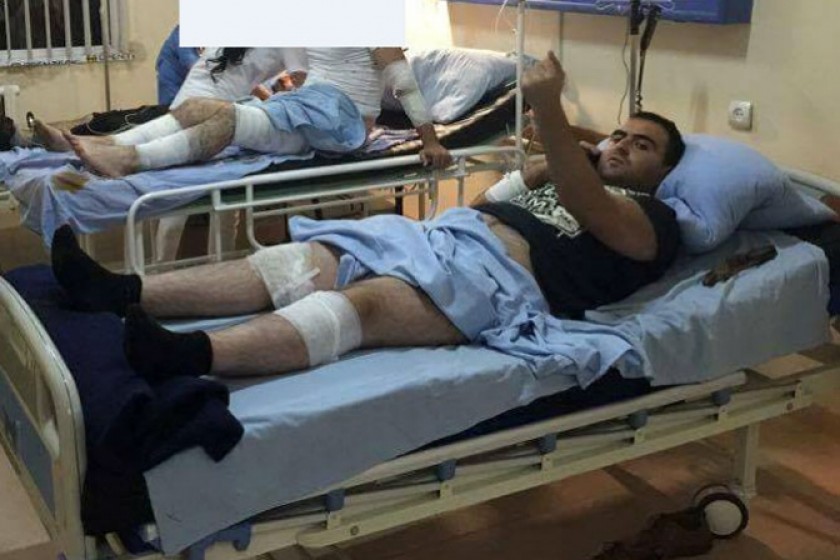 Yerevan Police Target Reporters: Percussive Grenades Injure Several
Robert Ananyan, a reporter for Armenia's A1+ news outlet, is being treated at the Yerevan's St. Gregory the Illuminator for wounds to his legs and hand when police let loose with percussion grenades on crowds demonstrating near the police building seized by an armed group two weeks ago.
Ananyan, who was there to cover the demonstration, says that most reporters complied with a police call to leave the area as a group. He adds that the first percussive grenade thrown by police was towards the reporters.
"It's my impression that the reporters were targeted, especially those with video equipment. I believe the cops wanted to corral the reporters in one place, making it easier to neutralize us," said Ananyan.
The reporter says gunshots and explosions started to be heard after 11:30 p.m. last night and that people didn't know what was going on. He says that crowd had done nothing to incite the police.
Ananyan and his cameraman Tigran Badalyan soon were in the midst of exploding percussion grenades. But they continued to cover the demonstration even when they realized they had been injured.
Residents of the Sari Tagh neighborhood rushed to Ananyan's aid and covered his wounds. A resident offered to take Ananyan to hospital. Before leaving the neighborhood, a policeman in civilian clothes stopped the car and asked who they were. The reporters showed the cop their ID badges. The cop ripped the cameraman's badge off.
Ananyan says they were dragged out of the car and were forced to walk.
The reporter, who can't stand on his own, wants answers to what happened last night.
"I want to get a legal evaluation as to why we were targeted by the police, why I was injured, and why I won't be able to work," Ananyan says.
Photo and video: A1+
If you found a typo you can notify us by selecting the text area and pressing CTRL+Enter