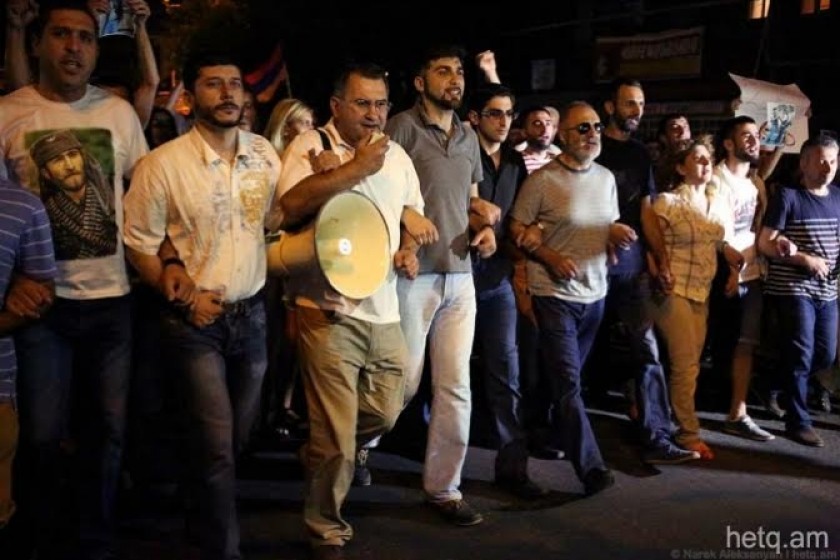 Yerevan: Heritage Party VP Charged with "Organizing Mass Disorder"
Armen Martirosyan, vice president of the Armenia's opposition Heritage Party (Zharangutyun), has been charged with "Organizing mass disorder", according to Article 225 of Armenia's Constitution.
Martirosyan (photo: 3rd from left), who participated in public demonstrations during the two-week standoff between the armed Sasna Dzrer group and law enforcement in Yerevan, proclaimed his innocence and has stated that rather than inciting clashes, he strove to prevent them.
Police detained Martirosyan on July 29 at a demonstration in the Sari Tagh neighborhood of Yerevan. Under the pretext of wishing to talk to him, police took him behind the security cordon that had been set up surrounding the police building seized by the Sasna Dzrer group on July 17. The Heritage Party official was immediately whisked away.
Martirosyan's lawyer, Givi Hovhannisyan, says that the courts have issued a three-month pre-trial detention order for his client.
Hovhannisyan says that a number of police officers provided testimony that Martirosyan was organizing demonstrations.
The lawyer says he will appeal the detention order.