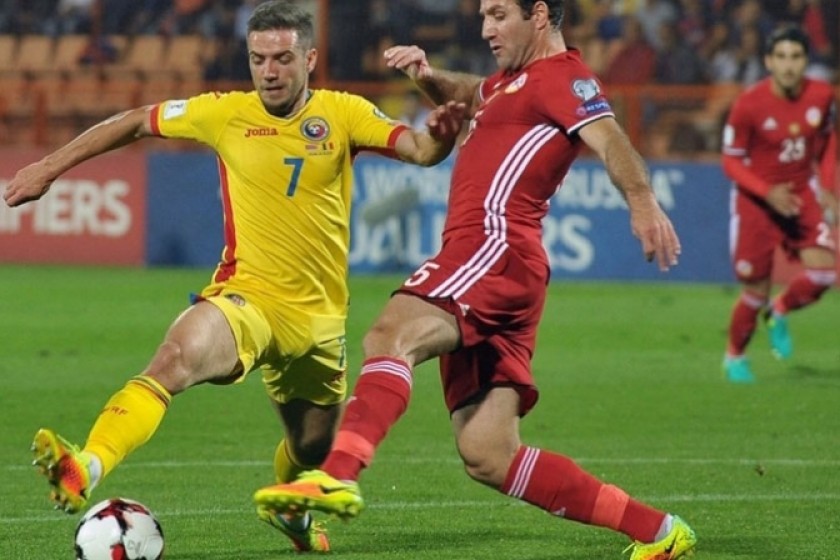 Romania Trounces Armenia in World Cup Qualifier: It's Bye-Bye Time for Armenian Coach Sukiasyan
By a score of 5-0, Romania beat Armenia in a 2018 World Cup qualifying match played last night in Yerevan.
Armenia is now at the bottom of Group E with 0 points.
It proved to be the biggest loss for Armenia's national team playing at home.
In the 1990s, Armenia lost to Georgia and Chile by a score of 0-7, and to Morocco 0-6, but they were friendlies and played outside.
The last largest slap to the Armenian side was on June 6, 2014, when it lost to Germany 6-1.
Before yesterday's game, this reporter said the match would be a tough one, and it proved to be so.
Juvenile tactical mistakes
Varujan Sukiasyan, the coach of Armenia's national team, decided to field four defenders. Most analysts, including myself, expected him to field five. In October 2014, Armenia fielded five defenders and drew with a strong Serbian team, even though Armenia had a chance to win.
Yesterday's match was the third with Sukiasyan at the helm. He continues to make tactical blunders.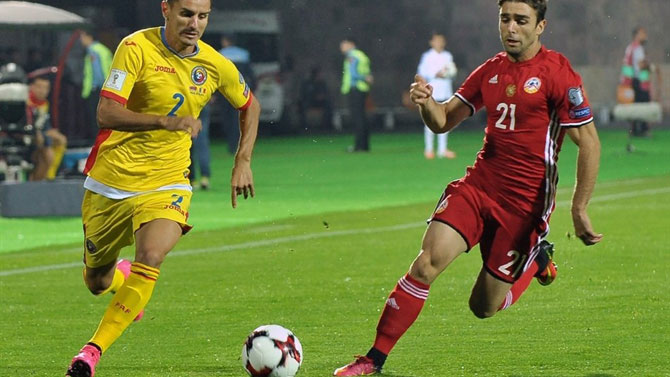 After the game, Sukiasyan told reporters that he was fully responsible for Armenia's loss.
"In the match against Denmark, I decided to field five defenders. Here, I experimented and went with four in order to gain some advantage up front. I was wrong," Sukiasyan said.
Dear coach, your experiments have been a bane for the team. Is this so hard to fathom? Is an official game a field for experimentation?
In the third minute of play, with the team down to ten players, it took Sukiasyan another 30 minutes to shore up the defense. Armenia was already losing 4-0. He finally realized that keeping striker Poghosyan was meaningless and took him out, replacing him with midfielder Karen Muradyan. But it was already too late.
Angry Armenian fans at Republic Stadium were yelling out "shame" and "Sukiasyan, get lost" in the stands as they watched the tragedy unfold before them.
What Sukiasyan should have done after the game was to grab the microphone and apologize to the fans personally and on behalf of the team. It could have been a simple but symbolic gesture of culpability.
In a post-match interview, Sukiasyan said: "Understand that I cannot leave the team in this serious condition. If the federation wants my resignation, I will do so immediately. However, my manhood requires that I stay on and bring the team out of this mess."
As to what he'd do in the future to fix the situation, Sukiasyan only said, "We shall see", "We must think about it".
It's hard to imagine what positive changes will be implemented before Armenia's game with Poland on October 11. Thus, it really doesn't matter if Sukiasyan remains as coach or not.
During yesterday's press conference, Sukiasyan was visibly irritated. First off, as coach, he should have addressed reporters in the formal fashion (douk) and not the familiar (dou).
So shaken was Sukiasyan, that he lost his composure and told reporters: "Perhaps it's those bad vibes inside you that has caused the entire team to have injuries." In reply, reporters applauded. It's interesting to note that these remarks weren't included in the text released by the Football Federation of Armenia (FFA).
Following this logic, reporters are to blame for the failures of the team and that FFA president Ruben Hayrapetyan had been looking for traitors in the team. After Euro-2016, tensions within the Armenian national team are at an all-time high and will remain so given that there are many unanswered questions.
Are reporters to blame that the players, in their clubs, don't get any practice and are thus out of breath after one hour on the pitch? In Europe or the US, coaches would be flogged for such lapses of judgement. It would be their last interview as national coach.
Wear an "evil-eye" to ward off bad vibes
If the FFA president had no problem launching a witch-hunt to find traitors within the team, then it follows that the coach could utter such remarks bordering on the paranormal.
At this point, one can only take pity on Sukiasyan and advise him, his staffers and players to hang an "evil-eye" around their necks to protect them from us reporters.
On a more serious note, today, the issue of recruiting a team psychologist needs to be debated. Such a professional would have no dearth of work tending to the players on the national team of Armenia and the coach.
Here are the standings of the teams in Group E qualifiers for the 2018 World Cup.

The following matches take place on October 11: Kazakhstan-Romania, Denmark-Montenegro, Poland-Armenia.
Photos: uefa.com