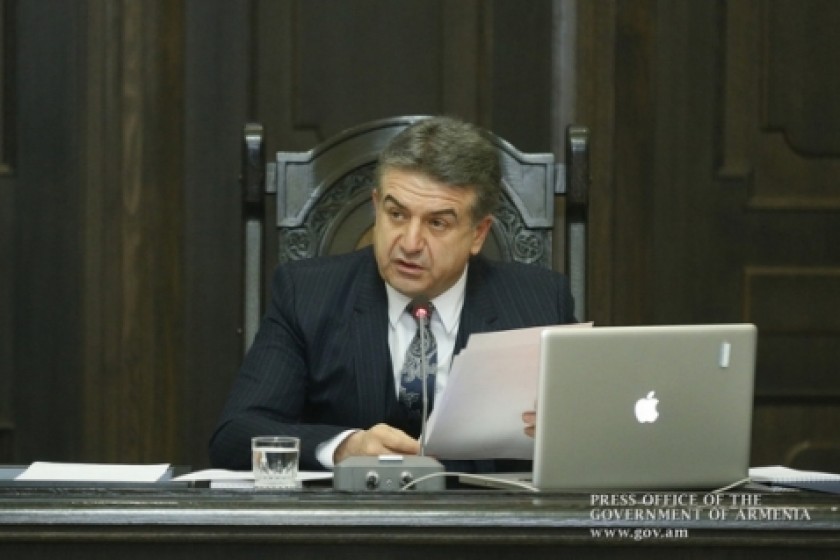 Armenian Prime Minister Seeks Greater Economic Engagement of Diaspora
Seeking to get the Armenian diaspora more involved in the economic development of Armenia, Prime Minister Karen Karapetyan today instructed diaspora minister Hranoush Hakobyan to draft a plan of action, in concert with other executive government bodies, prominent diasporan leaders and experts, tasked with expanding cooperation.
Karapetyan set a one-month deadline for the drafting of the action plan.
The Prime minister then instructed the diaspora and education ministers to draft a plan aimed at resolving the problems faced by Armenian schools overseas, namely retraining of teachers, raising the level of Armenian language instruction, preparing new curriculum, and providing new textbooks.
Karapetyan also gave one week to the Minister of Economic Development and Investments Suren Karayan to get in touch with Armenian entrepreneurs overseas regarding investment programs available in Armenian, particularly in the IT sector.
Karapetyan's next order was directed to the culture, sports and youth affairs, and diaspora ministers. All three were given two months to draft a set of joint programs that would assist in the preservation of Armenian identity overseas and, by promoting Armenian culture and values, would garner greater recognition for Armenia.
The prime minister also called on the foreign ministry to get Armenian diplomatic missions overseas more involved in promoting the country's economic and business interests.