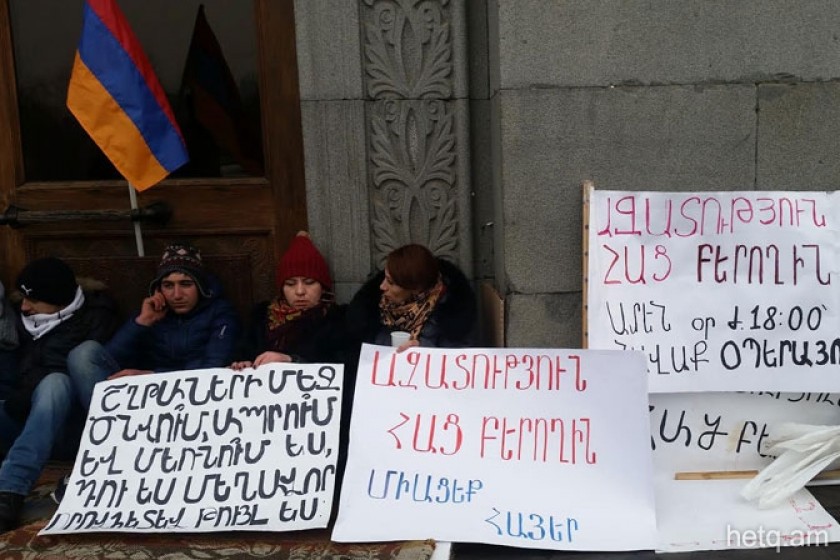 Yerevan: Police Give Protesters 15 Minutes to Leave Liberty Square
Earlier today, one of the organizers of a sit-down protest in Yerevan's Liberty Square calling for the release of Artur Sargsyan from pretrial detention, posted on Facebook that police had given them a fifteen-minute deadline to leave the area.
Artur Sargsyan, nicknamed the "bringer of bread" for taking food to members of the Sasna Dzrer armed group that seized a Yerevan police building last July, was arrested last month and is now being held in the Convicts' Hospital. He's been on hunger strike for the past 22 days.
Protesters have taken up a vigil in Liberty Square in support of Sargsyan since February 27.
Ինչպս տեղեկացանք, ավելի ուշ ոստիկանները մոտեցել են նստացույցի մասնակիցներին՝ հորդորելով հավաքել Ազատության հրապարակում թափթփված իրերը, քանի որ հաճելի չէ պատմամշակութային հուշարձանի նման թափթփված վիճակը։ Շահենը ոստիկանների հետ արդեն հասցրել էր զրուցել, ասում է՝ մոտեցել էին՝ հորդորելով մաքուր պահել տարածքը, քանի որ բողոքներ են ունեցել բնակիչներից, չնայած նա չի հավատում բողոքների իսկությանը։ «Ասացին՝ որ առավոտները արթնանում եք, հավաքեք, երեկոյան նորից այդ ծածկոցները բերենք։ Պարոն Օսիպյանի հետ եմ խոսել, ասաց, որ նստացույցի դեմ որեւէ բան չունենք, արեք, ուզում եք ողջ գիշեր մնացեք, բայց կոկիկ։ էն, ինչը մենք պետք է անենք, ասում են»,-ասաց Շահենը։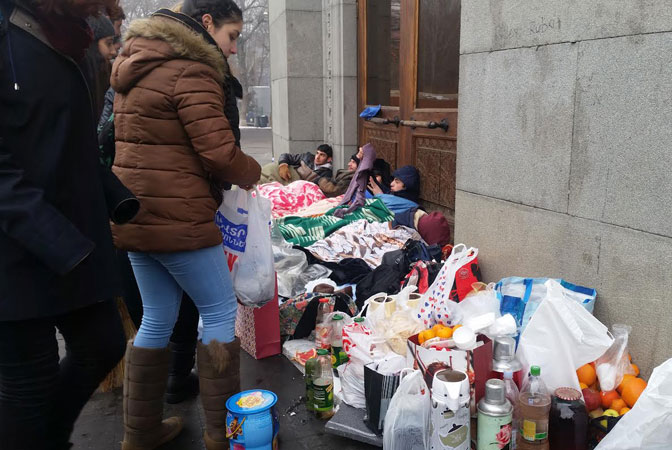 Strikers told Hetq that police have told them to tidy the area adjacent to the Opera. Those participating in the sit-down protest told police that they make a point to keep the site clean.
Earlier, a police official told protesters they could stay as long as they behaved and cleaned up after themselves.
36 individuals spent last night at Liberty Square and were visited by the actor Hrant Tokhmatyan who brought them warm clothing. Tokhmatyan went on Facebook, urging other young people to join the protest.