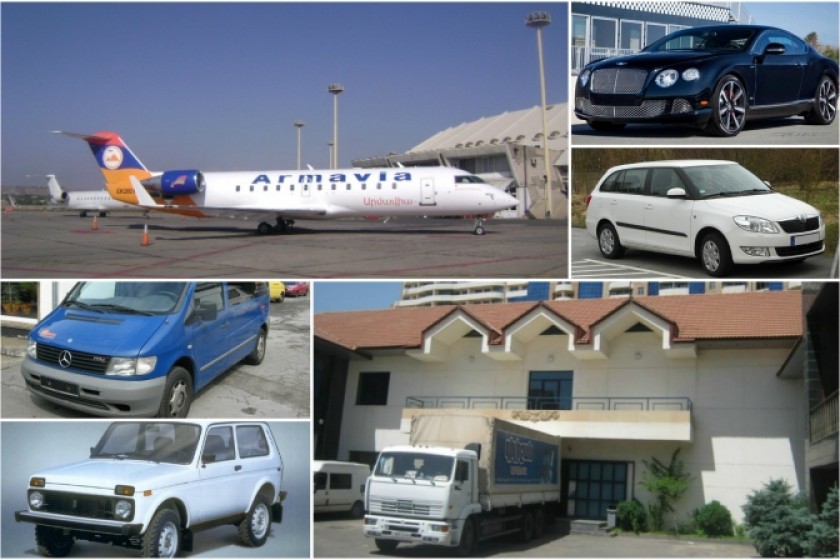 Concerned Creditors: Sale of Two Bankrupt Armenia Airlines Proceeding Slowly
The process of auctioning off the assets of two financially bankrupt Armenian airlines (Armavia and Air Armenia, is ongoing.
Armavia went belly-up in October 2014; Air Armenia in November 2015.
The last announcement of the Armavia asset auction appeared in Azdarar.am on November 30 of last year. Karen Asatryan, who is overseeing the bankruptcy proceedings, said that the previous auction of assets was a partial sale. A new auction was declared for December.
Up for auction were Armavia's material assets, including airplane spare parts, support items, office furnishings, etc., valued at 15.265 million AMD. Also up for auction is the company's CRJ 200LR airplane manufactured in 1999 that is now parked at Yerevan's Zvartnots International Airport. The plane is missing its right engine and some important operating systems. The plane is valued at 125.5 million AMD (US$ 258,230).
Another auction item is the Dilijan Florova factory in Yerevan that Armavia used as collateral in AmeriaBank to cover its liabilities. The factory is valued at 1.047 billion AMD.
After the property of the airline and legal entities linked to it was placed on the auction block, the only items completely sold were the Tzaghkatoun resort and hotel in the town of Tzaghkadzor that were placed as collateral with HSBC Bank. The other lotteries are taking quite a while.
As for Air Armenia, the first auction took place on March 10 of this year. It too was partial. The next one is scheduled for April 18.
Up for auction is a private house owned by the parents of one of the airline's owners, Arsen Avetisyan. The house was originally valued at 813 million AMD. The price has now gone down to 592.9 million. The property is used as collateral with HSBC Bank. It was the bank that demanded that the airline be declared bankrupt.
Air Armenia office furnishings are also being sold off for 578.2 million AMD. The original valuation was 3 million.
Asatryan has been able to sell four of the eleven cars placed on auction – two Volkswagen Tuaregs, one Mercedes-Benz Vito, and one Kia Sorento.
Currently up for auction are:
Bentley Continental GT (2004) – 9.5 million AMD
VAZ 21214 (2004) – 813,105 AMD
GAZ 2705-34 (2004) – 621,078 AMD
GAZ 3110-121 (2003) – 282,195 AMD
Mercedes-Benz Vito-112 (2002) – 1.195 million AMD
Mercedes-Benz Vito (2006) – 2.726 million AMD
Skoda Fabia 1.6 (2012) – 1.530 million AMD
After the assets are sold, the two companies will be dissolved. Both have numerous creditors. It's clear that it will not be possible to pay them all off with the sale of the above mentioned assets.