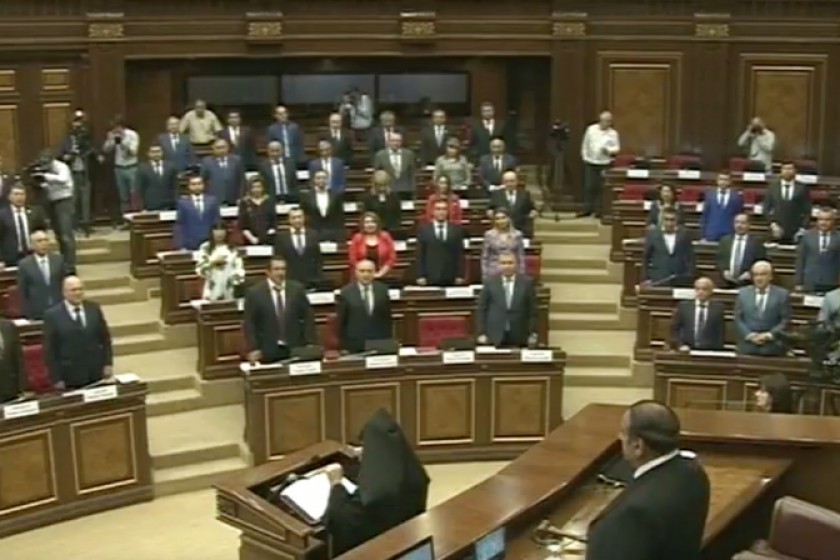 Protesting Presence of Serzh Sargsyan, Yelk Alliance MPs Boycott Opening Session of Armenia's New Parliament
Armenia's Yelk Alliance boycotted today's opening session of parliament to protest the presence of the country's president Serzh Sargsyan.
MPs from the three other winners in the May 14 parliamentary election – the Republican Party of Armenia, the Tsarukyan Alliance, Armenian Revolutionary Federation – took their seats.
Tigran Avinyan, press spokesperson for Yelk, told Hetq that the boycott was also in protest of the election bribes that were distributed to voters on election day.
"No one has forgotten the events of March 1, and more tragic is the fact that no one has yet been punished. Yelk holds Serzh Sargsyan responsible for the deaths that occurred on March 1," Avinyan said.
Catholicos Garegin II, also present, gave his blessing to the new legislature.
In his speech, Sargsyan talked about the willingness of the ruling Republican Party to cooperate with other political parties, the domestic situation in Armenia, and the Karabakh issue.
The new parliament must first elect a new speaker. There are two candidates for the post, Ara Babloyan from the Republican Party of Armenia, and Edmon Marukyan.
The session was presided over by the oldest MP, Knyaz Hasanov, president of the Armenia's Kurdish National Council.
Yelk Alliance MPs took their seats after Sargsyan exited the chamber.