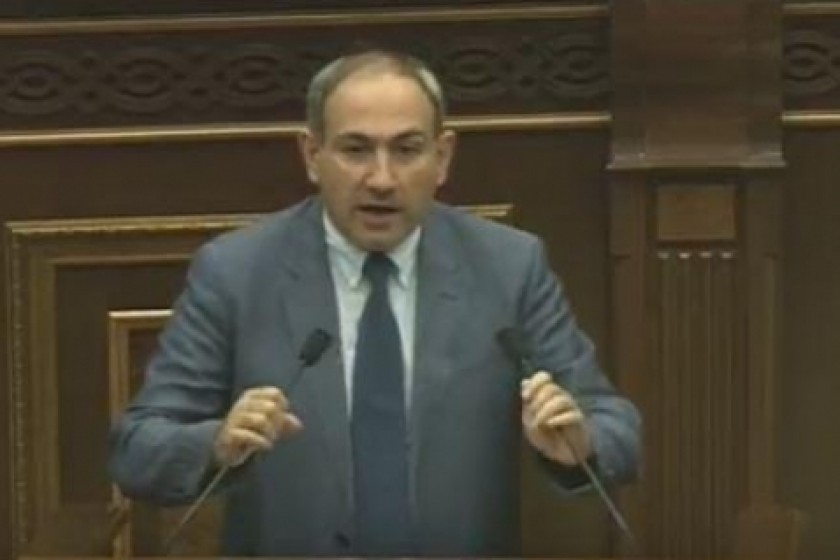 Pashinyan Accuses Prime Minister of Being Political "Ringer" for Sargsyan
During today's Armenian parliamentary debate today on a bill outlining the country's economic development agenda for 2017-2022, Yelk Alliance MP Nikol Pashinyan accused Prime Minister Karen Karapetyan of being appointed to the post solely to allow Serzh Sargsyan to remain in power.
Many in Armenia believe that after his two terms as president are up, Sargsyan will then run for prime minister and inevitable win.
"Why did assume the post of prime minister at the end of 2016. Was it to allow Serzh Sargsyan to remain?" asked Pashinyan, adding that debate on the government's development program would only make sense if Karapetyan confessed to his role is in the transition of Armenia from a presidential to a parliamentary system.
Pashinyan argued that by assuming the post of prime minister and entering the ruling Republican Party of Armenia (RPA), Karapetyan laid the positive groundwork for the distribution of election bribe and the regeneration of the RPA and Sargsyan.
"Thus, it appears that we are present at the start of the resignation of Karen Karapetyan's government rather than at the adoption of his government's program," Pashinyan said.