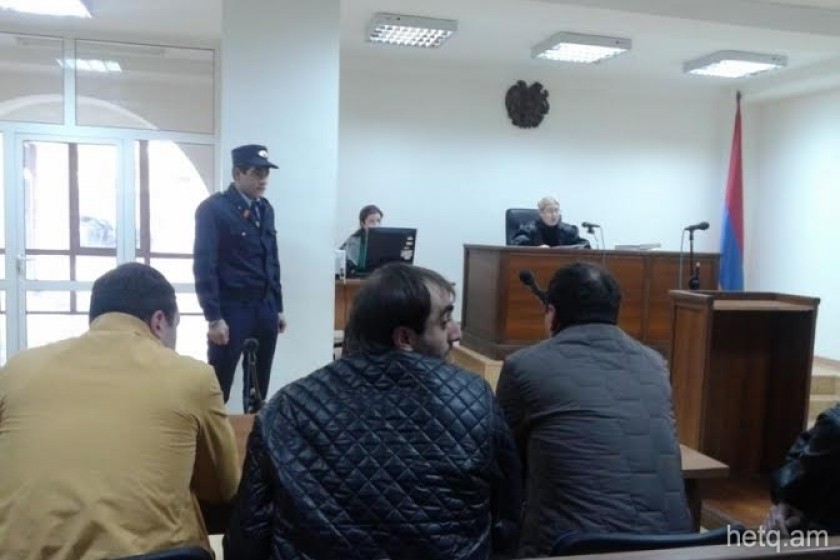 Sari Tagh Trial: Policeman Testifies 'They Wanted to Kill Us'
By Amalya Margaryan
At today's trial of Harutyun Torosyan, Hrayr Isakhanyan, Andranik Kyoseyan and Eduard Zeytounyan, charged with striking officers of the law in clashes with police on July 19, 2016 in the Sari Tagh neighborhood of Yerevan, police officer Armen Matevosyan testified that the crowd failed to heed their warnings to leave the area and pelted the police with stones and bottles, threatening to kill them.
Matevosyan testified that people were issuing calls to join the armed Sasna Dzrer group that had seized a Yerevan police building nearby.
When asked by lawyer Liparit Simonyan whether the police used the firearms, Matevosyan replied: "Shots were heard from the police building, but I didn't see any shooting from the police side."
The lawyer noted that in the police officers' testimonies it's stated that the assembled citizens were afraid of police shooting and left, while the witness claimed the opposite.
The witness also mentioned that some tires were burnt by the crowd. In response to lawyer Grisha Balasanyan's question as to the number of tires, Matevosyan said he did not remember. He only remembered police officers trying to extinguish the fires, and did not remember whether there was a fire truck in the area.
Upon hearing this, defendants Hrayr Isakhanyan and Eduard Zeytounyan exhorted the witness to tell the truth. In reply, the judge had them removed from the court for thirty and sixty minutes respectively.
Lawyers Liparit Simonyan and Grisha Balasanyan refused to continue the trial without the presence of their defendants. Simonyan submitted a motion for judge's recusal, saying that the judge was not objective and was following the orders of the Prosecutor's Office and Police.
While the judge was in the consultative room, Simonyan told Hetq that if the session continued without the presence of his client, his rights would be violated. After returning from the consultation room, Judge Anna Danibekyan denied the motion for recusal.
Meanwhile, Hrayr Isakhanyan and Eduard Zeytounyan returned to the hearing.
After resuming the trial and interrogating the witness, Simonyan filed a new motion to have his client, Harutyun Torosyan, released on bail for medical reasons.
The next trial session is scheduled for July 27, during which the motion will be reviewed.
If you found a typo you can notify us by selecting the text area and pressing CTRL+Enter